5 Instagram Scams Everyone Should Avoid
It's time to expose the Instagram scams. As you probably know, Instagram is the latest in social networking trends. People can share pictures with captions of whatever it is they are doing at the moment. Unfortunately, with its overnight explosion along came tons of scammers taking advantage of its millions of users. Feel free to report names yourself in the Comments section at the end.
Besides the well-known scams referring to the Instagram Lottery, Instagram Copyright, or how to become an Instagram model, there are five different traps on the platform that everyone should know about:
Scenario 1: Investing on Instagram or the Money Flipping Scheme
(with video) In this variation, the scammers approach Instagramers with proposals of making money online, using the term 'Money flipping'. Alternatively, they use the term 'investment' with a 24-hour return. It is the subject of many Cash App scams.
Watch the video below to see this sneaky scam exposed:
Scenario 2: Suspicious Activity on Your Account
Watch the video below to see the Suspicious Activity On Your Account Scam exposed (it starts at 2'27):
This trick comes as a private message in your Instagram inbox. It reads: "Hello, we are messaging you due to suspicious activity on your account. Log below to confirm you are the account owner or your account will be deactivated in the next 48 hours.
Any changes made to your accounts such as username, password, email, or phone number change will result in your account being locked for security purposes".
A link is provided to log into your account (www.instagram.com/verification), but is very deceiving. Look at the image below and notice the trick: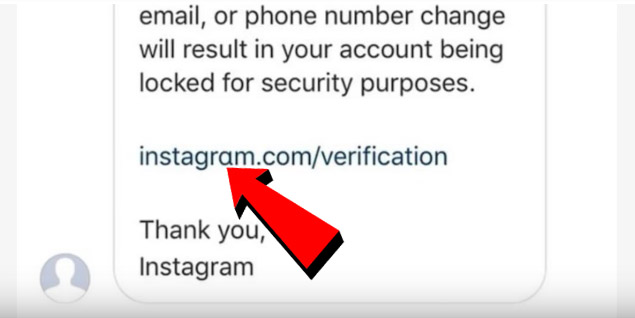 The second 'a' in 'Instagram' is an actual alpha symbol, not the letter 'a'. As very few people notice that without the arrow, many logins into a fake Instagram account, giving scammers access to their credentials, and many times, personal information.
Scenario 3: Free Stuff On Instagram
Basically a phishing scam, fake accounts are being created that resemble those of major brand stores and restaurants. Some examples are Jet Blue, Ray-Ban, Best Buy, Chipotle, Delta, American Airlines, WestJet, Lulu Lemon, Southwest Airlines, Apple, British Airways, Nike, JB Hi-Fi, etc.
These fake accounts offer coupons, flights, or deals in exchange for likes, shares, follows and comments containing your email address so that you can claim your freebies and "giveaways". Of course, you receive nothing and you have now given away your personal identification to the scammers.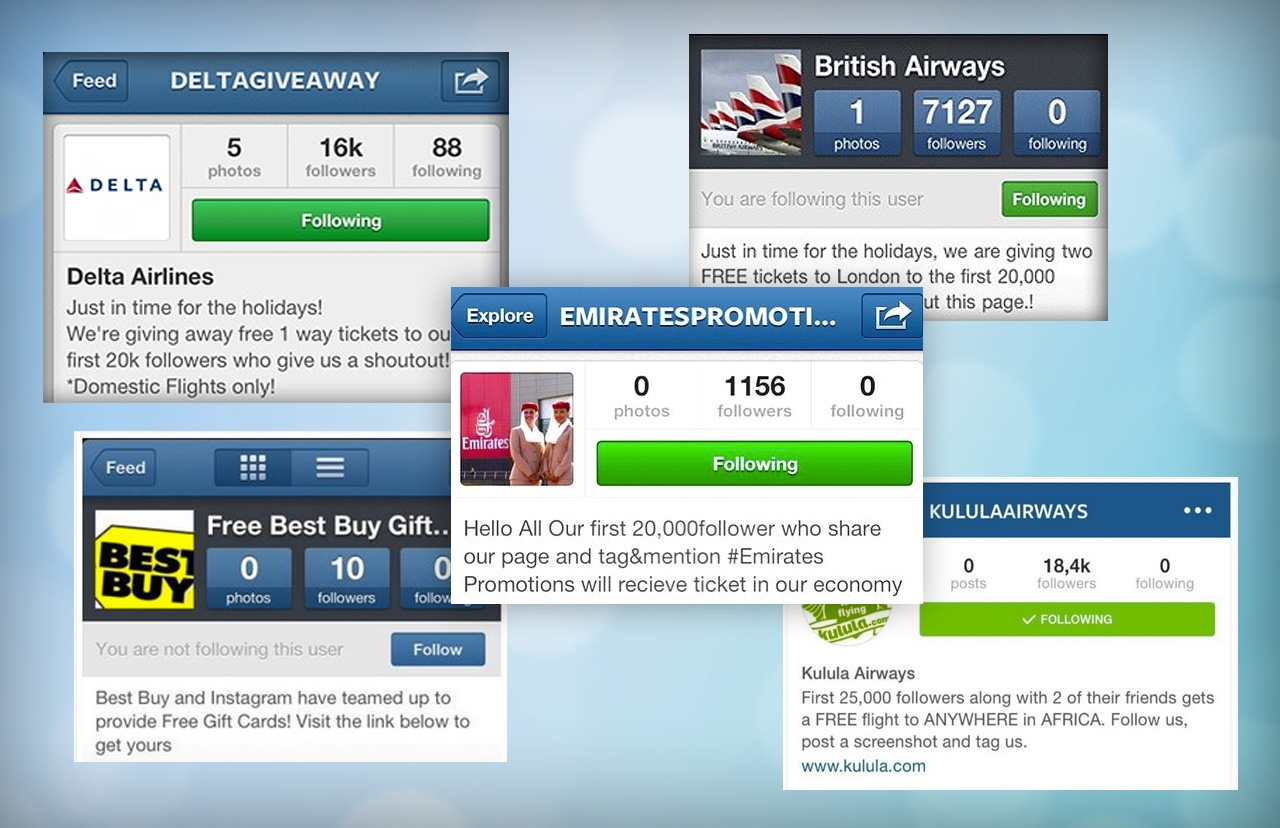 The difference between this scam and typical run of the mill phishing scams is the level of sophistication of the communications. The scammers make sure the URL is close to the brand name URL, fooling many people into believing it is a legitimate offer. They also use real offers ran previously by the company to further enforce the belief that they are the real thing.
On the same token, beware not only of the 'free stuff', but the ridiculously discounted one as well, see below.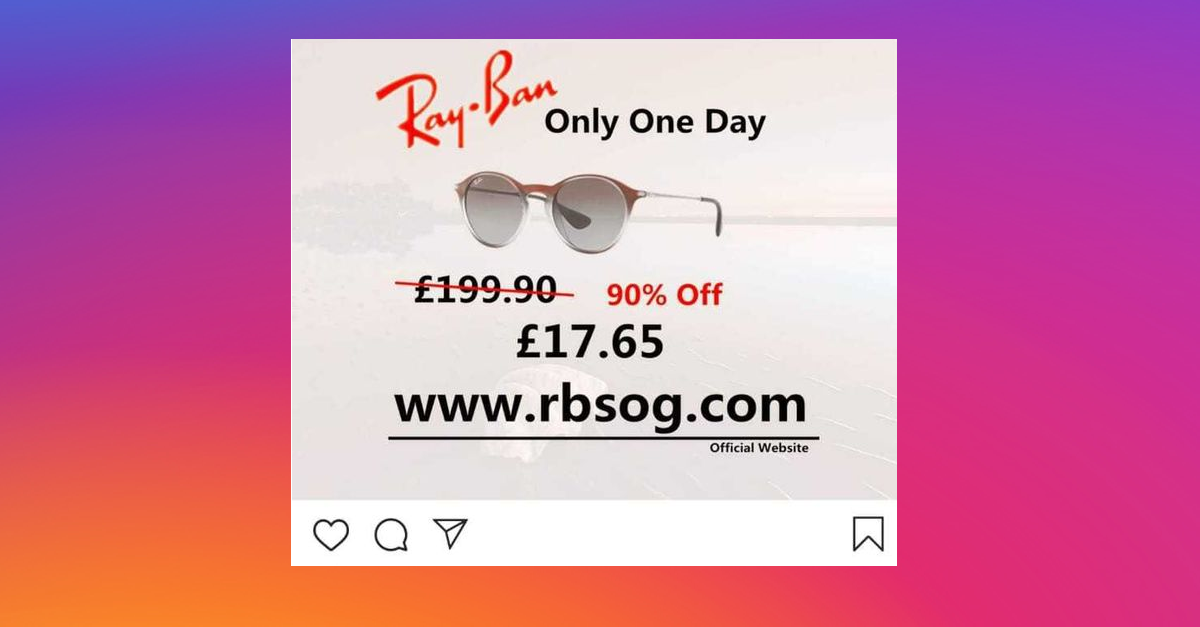 Scenario 4: Instagram Deleting Accounts
Crooks claim to be employees from the Instagram headquarters and inform you that they'll close your account if you don't share a certain picture and tag an account. The text reads: "Instagram is currently having some technical difficulties, so your account may get deleted. In order to avoid this, repost this picture and tag @donotdeletemyig. Thank you for your patience – Instagram staff (or Council)."
In the Instagram Deletes Accounts Scam, tricksters were just very creative and fooled around, trying to get exposure for their account by getting as many users as possible to tag their handle. Do not tag any account in any picture, it's just a scam.
Scenario 5: Scholarships On Instagram
(with video) This variation of the scam comes as educational support for young students. Crooks present scholarship opportunities, such as the 'Solomon Jackson Fund'. Watch the video below to see this scam exposed.
One last type of Instagram scams these days comes as an economic stimulus due to the COVID-19 crisis, where users receive messages featuring a fake list with Government grants (in the US, UK, and Australia) or a Canada Emergency Response Benefit check. Last but not least, beware of the PayPal Money Adder Scam and the Civil Service Exam message going around on Instagram, as well.
How To Avoid The Instagram Scams:
The only real line of defense is the same for this scam as every other "something for nothing" phishing scam. Make sure to contact the company and verify the offer's legitimacy.
Most larger corporations have entire departments dedicated to handling the influx of requests for these special offers; don't ever feel like you are bothering an employee by making a verification. It is well worth your time to protect your personal identification. Also, if you use reloadable cards such as MoneyPak, Green Dot, Vanilla Reload, or Ukash – never give the account numbers to anyone.
If you are into redeeming free stuff online, use only legitimate companies. One of the most trustworthy services out there is Swagbucks.com, which is the world's largest free online rewards program. You get paid by doing things online which you might do anyway, such as searching the web, discover products, take surveys, watch videos or play games. The company has an A+ rating with the Better Business Bureau. It takes a minute to register, but the rewards are great. You can register for free HERE.
On the other hand – to get back on the topic – if you want to get free Instagram followers, be proactive and rely on reputable platforms.
How To Report The Instagram Scams:
Make your family and friends aware of these Instagram scams by sharing the article on social media using the buttons provided. You can also officially report the scammers to the Instagram Help Centre using the link below:
How To Protect Yourself More:

If you want to be the first to find out the most notorious scams every week, feel free to subscribe to the Scam Detector newsletter here. You'll receive periodical emails and we promise not to spam. Last but not least, use the Comments section below to expose other Instagram scams.
---
Verify a website below
Are you just about to make a purchase online? See if the website is legit with our validator:
vldtr®
Searching:

Domain age, Alexa rank, HTTPS valid, Blacklisting, SSL certificates, Source code, Location, IP address, WOT Trustworthiness, Spam reports, Advanced technology, Privacy Policy, Terms of Use, Contact options

TOP 3 MUST-WATCH FRAUD PREVENTION VIDEOS
1. Top 5 Amazon Scams in 2023
2. Top 5 PayPal Scams in 2023
3. How To Spot a Scam Email in 2023
Selma Hrynchuk
Selma is a fraud prevention specialist renowned for her expertise in private eye investigations and a remarkable partnership with law enforcement agencies. Beyond her investigative triumphs, her public speaking engagements and written works have empowered countless individuals to protect themselves and stay ahead of deceptive schemes. Selma's legacy shines as a tenacious agent of change, unyielding in her commitment to battling fraud and ensuring a safer world for all.