Instagram Lottery Winner Scam: How It Works
Did anyone just contact you about an Instagram lottery? You are not alone. Instagram has over 850 million active users every month (of which over 500 million daily!) so there is no surprise that scammers came into the game to find a fool or two. Hopefully, you're not one of them.
In this article, you'll learn how the scam works and how to easily identify if the profile of the person you're talking to on Instagram is fake. Let's dive right into it. How does the scam work? Essentially, it has the same base as the Facebook Lottery Scam:
Watch the video below to see in action the scam exposed:
Criminals create fake profiles using stolen pictures from the Internet – like the one above – and claim to be Instagram employees. They keep following Instagram users until they are followed back. Once that happens, they contact the new 'connection' and start a conversation that goes like this:
"My name is Janet Howard, Claim Agent Officer at Instagram in Menlo, California. I would like to inform you that your name was selected among the 20 lucky Instagram winners who won the sum of $600,000.00 on the Instagram online lottery international draw. This is 100% real and legit. You can also check this link to find the best history of the Instagram past winners." (she sends you a link to a page with really bad Photoshopped images featuring winners of some sort, but with the name 'Instagram' added).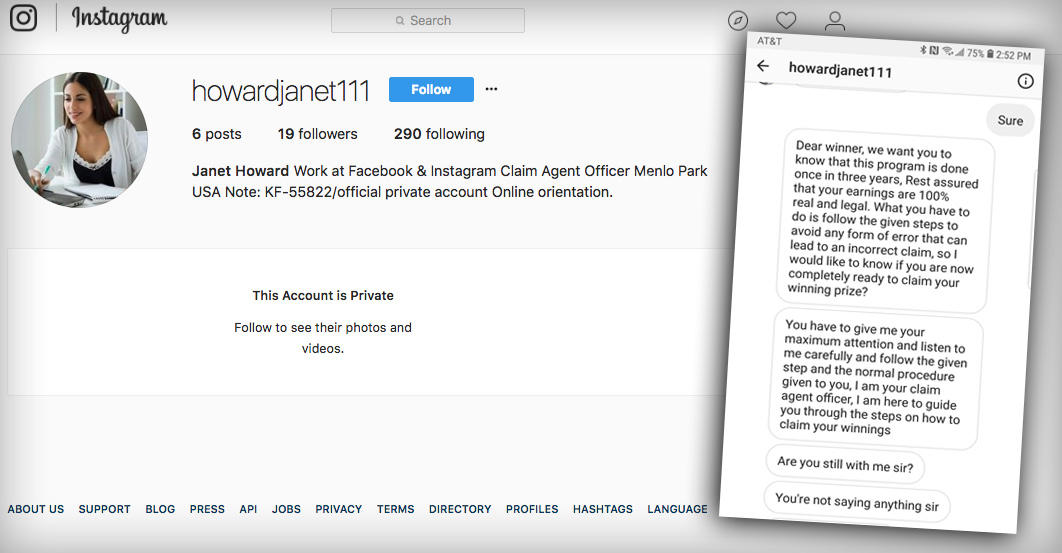 The text could differ from one scammer to another, along with their names. 'Janet Howard' is just the last scammer approaching Instagram users with the lottery bait. She uses the username howardjanet111, but rest assured that you could be contacted by many others.
So, what happens to those who believe they actually won the Instagram lottery?
Those who ask how they can get in the possession of the money are required to provide personal information, including address.
Then she will proceed by saying your cheque will be sent to them via FedEx. However "FedEx will contact you to pay a little fee, in order to deliver the cheque", she will say. That's where the scam occurs. As you can imagine, a fake FedEx employee will contact the victims to ask for that fee.
Alternatively, the scammer could say that the small charge is just a 'processing fee' of 3% of the winnings. In this case, the victims are required to pay via Western Union.
How To Find Out If an Instagram Profile Is Fake
Here is some good news. Watch the video below to see how you can easily identify if the profile contacting you on Instagram or Facebook is a fake).
Instagram Lottery Scam: How To Avoid
According to stats, Instagram will reach the 1 billion users mark by 2024, so rest assured various scams will continue to hit the users. You need to know how to avoid them.
There is no Instagram lottery nor will ever be one. When someone new on Instagram contacts you asking for money 'to make money', you should automatically ignore and report him. There are many naive victims out there, just don't be one of them.
On the same token, beware of anyone claiming to be the latest "Power Ball winner Instagram user". The scammer might pretend to give away part of the earnings – as exposed in the Lottery winner donation scam.
Instagram Lottery Scam: How To Report
Share this article about common Instagram scams on social media and warn your friends about it. Post in the Comments section below the name of the Instagram scammer contacting you in regards to the lottery win.
Last but not least, you can also officially report the scammers directly to Instagram or the Federal Trade Commission using the links below:
Report Scammers to Instagram HERE
How To Protect Yourself More

If you want to be the first to find out the most notorious scams every week, feel free to subscribe to the Scam Detector newsletter here. You'll receive periodical emails and we promise not to spam. Last but not least, use the Comments section below to expose other scammers.
Related Articles And Pages
Amazon Brushing: How Fake Reviews Work
---
Verify a website below
Are you just about to make a purchase online? See if the website is legit with our validator:
vldtr®
Searching:

Domain age, Alexa rank, HTTPS valid, Blacklisting, SSL certificates, Source code, Location, IP address, WOT Trustworthiness, Spam reports, Advanced technology, Privacy Policy, Terms of Use, Contact options

TOP 3 MUST-WATCH FRAUD PREVENTION VIDEOS
1. Top 5 Amazon Scams in 2023
2. Top 5 PayPal Scams in 2023
3. How To Spot a Scam Email in 2023
Selma Hrynchuk
Selma is a fraud prevention specialist renowned for her expertise in private eye investigations and a remarkable partnership with law enforcement agencies. Beyond her investigative triumphs, her public speaking engagements and written works have empowered countless individuals to protect themselves and stay ahead of deceptive schemes. Selma's legacy shines as a tenacious agent of change, unyielding in her commitment to battling fraud and ensuring a safer world for all.