Facebook Lottery Scam: How It Works
(with video below) Did anybody just contact you about the Facebook lottery? In this article you'll learn not only how the scam works, but also how to easily identify if the profile of the person you're talking to on Facebook is fake or not. Let's take a look, it's brilliant.
Watch How The Scam Works:
Watch the video below to see in action a Facebook Lottery scam exposed:
This is the most common social media scam out there, along with the Facebook Customer Service Scam; and the Free iPhone 14 Scam. But let's dive in:
Imagine this: you are on Facebook and one of your new added contacts starts a conversation with you using the chat feature. You remember all of a sudden that you added this 'Jennifer Goosen' [insert any name you want here] as a friend about a month ago although you didn't really know her.
However, you saw her posts are decent, sometimes even funny, so you don't worry much about her. Then one day, as mentioned, she finds you online.
After starting the chat, 'Jennifer' says she works for Facebook's promotions department.
Facebook Lottery Scam Conversation
Below is a real conversation between the scammer and us:
'Jennifer Goosen':
I am here to pass a vital information to you but before I proceed, I would like to know if you have been informed about your winning.
'SD':
No I had no idea that FB had a lotto? I have friends who work at Head office. I have never heard them mention. Please proceed?
'Jennifer Goosen':
Oh i see.. I am delighted to inform you that your name was luckily selected among the 10 lucky winners who won the sum of $50,000.00 on the Facebook online lottery international draw. NOTE:this is 100% real and legit and the FBI are aware of this lottery promo.. You can also check this link to find the best history of the Facebook past winners: (spammy link containing the words 'winners' and 'Facebook').
The idea is that you trust 'Jennifer Goosen' as your Facebook friend and… check the link. This is a two-way hit for the scammers. First, in a few cases, the link is compromised getting your computer infected with malware, spyware, or keylogging. Furthermore, if you believe in the existence of the lottery, she will ask you for your personal information, including your address.
Then she will proceed by saying your cheque will be sent to you by FedEx and they will contact you to pay a little fee, in order to deliver the cheque. As you can imagine, a fake FedEx employee will contact you to ask you for that fee.
How To Find Out If a Facebook Profile Is Fake
Here is some good news. Watch the video below to see how you can easily identify if the profile contacting you on social is a fake (you can apply to all, not just Facebook).
Fake Facebook Grant Processing Agent and Global Financial Facility Group
Here is another variation of the scam. You might be contacted by a real Facebook friend. Your friend's account is real, however he/she got hacked – and the scammer contacts everyone on their Friends' list, including yourself.
The message says something along these lines: "I saw your name on the winners' list of Global Financial Facility of World Bank Group" (fake organization). "Please contact them and ask them about the prize/grant". You friends sends your their Facebook page (see image below). The amount you apparently won is $180,000.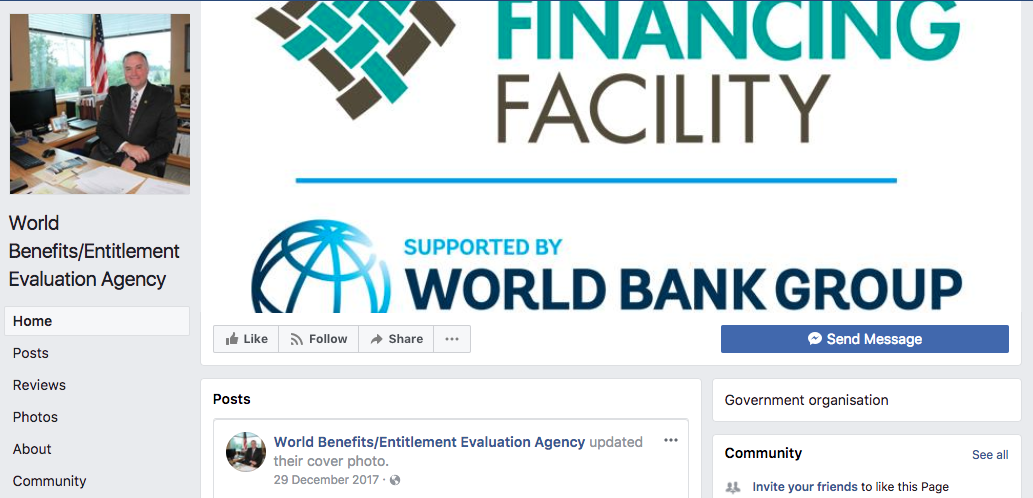 You get super excited and send a message to this organization. After they congratulate you, they will say your agent is Shirley Herriot (or any other name), who claims to be a Facebook Processing representative at Grant n Lottery Entitlement Evaluation. This is also a fake position as Facebook doesn't have such a thing.
Shirley informs you that to receive your $180,000 you will need to a pay an insurance and delivery fee, worth $400. She asks you to pay the amount in the form of iTunes cards, see the screenshots below.
Victims send the $400 right away in hopes of getting the big grant. Don't be one of them.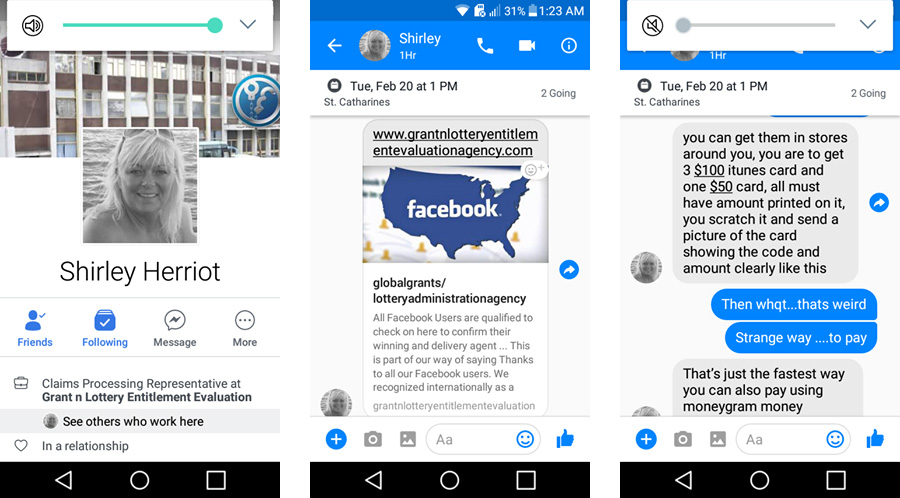 How To Avoid The Facebook Lottery Scam
Although it's easy to reckon is a scam the moment your new Facebook friend contacts you, there are still many victims out there that are naive. You should know that you shouldn't accept friendship invitations from people you don't know.
This scammer just stole somebody else's picture off the Internet and use it to impersonate a respectful, corporate individual. Always do your research and trust only legitimate companies.
How To Report The Facebook Lottery Scam
You can also officially report the scammers using the link below:
How To Protect Yourself More

If you want to be the first to find out the most notorious scams every week, feel free to subscribe to the Scam Detector newsletter here. You'll receive periodical emails and we promise not to spam. Last but not least, use the Comments section below to expose other scammers.
Related Articles And Pages
Low Interest Rate Credit Cards Scam

Solar Panels For Your Home Scam

Duplicate Facebook Friend Request

Hair Loss Treatment/ Hair Restoration Scam

Adopt A Pet/ Dogs For Adoption Scam

---
Verify a website below
Are you just about to make a purchase online? See if the website is legit with our validator:
vldtr®
Searching:

Domain age, Alexa rank, HTTPS valid, Blacklisting, SSL certificates, Source code, Location, IP address, WOT Trustworthiness, Spam reports, Advanced technology, Privacy Policy, Terms of Use, Contact options

TOP 3 MUST-WATCH FRAUD PREVENTION VIDEOS
1. Top 5 Amazon Scams in 2023
2. Top 5 PayPal Scams in 2023
3. How To Spot a Scam Email in 2023
Selma Hrynchuk
Selma is a fraud prevention specialist renowned for her expertise in private eye investigations and a remarkable partnership with law enforcement agencies. Beyond her investigative triumphs, her public speaking engagements and written works have empowered countless individuals to protect themselves and stay ahead of deceptive schemes. Selma's legacy shines as a tenacious agent of change, unyielding in her commitment to battling fraud and ensuring a safer world for all.