Lottery Winner Donation Scam: How It Works
The scam is trending now in the United States, Canada, and the United Kingdom. Regardless of what country or state you live in, here is an ingenious approach that scammers take when it comes to lottery winners. The last few names that the scammers use are Dave Johnson, Mavis Wanczyk, Christy Davis, Michael J Wiersky, as well and Frances & Patrick Connolly. These are all real Powerball winners!
In this article, we will show you how the scam works and how to find out if a profile is fake. Let's look at two examples first: Cristy Davis and Kelsey Zachow.
In the first case, victims receive emails or Facebook messages like this below:
"Hello, this is Cristy Davis the Powerball winner in Michigan on Feb 2/2020. I'm using this time to give out 20 people $50,000,00 to each USA citizen I randomly picked. Watch me on this link  https://youtu.be/qod1Sgxyi6U  get back to my agent with a text  901 699 6836 if you're really interested to be one of the luckiest man/Woman". Horrible grammar, but let's see more.
Take the case of Kelsey Zachow, a real lucky girl who won 66 million dollars.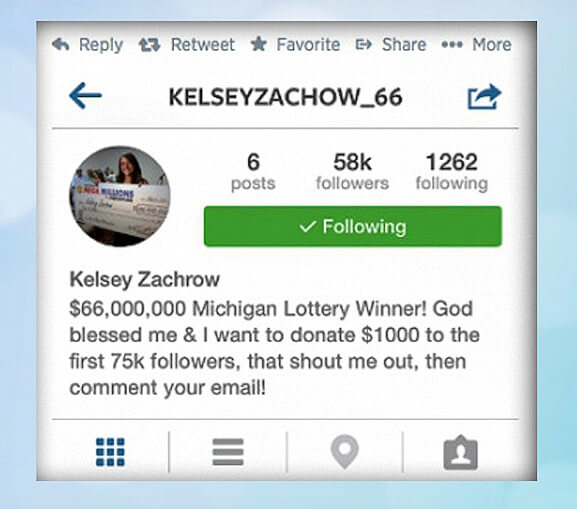 Criminals created fake Instagram, Facebook, or Twitter accounts using her credentials. How did they have them? It was an easy thing to find because lottery winners are featured in the news with their success stories (you know those pictures with 6/49 millionaires holding checks, right?). Crooks use not only 6/49 or Powerball millionaires, but also Publishers Clearing House winners, as well.
Using Kelsey's full name, the crooks posted a generous promise of donating $1,000 from her winnings to the first 75,000 Instagram followers – see the image above.
Alternatively, the scammers send emails offering the donation (amount varies). In order to do that, they ask the victims for their bank account, in order to transfer the promised money. In exchange, they are required to pay 'a small tax' that apparently is needed for international donations.
Needless to say, the 'lucky' followers were rather unfortunate for giving their personal information away. However, be aware that scammers may use other names too, such as philanthropists or business people.
Watch the video below to see a different variation of the Lottery Winner Scam exposed:
Potential victims are taking this to social media, exposing the scammers. Here is the last Tweet from user @maelen:
Do not fall for this guys scam. He's claiming to be a lottery winner and is trying to get very personal information from people. Please keep yourselves safe out there. #scam #fake pic.twitter.com/aHa60Nx0xy

— Maelen (@_maelen_) April 20, 2020
Lottery Winner Donation Scam: How to Avoid
Keep in mind that new scammers could copy this scheme and use lottery winners' names from your region. Be very careful. As a fact, lottery winners are advised on the day of claiming to close their social media accounts temporarily. Not to mention that – within days – they are approached for donations by hundreds of people and various local organizations. However, we have good news. Check the following:
IMPORTANT: Here Is The Best Way To Protect Yourself
For the end of the article we left a very powerful and important advice. After the increased amount of online fraud happening lately, we've been asked many times what the most effective ways to stay safe online are. After experiencing and testing many fraud prevention platforms online, we we would recommend you to get Surfshark. Here is why:
They have an award-winning VPN service, protecting your privacy, securing your identity, and preventing third parties from tracking your device. They have a super aggressive antivirus program. It offers you effective protection from viruses and zero-day threats, a lightweight, clean, and easy-to-use app, and a 30-day money-back guarantee.

Killer feature: They will notify you when your personal info is leaked online.

They help you hide your online searches, which will get you purely organic search results, free from ads and tracking. You know when you search, for example, for a flight and the next time you look at the same search the prices are higher? With Surfshark, this is not happening.
Awesome, right? Last but not least, Surfshark offers 76% off + two months free to the Scam Detector readers. You can get the deal HERE.
How To Remove Your Personal Information From The Internet
However, if it's a bit too late and your personal information is leaked online, we have good news. If you wonder how to remove your private data from the Internet, you should get a service like Incogni, see below. It is a trustworthy powerful privacy tool that requests your data removal from almost a hundred brokers on your behalf. The service is verified by our staff and is legitimate. For only $5.79US/month, it's totally worth it. Click below to remove your personal data from the Internet:

How To Find Out If a Profile Is Fake
Here is some good news. Watch the video below to see how you can easily identify if the profile contacting you on social is fake (you can apply to all, not just Facebook).
Always do your research and trust only legitimate sources. If you really are into looking for ways to earn money or rewards online or from social media, you can join Swagbucks.com, which is the world's largest free online rewards program. You get paid by doing things online which you might do anyway, such as searching the web, discover products, take surveys, watch videos or play games.
You can also get free iTunes and Amazon cards. The company has an A+ rating with the Better Business Bureau. You can register for free HERE.
For the end, here are a couple of related articles:
How To Tell If Someone Is Scamming You Online
What To Do If You Have Been Scammed Over The Phone
---
Verify a website below
Are you just about to make a purchase online? See if the website is legit with our validator:
vldtr®
Searching:

Domain age, Alexa rank, HTTPS valid, Blacklisting, SSL certificates, Source code, Location, IP address, WOT Trustworthiness, Spam reports, Advanced technology, Privacy Policy, Terms of Use, Contact options

TOP 3 MUST-WATCH FRAUD PREVENTION VIDEOS
1. Top 5 Amazon Scams in 2023
2. Top 5 PayPal Scams in 2023
3. How To Spot a Scam Email in 2023
Selma Hrynchuk
Selma is a fraud prevention specialist renowned for her expertise in private eye investigations and a remarkable partnership with law enforcement agencies. Beyond her investigative triumphs, her public speaking engagements and written works have empowered countless individuals to protect themselves and stay ahead of deceptive schemes. Selma's legacy shines as a tenacious agent of change, unyielding in her commitment to battling fraud and ensuring a safer world for all.