PayPal Order Scam: How It Works
Did you receive a PayPal order statement for a purchase via email? You are not alone. PayPal is one of the most useful platforms out there, with 286 million active users and revenue of $15.45 billion. Unfortunately, scammers find easy targets amongst the account holders, especially since not everyone is tech-savvy and many people are still gullible when it comes to accessing their online information. One of the latest PayPal scams is using the name of the company in a fake purchase. How does it work?
Watch the video below to see the PayPal Order Scam exposed:
The scam works like this. You receive an email in the form of a PayPal alert claiming to be from the PayPal headquarters (see pic below). The subject title is: "Order was successful", while the content of the message states that you have sent a $225.00US payment to Playwith Interactives, Inc, a random company.
Scammers rely on the fact that victims fight back knowing it was a mistake since they didn't purchase anything. The scam message provides the victims a few links to the "PayPal login page", in order to cancel/dispute the fake purchase. The buttons may say "Resolve now", "View details of the transaction online", or "Resolution Center".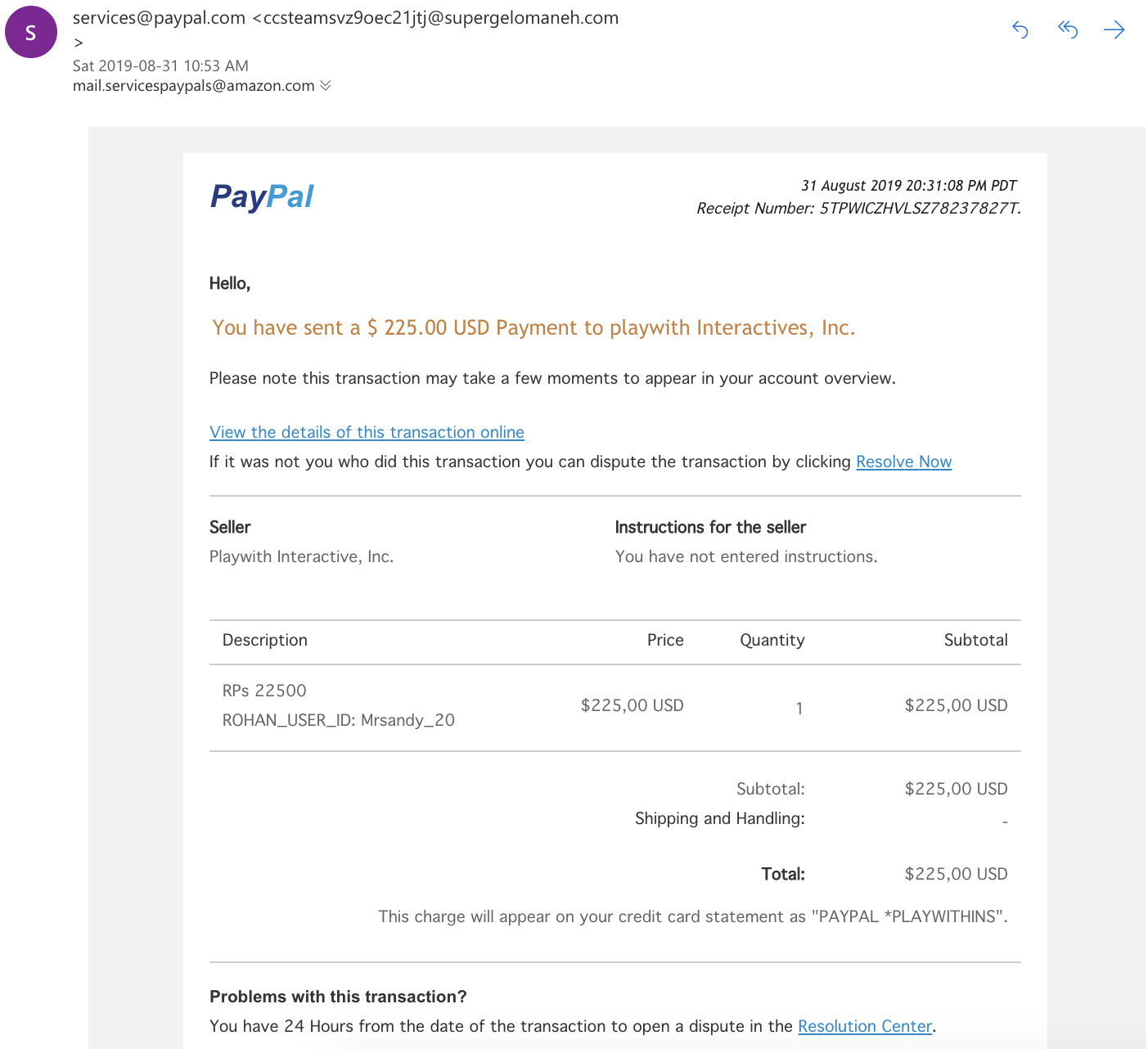 What happens if the recipient clicks on these buttons? The links open a fake PayPal website (see below), which will ask the victim to log in by providing both the email address and the password. Once that happens, the accounts are compromised.
Here is an example of a fraudulent email: "Hello, You have sent a payment of  $225.00US payment to Playwith Interactives, Inc. Please note this transaction will take a few moments to appear in your account overview. View the details of this transaction online. If it was not you who did this transaction you can dispute the transaction by clicking Resolve Now".
PayPal Order Email Scam: How To Avoid
You can easily detect the red flags on this PayPal instant payment notification warning. If you look at the image above, check out the domain name that appears up in the browser. You notice that the email address that claims to send this message (services@paypal.com) doesn't actually come from paypal.com but from "supergelomaneh.com". Scam.
Then, they only say "Hello" in the welcoming phrase, which is always a dead giveaway. Delete the message. Always log into your account straight from PayPal's website, by typing paypal.com in your browser first.
In a different variation, we have the PayPal Bitcoin Invoice scam.
PayPal Order Email Scam: How To Report
Make your family and friends aware of the PayPal Order Email scam by sharing it on social media using the buttons provided. You can also officially report the scammers to the Federal Trade Commission (FTC) or even PayPal using the link below:
How To Protect Yourself More:

If you want to be the first to find out the most notorious scams every week, feel free to subscribe to the Scam Detector newsletter here. You'll receive periodical emails and we promise not to spam. Last but not least, use the Comments section below to expose other scammers.
---
Verify a website below
Are you just about to make a purchase online? See if the website is legit with our validator:
vldtr®
Searching:

Domain age, Alexa rank, HTTPS valid, Blacklisting, SSL certificates, Source code, Location, IP address, WOT Trustworthiness, Spam reports, Advanced technology, Privacy Policy, Terms of Use, Contact options

TOP 3 MUST-WATCH FRAUD PREVENTION VIDEOS
1. Top 5 Amazon Scams in 2023
2. Top 5 PayPal Scams in 2023
3. How To Spot a Scam Email in 2023
Selma Hrynchuk
Senior Editor at Scam Detector Media, Selma is a fraud prevention specialist with a wealth of experience in private investigations and collaborations with law enforcement. A captivating public speaker, Selma educates audiences about scams and personal safety. Through her insightful writing, she exposes criminals and shares essential tips for staying secure. Selma is a dedicated guardian against fraud, committed to unmasking deception and promoting integrity.