OurTime Subscription Purchase Scam: How It Works
OurTime.com is an online dating website that caters to people over 50. The platform seems to be doing a decent job connecting its members – despite some complaints – and has over 7 million users per month. While OurTime's services are appreciated more or less, scammers also joined the game, preying on people who have – or used to have – a subscription on OurTime.com. How does the scam work?
You receive an email coming from the OurTime headquarters (see pic below), with the title subject: "OurTime.com Subscription Purchase". The message comes from scammers impersonating the real company's staff and informs that you purchased a new annual membership, worth $134,43. It also says the money will be withdrawn from your credit card within the next two hours. This note is where the hook is.
Criminals are relying on the fact that victims, knowing that they didn't purchase anything, log into the OutTime.com platform to complain that it was a mistake. The email provides a couple of links to the OurTime login page. Or so the victims think.
The link opens a similar page to the real OurTime website (see below), which requires the users to log in by providing their email addresses and passwords. Once the victims give scammers that info, they have their accounts will be accessed and their credit cards vandalized.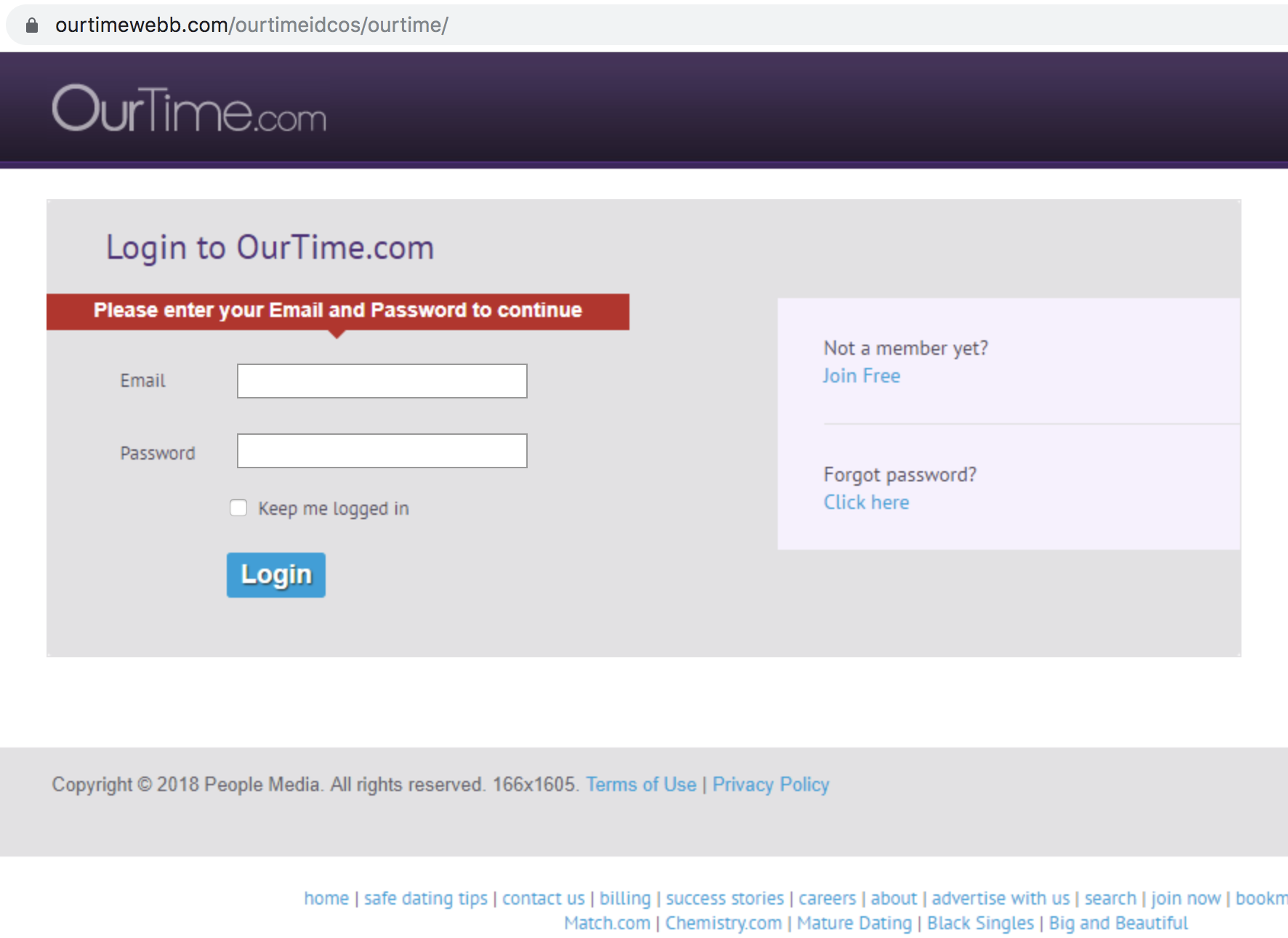 Here is an email that one of our readers received from scammers today:
"Dear Member,
Thank you for using OurTime.com your new payment has been approved and the amount of $134.43 will be debited within 2 hours. Your new subscription includes full mobile access, message read notification, profile highlights, and message highlight (billed in 1 payment of $134.43 plus tax). You can change your current payment method if needed. If you didn't make this payment, click the link below to cancel payment [button to cancel the payment provided]. Should you need any further help, please use the Help Center [link] or Click Here [fake link] to delete your account.
Thank you,
The OurTime.com Customer Care Team"
Beware!
OurTime Subscription Purchase Email Scam: How to Avoid
Let's look at the red flags that you should always notice. The first bad thing that pops up is the greeting: "Dear member". Every legitimate platform that has members paying money for annual subscriptions greets them at least by their first name since they have their info.
Secondly, look at the domain name that shows up in the browser. If you check out the image above, you can see that it doesn't come from ourtime.com, but from some questionable "ourtimewebb.com" domain.
Third tip: Hunt for grammar mistakes. Look at the image above. The phrase "If you didn't this request this payment" doesn't make any sense.
Fourth tip: Try to click on any of the links in the footer of the page (Privacy, Terms of Use). If they don't open anything or just refresh the same page then you know it's a scam.
Fifth tip: Scroll down until the bottom of the email. You can also notice in the scam email above that right at the end there is an "Unsubscribe" notification, which gives away the fact that scammers sent this email in bulk. In other words, mail merging. That meant that they used a platform to send the same message to probably thousands of random email addresses at the same time, hoping to catch any OurTime members or former users in their hook. All these email addresses were most likely bought from third parties.
Do not click on the link provided. Delete the email and go ahead with your day. The best thing to do in this case is to log into your OurTime account by typing ourtime.com in your browser.
Other Online Dating Scams
There are thousands of scammers out there worldwide, and the numbers keep growing, despite all the FBI efforts. The most common online dating scams are the True Romance Trick and Free Meals Dating. Victims believe someone on the other side of the country or world is dying to meet them. Sometimes, literally. Let's take a look.
Watch the video below to see in action the True Romance Scam, exposed:
Online Dating Scammer Exposed Video
Online Dating Scams: How To Report
Let your family and friends know about this article by sharing it on social media using the buttons provided. You can also officially report the scammers to the Federal Trade Commission using the link below:
Report To The FTC Here
How To Protect Yourself More

If you want to be the first to find out the most notorious scams every week, feel free to subscribe to the Scam Detector newsletter here. You'll receive periodic emails and we promise not to spam. Last but not least, use the Comments section below to expose other scammers.
What Is OurTime.com
OurTime is owned by Match.com and it seems to be doing a decent job for only eight years in the business, due to its targeted niche demographic, people over 50. However, many members are complaining about their services. OurTime also has a mobile app available on both iOS and Android platforms.
OurTime also allows you to email, chat, discreetly connect via text message or phone, send digital gifts, add others to favorites, and send "flirts" to show interest in other members. The website provides safety tips as well, especially since its members are seniors, and safety is the most important thing.
---
Verify a website below
Are you just about to make a purchase online? See if the website is legit with our validator:
vldtr®
Searching:

Domain age, Alexa rank, HTTPS valid, Blacklisting, SSL certificates, Source code, Location, IP address, WOT Trustworthiness, Spam reports, Advanced technology, Privacy Policy, Terms of Use, Contact options

TOP 3 MUST-WATCH FRAUD PREVENTION VIDEOS
1. Top 5 Amazon Scams in 2023
2. Top 5 PayPal Scams in 2023
3. How To Spot a Scam Email in 2023
Selma Hrynchuk
Selma is a fraud prevention specialist renowned for her expertise in private eye investigations and a remarkable partnership with law enforcement agencies. Beyond her investigative triumphs, her public speaking engagements and written works have empowered countless individuals to protect themselves and stay ahead of deceptive schemes. Selma's legacy shines as a tenacious agent of change, unyielding in her commitment to battling fraud and ensuring a safer world for all.