How The Scam Works:
There is no secret that online transactions have become quite a weekly routine for everyone. Unfortunately, in a world that's constantly changing thanks to new technology updates, criminals prey on people's naivety and target them with various fraudulent practices. The latest scam is the PayPal Transaction Email aka PayPal Smart Watch Purchase scheme. How does the scam work?
Watch the video below to see the PayPal Transaction Notification scam exposed:
PayPal Transaction Notification Scam Video
You receive an email apparently coming from PayPal (see pic below), with the title subject: "PayPal Notification". The message informs that you purchased a smart watch worth $96.97 (Blaze Bluetooth) and you should be receiving it within 4-21 days, depending on customs.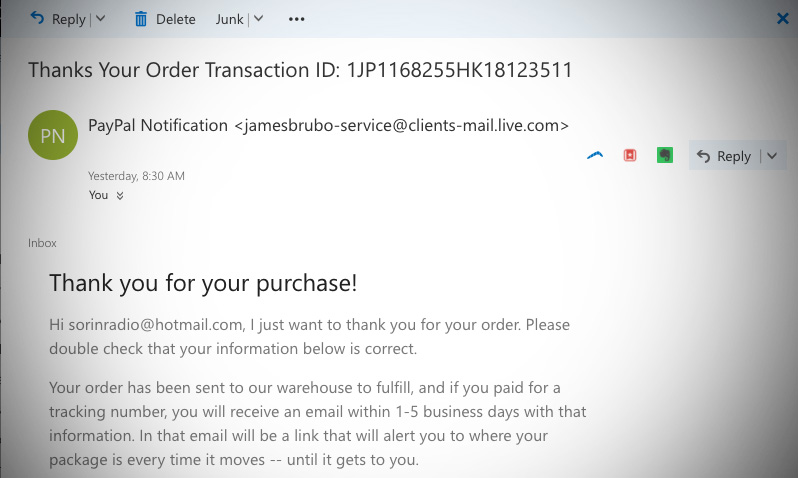 Scammers are banking on the fact that victims, knowing that they didn't purchase anything, will try to claim that it was a mistake. The email provides links to the 'PayPal store' or the transaction page, to cancel/dispute the fake purchase.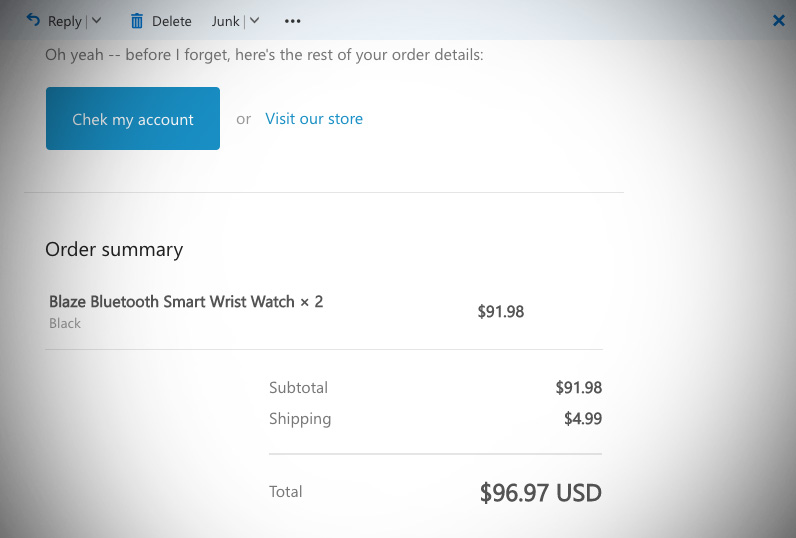 The link will open a replica of the real PayPal website (see below), which will ask you to log in by providing your email address and password. As you can imagine, once you give scammers that information, you can rest assured that your account will be vandalized.
The same version of the scheme happens in the PayPal Support Text Scam.
Below there is an email scammers sent to our Scam Detector address this week:
"Thank you for your purchase!

Hi [email address], I just want to thank you for your order. Please double check that your information below is correct. Your order has been sent to our warehouse to fulfill, and if you paid for a tracking number, you will receive an email within 1-5 business days with that information.

In that email will be a link that will alert you to where your package is every time it moves — until it gets to you. If you're ever curious about where your order is or you need ANY help whatsoever with your order, please go to this link:

Being that we have customers from the UK, Australia, Canada, and all over the world, the time it will take to get to you will vary. Depending on Customs, you can generally expect your package in about 4-21 days.

I realize that's a big range, and the reason for that is because if Customs decides to check a random group of packages, it could take a few days to release. This is frustrating, so that's why we had the special shipping tracker above built so you could know exactly where your package was at all times.

Our only goal is to prove to you that our products are simply the best value that money can buy. Oh yeah — before I forget, here's the rest of your order details:

Check my account button"
Beware!
How to Avoid the PayPal Notification Scam:
When in doubt, look for red flags first. In this particular case, if you look at the image above, you can see that the "Check my account" button is horribly misspelled.
Secondly, the content of the message is written in the first person. "I could realize", "Before I forget", etc., are just examples that you will not find in emails from major players like PayPal or Ebay.
Last but not least, look at the domain name that shows up in the browser. If you look at the picture above, you will see that it doesn't come from paypal.com, but from some fake "security-support-activity-account" domain. Way too complicated.
Do not click on the link provided. The best thing to do in this case is to log into your account straight from PayPal's website, by typing paypal.com in your browser first.
How to Report the PayPal Notification Scam:
Make your family and friends aware of this scam by sharing it on social media using the buttons provided. You can also officially report the scammers to PayPal using the link below:
How To Protect Yourself More:

If you want to be the first to find out the most notorious scams every week, feel free to subscribe to the Scam Detector newsletter here. You'll receive periodical emails and we promise not to spam. Last but not least, use the Comments section below to expose other scammers.
---
Verify a website below
Are you just about to make a purchase online? See if the website is legit with our validator:
vldtr®
Searching:

Domain age, Alexa rank, HTTPS valid, Blacklisting, SSL certificates, Source code, Location, IP address, WOT Trustworthiness, Spam reports, Advanced technology, Privacy Policy, Terms of Use, Contact options

TOP 3 MUST-WATCH FRAUD PREVENTION VIDEOS
1. Top 5 Amazon Scams in 2023
2. Top 5 PayPal Scams in 2023
3. How To Spot a Scam Email in 2023
Selma Hrynchuk
Senior Editor at Scam Detector Media, Selma is a fraud prevention specialist with a wealth of experience in private investigations and collaborations with law enforcement. A captivating public speaker, Selma educates audiences about scams and personal safety. Through her insightful writing, she exposes criminals and shares essential tips for staying secure. Selma is a dedicated guardian against fraud, committed to unmasking deception and promoting integrity.