What Is the Amazon Brushing Scam?
The Amazon Brushing Scam is a new, fraudulent technique perpetrated online. It has been spreading like an epidemic lately, making buyers worldwide purchase products that are not really what they're advertised. In a nutshell, the Amazon Brushing Scam is when sellers on online marketplaces send unsolicited products to individuals and then post fake positive reviews on behalf of those recipients.
Therefore, knowing how to tell if Amazon reviews are authentic is critical. I'll explain in detail how you can get scammed. Here is a complete list of brushing scams perpetrated online. Let's start.
New services such as Amazon Vine and AMZDiscover became part of the game. Let's look at this phenomenon, which adds more to the list of Amazon scams. Pay attention.
If you have an Amazon membership, you typically check out the reviews before buying a product. You purchase according to these evaluations, yes? What if we tell you that tons of reviews you trust for some products are absolute garbage? Here is more.
So, what is Amazon Brushing, and how are the Amazon Vine and AMZDiscover related?
Watch the video below to see in action the Amazon Brushing Scam scheme exposed:
The Amazon Brushing scam applies mainly to products that are smaller and cheaper. What questionable sellers do is purchase their own products as 'gifts' and send them to random addresses to individuals they find on the Internet. They could even buy these lists with victims from third parties.
On the other hand, two platforms make a difference: Amazon Vine and AMZDiscover. Let's look quickly:
Amazon Vine
According to Amazon's official website, "Amazon Vine invites the most trusted reviewers on Amazon to post opinions about new and pre-release items to help their fellow customers make informed purchase decisions. Here is more: Amazon invites customers to become Vine Voices based on their reviewer rank, which is a reflection of the quality and helpfulness of their reviews as judged by other Amazon customers. Amazon provides Vine members with free products that have been submitted to the program by participating vendors."
AMZDiscover
What is AMZDiscover? AMZDiscover is an online search engine that can help you find Amazon reviewers and potential customers. How? Copy and paste the URL of an Amazon product listing and click the search button. Then, all reviewers are displayed with basic information, including their names, helpful votes, and reviewer ranking.
Given all this information, let's examine how the Amazon Brushing scam works.
The Trick: Reviews as an Anonymous Receiver
What happens is that when you receive merchandise as a gift, you can leave a review as an anonymous receiver. This way, the sellers buy hundreds of their own products, ship them to others as gifts, and then leave a review for themselves (from fake newly-created accounts as buyers) as 5-star. The reviews are as realistic as possible.
When you search Amazon for the desired item, you will look at the reviews and their number. If you see your product has 252 reviews, all of a 5-star rating, you'd likely buy it on the spot. Right?
The merchandise comes with no return addresses, so the recipients don't know where they are coming from.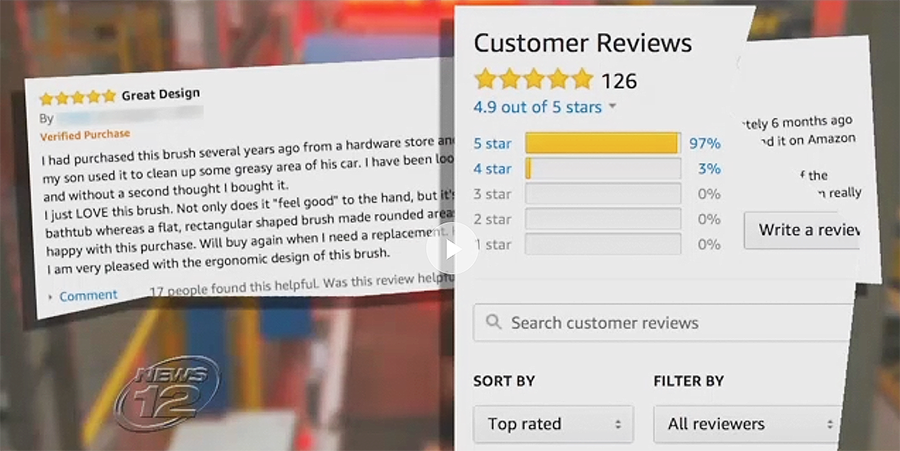 Scammers get their money back (as they're both sellers and buyers), except for a small fee that goes to Amazon. However, their small price comes back 100 times more when they sell their items to unsuspecting buyers online. Hopefully, you're not one of them.
If you look at the video above, you see that most of the products subject to the Amazon Brushing scheme are smaller, such as humidifiers, flashlights, Bluetooth speakers, phone covers, light bulbs, and smartphone chargers. It could be anything you are looking for.
Amazon Fake Reviews: How To Avoid
It is challenging, indeed. The Amazon headquarters announced that they are looking into the problem. "We investigate every report of customers receiving unsolicited packages and will ban all vendors and reviewers who abuse the review system."
Until Amazon improves the algorithm and weeds out fake reviews, you can look for testimonials anywhere else on the Internet besides their platform. Type the product name you want to buy in Google and add the word 'scam' at the end.
Alternatively, find 3 or 4 more online sources for reviews of the same product. Make sure there are many.
Be also aware of other Amazon-related fraudulent activities such as the fake Amazon Jobs From Home, Amazon Login Attempt Scam, or the Fake Amazon Shipment. Meanwhile, be careful about other promising but bogus work from home scams.
Amazon Brushing Scam: How To Report
Let your family and online friends know about the Amazon Brushing Scam. Feel free to share this page if it was helpful. Officially, you can report Amazon scammers and any other suspicious activity to Amazon itself, or the Federal Trade Commission – FTC (most important), the Office of the Inspector General, and the FBI Internet Complaint Center by using the pages below:
Report To Amazon Here
Report To The FTC Here
Report To The Office of the Inspector General Here
Report To The FBI Internet Complaints Center Here
How To Protect Yourself More
Do you want to be amongst the first to receive alerts about the most notorious scams every week? Subscribe to our Scam Detector newsletter. You will receive periodic emails from us with insightful tips. That will include info on how to prevent fraud and information about the newest tools you can use to fight crime.
Meanwhile, feel free to educate yourself with some other Amazon fraud-related articles. They are listed under this paragraph, so that you know more about online security. Last but not least, if you have any bad experiences, make sure to use the comments section below to expose other scammers.
---
Verify a website below
Are you just about to make a purchase online? See if the website is legit with our validator:
vldtr®
Searching:

Domain age, Alexa rank, HTTPS valid, Blacklisting, SSL certificates, Source code, Location, IP address, WOT Trustworthiness, Spam reports, Advanced technology, Privacy Policy, Terms of Use, Contact options

TOP 3 MUST-WATCH FRAUD PREVENTION VIDEOS
1. Top 5 Amazon Scams in 2023
2. Top 5 PayPal Scams in 2023
3. How To Spot a Scam Email in 2023
Selma Hrynchuk
Selma is a fraud prevention specialist renowned for her expertise in private eye investigations and a remarkable partnership with law enforcement agencies. Beyond her investigative triumphs, her public speaking engagements and written works have empowered countless individuals to protect themselves and stay ahead of deceptive schemes. Selma's legacy shines as a tenacious agent of change, unyielding in her commitment to battling fraud and ensuring a safer world for all.