Amazon Prime Review Scam: How It Works
Amazon has become the biggest source of online shopping in the world, making its owner Jeff Bezos officially the richest man in the world back a few years ago. The platform reached an unbelievable number of 306 items sold every second.
One of Amazon's best services is Amazon Prime, which delivers your purchases within two days, amongst other benefits. Also, every year Amazon hosts Prime Day, which is the online version of Black Friday.
Chances are, you purchased something over the last year on Amazon. If you did, you could soon become a victim of an elaborate scam. How does it work?

An official-looking email is targeting all the users of the retailer nowadays. If you are one of them, the message is thanking you for your recent purchase on Amazon Prime Day and invites you to write a review in exchange for a $50 prize.
The link directs consumers to a fake Amazon website that requests your username and password. Clicking the link generates a malware infection or ransomware onto your device, which can then encrypt your important files.
Amazon warns its buyers to always beware of suspicious emails or webpages that claim to be from the retailer.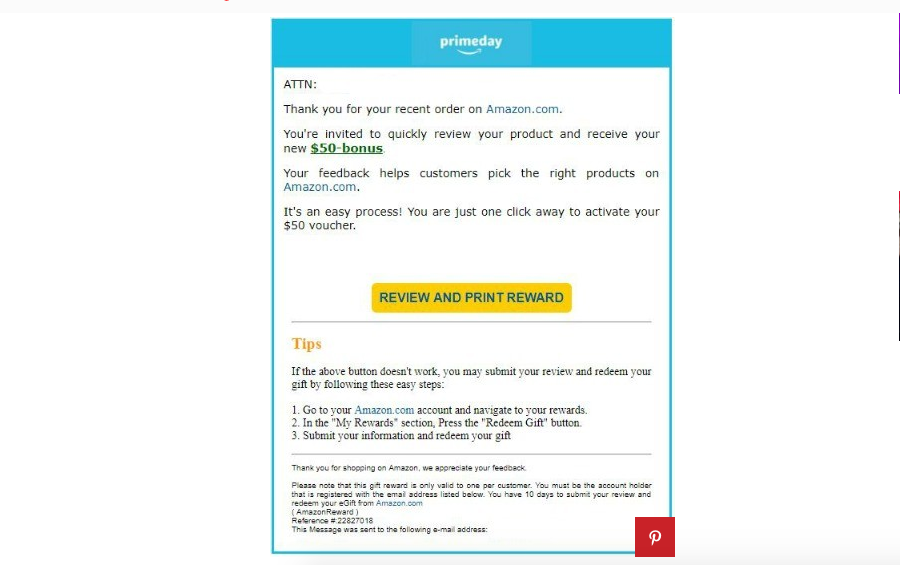 In a different variation of the Amazon Prime scam, victims receive continuous phone calls from random numers. They are informed that their Amazon Prime is about to be cancelled unless they provide personal information. One of the area code numbers that scammers use is (402). Beware!
Amazon Prime Review Scam: How To Avoid
Look for clues of inauthenticity, including typos, grammatical errors or prompts to install software on your computer. Watch out for other indicators like requests for your Amazon username and password, payment information, or other personal info. Pay attention when you receive an order confirmation for an item you didn't purchase, which is also a red flag.
To determine if you've got one of these spam emails, double check the "from" line of the email; an Internet Service Provider (ISP) other than @amazon.com could indicate it's a fake.
Don't click on the links provided in the email. Delete the email. Be also aware of related fraudulent activities such as the Amazon Login Attempt Scam, the Amazon Reviews Scam or the Fake Amazon Shipment.
Amazon Prime Review Scam: How To Report

Make your family and friends aware of this scam by sharing it on social media using the buttons provided. You can also officially report the scammers to the Federal Trade Commission using the link below:
You can also write an email to Amazon at: stop-spoofing@amazon.com.
How To Protect Yourself More

If you want to be the first to find out the most notorious scams every week, feel free to subscribe to the Scam Detector newsletter here. You'll receive periodical emails and we promise not to spam. Last but not least, use the Comments section below to expose other scammers.
Related Articles and Pages
Facebook Customer Service Scam
How Scammers Hack Into Your Facebook Account
---
Verify a website below
Are you just about to make a purchase online? See if the website is legit with our validator:
vldtr®
Searching:

Domain age, Alexa rank, HTTPS valid, Blacklisting, SSL certificates, Source code, Location, IP address, WOT Trustworthiness, Spam reports, Advanced technology, Privacy Policy, Terms of Use, Contact options

TOP 3 MUST-WATCH FRAUD PREVENTION VIDEOS
1. Top 5 Amazon Scams in 2023
2. Top 5 PayPal Scams in 2023
3. How To Spot a Scam Email in 2023
Selma Hrynchuk
Selma is a fraud prevention specialist renowned for her expertise in private eye investigations and a remarkable partnership with law enforcement agencies. Beyond her investigative triumphs, her public speaking engagements and written works have empowered countless individuals to protect themselves and stay ahead of deceptive schemes. Selma's legacy shines as a tenacious agent of change, unyielding in her commitment to battling fraud and ensuring a safer world for all.