Kate Middleton Skincare Product Scam: How It Works
There is currently somebody spamming Google Adsense with ads that say that the British Royal Family is angry about something that Kate Middleton did. When you click on one of these ads, you are taken to a news site that informs that the Duchess of Cambridge teamed up with Dr. Oz to create a miracle skincare product called Advance Final Skin – an anti-aging wrinkle cream.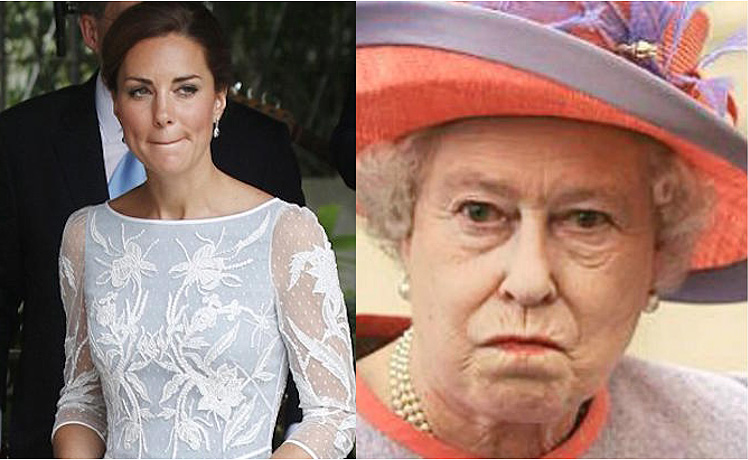 There are several websites popping up, especially when people are searching for what is the best anti-aging cream on the market. All of these websites are nearly identical except for the name of the product mentioned. The comments at the bottom of the page are also fake. In between the fake news and the fake comments is a "free" trial offer for the product that Middleton allegedly created.
Kate obviously has nothing to do with it, while the scammers are using the Amazon Cloud and WhoisGuard to hide their identity, which is really suspicious. How does the Kate Middleton Skincare Scam work? Just like the other miracle product scams out there.
Watch the video below to see the 'miracle product' scam exposed:
Here is the fake Kate Middleton's anti-aging wrinkle cream website.
This 'miracle product' scam comes in many variations. Every time you browse the Internet you come across ads, typically published by automatic software under legitimate news articles. When you read an article online, almost every time you see a "Sponsored Articles From Around The Web" section, right at the bottom.
In most of the cases, these are ads about "natural products" that are used for a long time, like forgotten wonder products. By consuming these products you can stay young forever, cure illnesses, or even grow hair.
Kate Middleton and Her Fake Partnership With Dr. Oz
In the Kate Middleton case, the advertisement features phrases such as: 'Royal Family Is Angry With Kate', or 'Kate Middletown Partnered With Dr. Oz To Launch Miracle Product'.
Clicking on the link will redirect you to a (false) news website, in this case, a fake 'Entertainment Today' page. In what claims to be a genuine article, the writer has no journalistic ethics – the article is filled with shady offers and a call to action: "Get your free sample here! This special offer ends on [insert date]". Look at the screenshot below featuring the fake deal: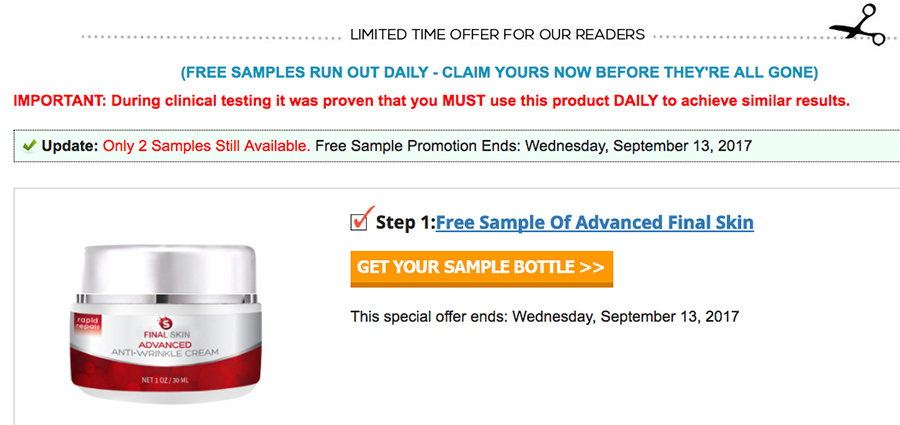 The date is automatically inserted by your computer IP's calendar, so it is always set to show the day of today.
At the bottom of the page, you can also see Facebook comments from people who had used the product and of course, they were satisfied with Kate's anti-wrinkle cream. If you click on any of the fake Facebook profiles, you'll be just refreshing the fake article page and be taken to the top part of it. Look at the screenshot below: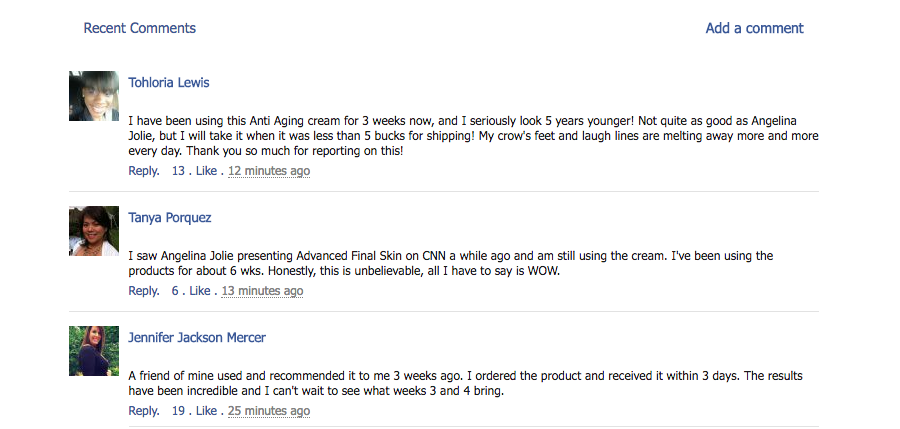 How To Report The Kate Middleton Skincare Product Scam:

Make your family and friends aware of this scam by sharing it on social media using the buttons provided. You can also officially report the scammers to the Federal Trade Commission (FTC) using the link below:
Top 5 Anti-Aging Products on the Market
If you are looking for the best anti-aging products out there, we compiled a list of the most reputable, reliable, and scam-free items. They all have a 5 out 5-star reviews on Amazon Prime, raving testimonials, and trustful sellers. Let's take a look – feel free to click on the links to see the fulls specs and details, prices, and sellers:
1. ZO Skin Health Growth Factor Serum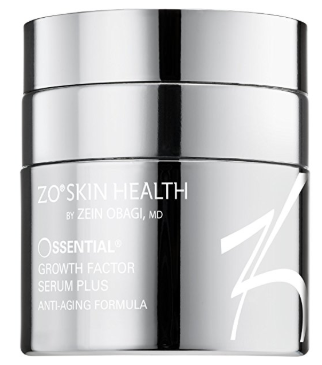 ZO Skin is the brand that has not only a 5-star review on their Factor Serum cream line, but also on their Ommerse Daily Renewal Cream and the Ommerse Overnight Recovery Cream. The product helps reduce the appearance of expression lines, lines and wrinkles, strengthens weak skin and minimizes irritation, as well as restores hydration and enforces the skin's protective barrier. You can order it HERE.
2. Radical Skincare Youth Infusion Serum

Smart skincare full of the best in defense and repair. Clinically proven to help even skin tone and reduce the appearance of fine lines and wrinkles while hydrating and smoothing skin. Reduce roughness & wrinkles with maximum levels of HA, boosting skin hydration, making for a high-quality elixir. You can order it HERE.
3. GloxiniaLife High Potency Serum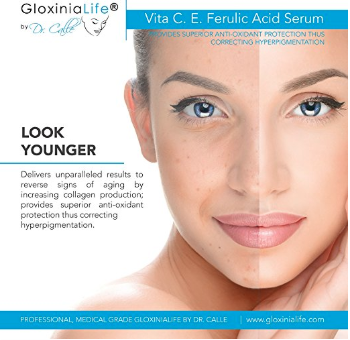 It delivers unparalleled results to reverse signs of aging by increasing collagen production; it provides superior anti-oxidant protection thus correcting hyperpigmentation. It also minimizes facial wrinkles; an 8-fold increase in collagen synthesis thus reducing the appearance of fine lines and wrinkles. You can order it HERE.
The DCL (Dermatologic Cosmetic Laboratories) Hydra Boost serum deeply drenches, firms, plumps and nourishes skin with generous doses of hyaluronic acid. It firms and plumps up skin to help reduce the look of lines and wrinkles. You can order it HERE.
5. Belleclat Eternally Anti-Wrinkle Serum 
Belléclat Peptide Serum reduces wrinkles and prevents the formation of new ones. It improves skin texture and restores a youthful appearance. It also diminishes the appearance of fine lines, rejuvenates skin, and helps restore elasticity and firmness. You can order it HERE.
How To Protect Yourself More:

If you want to be the first to find out the most notorious scams every week, feel free to subscribe to the Scam Detector newsletter here. You'll receive periodical emails and we promise not to spam. Last but not least, use the Comments section below to expose other scammers.
Related Articles and Pages:
Low Interest Rate Credit Cards Scam

Solar Panels For Your Home Scam
Adopt A Pet/ Dogs For Adoption Scam
---
Verify a website below
Are you just about to make a purchase online? See if the website is legit with our validator:
vldtr®
Searching:

Domain age, Alexa rank, HTTPS valid, Blacklisting, SSL certificates, Source code, Location, IP address, WOT Trustworthiness, Spam reports, Advanced technology, Privacy Policy, Terms of Use, Contact options

TOP 3 MUST-WATCH FRAUD PREVENTION VIDEOS
1. Top 5 Amazon Scams in 2023
2. Top 5 PayPal Scams in 2023
3. How To Spot a Scam Email in 2023
Selma Hrynchuk
Senior Editor at Scam Detector Media, Selma is a fraud prevention specialist with a wealth of experience in private investigations and collaborations with law enforcement. A captivating public speaker, Selma educates audiences about scams and personal safety. Through her insightful writing, she exposes criminals and shares essential tips for staying secure. Selma is a dedicated guardian against fraud, committed to unmasking deception and promoting integrity.