7 Hermes Scams That Everyone Should Avoid
The newest and most prevalent scam in the United Kingdom these days is the Hermes Text Message scam. We have 7 variations that we expose in this article. In case you didn't know, Hermes is a delivery company that gets parcels from an outside company or agency and then delivers them to you.
Unfortunately, Hermes delivery scams across the UK have exploded, and people are worrying that things they have ordered are delayed or will never arrive. Small fees, attached links, and other small requests are requested by these fake accounts can cost you additional unnecessary money and allow scammers access to critical information from your bank accounts. These text message scams can lead to a high cost to you and damage to your personal identity.
Being aware of these scams and how they operate is vitally essential to ensure that you are not ripped off and keep your personal information and identity safe.
The Hermes text message scam has had a recent resurgence, and you must pay attention to when and how you communicate with individuals that request information from you.
How can you combat the Hermes shipping scandals that are rocking the UK? Be aware of the incidents of the 7 delivery scams below and learn what you can do to combat these issues.
1. Fake Hermes Text Message
Getting a text message from a delivery service does not seem out of line. Still, scammers appear to have set a routine text schedule that asks customers to connect to links that ask for additional payment for processing and to deliver the parcel. That's how the fake Hermes text messages look like, too.
Since shipping has already been paid, why would this make sense? Since the amount requested is not a hefty fee, many people have fallen prey to this phishing scam to get the products or deliveries that they are expecting.
However, be wary of a text from a number that does not appear to be linked to Hermes.
2. Hermes Text Message – a Missed Delivery
The first glimmer of a scam issue is the text message some customers receive stating that there may be a delivery issue with their parcel. Sounds innocuous enough. However, there are multiple reports of people at home at the time of delivery – so why was there a problem?
The Hermes missed delivery text can state something like: "There was a problem today when we attempted to deliver your parcel; please follow this link so that we can help solve this issue." What happens when you click the link? A rabbit hole of scam.
But how can you tell if this is an actual text or someone trying to get information from you? Read on to see more text scam information.
3. Hermes Redelivery Text Message
Scammers understand that receiving a text requesting a small redelivery fee that looks as if Hermes sent it seems legit, so why not pay it to get the products you ordered? Enter: the Hermes Redelivery Text Message Scam.
Remember, Hermes is the third party, so might it not make sense that they ask a fee to come back to deliver your package since you missed the delivery? It is easy to see why so many individuals have just paid out the price of £1.5 – £2.0 to get what they want as soon as possible.
But each time someone falls victim to the scam ploy, it encourages them to continue to reap the benefits of defrauding others. Look at the text message carefully before clicking a link or sending information or funds.
4. Hermes Rescheduled Delivery Text
You may also receive a text or message stating that you need to reschedule your delivery. To do so, you need to pay a small "reschedule fee" to get back on the schedule and ensure your package will get to you.
The reschedule of your delivery appears to get moving again once you pay the fee. With your quick response, you hope that your delivery would now be on its way, but do you realize that many of these texts are not Hermes?
You may have paid that "small fee" to a scammer that is not connected to your package in any way. And no delivery schedule has been changed. Only additional money and your personal information have lined the pockets of a criminal.
And you are not the only victim in the Hermes Rescheduled Delivery Text scam, as hundreds of others have also fallen for the same sketchy text message request.
5. Hermes Dispatch Fee Text
This is a new one. A dispatch fee request is another part of the scammer plan – this text requests an additional small payment to ensure that your package is not returned to sender.
This Hermes Dispatch Fee Text scam occurs because of a stated message leading the receiver to believe that they missed a scheduled delivery and are now at risk for their package being returned.
Well, no one wants their package returned, that is just more hassle for you, so of course, you think that paying the fee is a small price to pay to ensure that your package will get to you timely. But is it real?
According to the Oxford Mail, Hermes "never asks for payment via text – it only sends links that let you view parcel tracking."
6. Hermes Text For More Information
Along with the dispatch fee, there have also been requests to verify personal information, such as bank numbers or other specific information that could be tied to your package. Some consumers have wised up, so now the scammers are asking for additional information with messages that are more like the parcel tracking messages sent by the authentic Hermes.
But beware, unless the text has the actual Hermes website link attached to it, you will be sent to a fake website, asking for additional payment.
Not the team from Hermes, but another scammer having a payday. Hermes will never text you requesting personal information.
7. Hermes Contact
Hermes has dedicated lines open for customers Monday through Saturday. When you connect with Hermes, you may want to be sure to have your tracking number for a quick and super easy response to your questions.
The Hermes Contact scam occurs when criminals give the wrong phone number and email to customers complaining on social media platforms like Twitter or Facebook. They respond to the posts by claiming to be Hermes reps.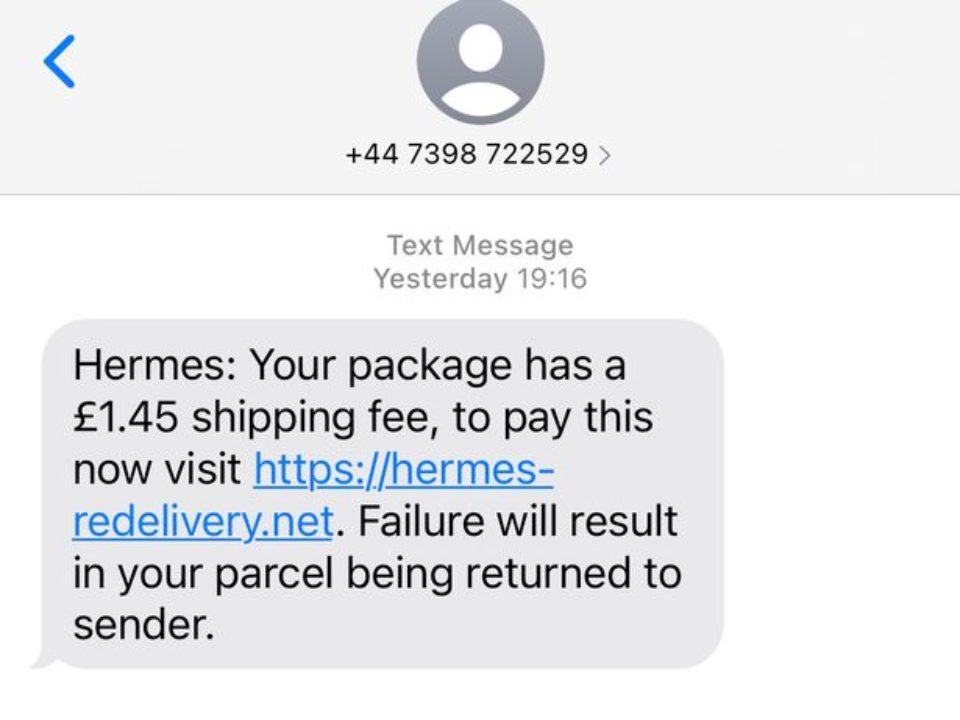 Be aware that if you have been paying for rescheduling and redelivery, Hermes will be none the wiser and unable to return those fees to you since they were not the issuer of the request.
However, contacting customer service is vital to ensure that Hermes can connect you with their scam investigators and connect with the sender to initiate an inquiry. Hermes is aware of the ongoing scams and phishing texts and is working with their investigation team to assist individuals that have fallen prey to this hack.
How Can I Know When It Is a Fake Text From Hermes?
There are some simple features to look for when trying to be sure a text message is real – some of the most common parts of phishing text and email messages include vague email addresses that do not connect back to the company. Ensure that any message is clearly from the expected sender.
Also, links embedded in the request often go to fake accounts and websites, as noted in the address. The safest bet is not to click on any links and call Hermes directly asking if this was sent to you.
Poor language structure and no names or greetings attached to a message are also vital signs of being scammed. Please do not fall for it. Instead, contact Hermes by phone and inquire about the legitimacy of the texts being sent to you.
If you receive a text message that does not identify you, your package contents, and has a link attached to the message, you are most likely looking at a phishing message. Do not click this link, as it attempts to gain your identity and/or receive money from you.
Instead, connect with Hermes directly to ensure that you are speaking to the company and not someone trying to steal from you.
What Does Hermes Say In Response To The Delivery Scam?
The company confirms that "Hermes will never ask you (e.g., email, telephone or by SMS) to enter or transmit sensitive customer data via the internet. The payment of our services will be on the spot and in cash.
As a result, if you get a payment request via email, please ignore it. In this case, it's a phishing attempt."
Hermes encourages customers to never click on any links that are sent within a text message. Hermes will not send a text message requesting additional delivery payment – if you receive such a request, connect with Hermes customer service so that they can initiate an investigation.
This is the advice from Hermes:
Never respond to a suspicious email from senders that you don't know.
Never open attachments or click on links to dubious emails.
Ignore malicious payment requests that also appear in emails or on sites.
Never install software updates or programs from unknown websites.
How To Report the Hermes Scam
Warn your family and friends about these Hermes scams call by sharing this article here, on social media. If you also wonder how to report phone scams like these, you can also officially do it to the Federal Trade Commission or Action Fraud using the links below:
How To Prevent Identity Theft and More
If you want to find out the most common scams every week, consider subscribing to the Scam Detector newsletter here. You'll receive periodic emails – no spam whatsoever. On the other hand, educate yourself with some other phone fraud-related articles right under this paragraph, so that you can protect yourself. Please use the Comments section below to expose other tax scammers.
Here are some must-reads for the end:
British Gas Email Scam
---
Verify a website below
Are you just about to make a purchase online? See if the website is legit with our validator:
vldtr®
Searching:

Domain age, Alexa rank, HTTPS valid, Blacklisting, SSL certificates, Source code, Location, IP address, WOT Trustworthiness, Spam reports, Advanced technology, Privacy Policy, Terms of Use, Contact options

TOP 3 MUST-WATCH FRAUD PREVENTION VIDEOS
1. Top 5 Amazon Scams in 2023
2. Top 5 PayPal Scams in 2023
3. How To Spot a Scam Email in 2023
Selma Hrynchuk
Selma is a fraud prevention specialist renowned for her expertise in private eye investigations and a remarkable partnership with law enforcement agencies. Beyond her investigative triumphs, her public speaking engagements and written works have empowered countless individuals to protect themselves and stay ahead of deceptive schemes. Selma's legacy shines as a tenacious agent of change, unyielding in her commitment to battling fraud and ensuring a safer world for all.