USPS Text Message Scam: How It Works
We received many emails today in regards to a potential USPS Text Message Scam. Several readers have gotten notifications on their smartphones claiming to be from the United States Postal Office regarding a so-called USPS survey. More specifically, the sender (fake USPS admin) informs the victim that they have a parcel with the recipient's name on it. To get the USPS office to deliver the package successfully, the recipient has to access a particular website, where they need to fill out a survey. What happens if you do access it? Your full personal information gets captured, then sold to third parties.
In this article, we'll expose the scam and we will also tell you how to successfully delete all your personal data from the Internet if you open random websites. Let's start and keep reading.
The latest brand name used by cyber crooks is Fountain Blue Pools and the domain is www.l8smk.info. Do not access it, it is not from the United States Postal Office. Below you can see a screenshot with an example of a fake message. Here it is: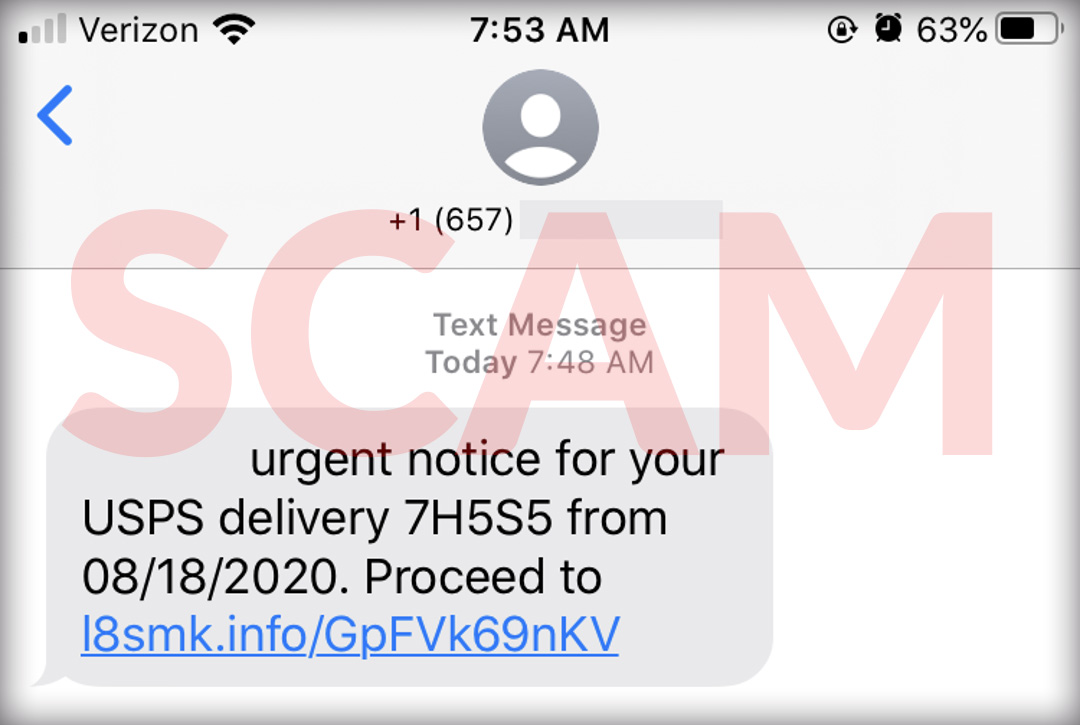 The content states: "Urgent notice for your USPS delivery 7H5H5 from [today's date]. Proceed to l8smk.info."
It is one of the classics text message scams.
USPS Survey Scam: How to Avoid
The UPSP Survey Scam is just a phishing scheme, and it follows the same pattern as the FedEx Delivery Text scam,  Amazon Prime Text Scam,  Venmo Deposit Scam or the USPS Notification Scam. These links and pages may also contain a 'tracking link' or a message informing the victims that the shipper is having difficulty delivering the package. The bait varies, but the idea is that clicking the link takes you to a form that asks for personally identifying information, or to a site that downloads malware onto your computer.
If you do get one of these texts on your phone, please don't click the link. Delete the message and go ahead with your day. However, there are text messages and campaigns involving the USPS brand that are legitimate, such as the "Text RBG to 50409" movement.
Be also aware of the AT&T Contest Scam, prevalent these days.
USPS Text Message: How To Report a Scammer
Warn your family and friends about the USPS Text Message Scam by sharing this article on social media using the buttons provided. If you are wondering how to report phone scams, you can also officially do it to the Federal Trade Commission using the link below:
How To Remove Your Personal Data From The Internet
When you access suspicious webpages like the ones in this USPS Scam, your personal information gets listed all over the Internet. Let us explain. Whenever you visit a website, enable cookies or download an app, these companies collect your personal data without your knowledge. Then they sell it to third parties, including financial institutions, medicare companies, etc. It's a fact. Your collected personal data is used not only for spam emails, targeted ads, and telemarketing calls but for changing your monthly financial rates, too. Luckily, we have good news.
If you wonder how to remove your personal data from the Internet, you should sign up on Incogni, see below. It is a trustworthy powerful privacy tool that requests your data removal from almost a hundred brokers on your behalf. The service is verified by our staff and is legitimate. For only $5,79/month, it's totally worth it. Click below to join and remove your personal data from the Internet:

How To Prevent Identity Theft and More
If you want to be the first to find out the most notorious scams every week, feel free to subscribe to the Scam Detector newsletter here. You'll receive periodic emails – we promise not to spam. Meanwhile, educate yourself with some other fraud-related articles right under this paragraph, so that you know how to stay safe online. Last but not least, use the Comments section below to expose other scammers.
Related articles:
---
Verify a website below
Are you just about to make a purchase online? See if the website is legit with our validator:
vldtr®
Searching:

Domain age, Alexa rank, HTTPS valid, Blacklisting, SSL certificates, Source code, Location, IP address, WOT Trustworthiness, Spam reports, Advanced technology, Privacy Policy, Terms of Use, Contact options

TOP 3 MUST-WATCH FRAUD PREVENTION VIDEOS
1. Top 5 Amazon Scams in 2023
2. Top 5 PayPal Scams in 2023
3. How To Spot a Scam Email in 2023
Selma Hrynchuk
Selma is a fraud prevention specialist renowned for her expertise in private eye investigations and a remarkable partnership with law enforcement agencies. Beyond her investigative triumphs, her public speaking engagements and written works have empowered countless individuals to protect themselves and stay ahead of deceptive schemes. Selma's legacy shines as a tenacious agent of change, unyielding in her commitment to battling fraud and ensuring a safer world for all.