Toyota Lottery Scam: How It Works
Gmail, Yahoo, Hotmail and AOL users around the world have been receiving an email coming supposedly from the Toyota headquarters. The message informs the recipients about a Toyota lottery winning and congratulates them about the award: a brand new Toyota vehicle and some big cash on the side, 2 million dollars! The sender uses the name Rania Luqman, but of course – it could be any other name, so beware.
The scam is based on the same trick that any lottery winning scheme uses. What is that? Let's take a look.
Watch the video below to see how the Lottery Car Winning scam works:
How does the scam work? In order to receive the Toyota money, the winners are required to pay a "state or provincial tax", which typically is 0.5% of the winnings. Excited to get two million dollars and just pay such a small amount in exchange, victims send the 1% fee to a PO Box. What's 0.5% of 2 million? That's a big lump sum, too: $10,000!
The recipients are also asked to send the money via reloadable cards such as Steam, Green Dot, Ukash, or MoneyPak. Why? These payment methods are entirely legitimate but completely untraceable.
The fact that transfers can be completed without the recipient having to provide any identifying information is ideal for criminals. Once the crooks gain your trust, they can then accept the payment in such a way that it is all but impossible for law enforcement to trace the fraud back to them.
How The Toyota Email Looks Like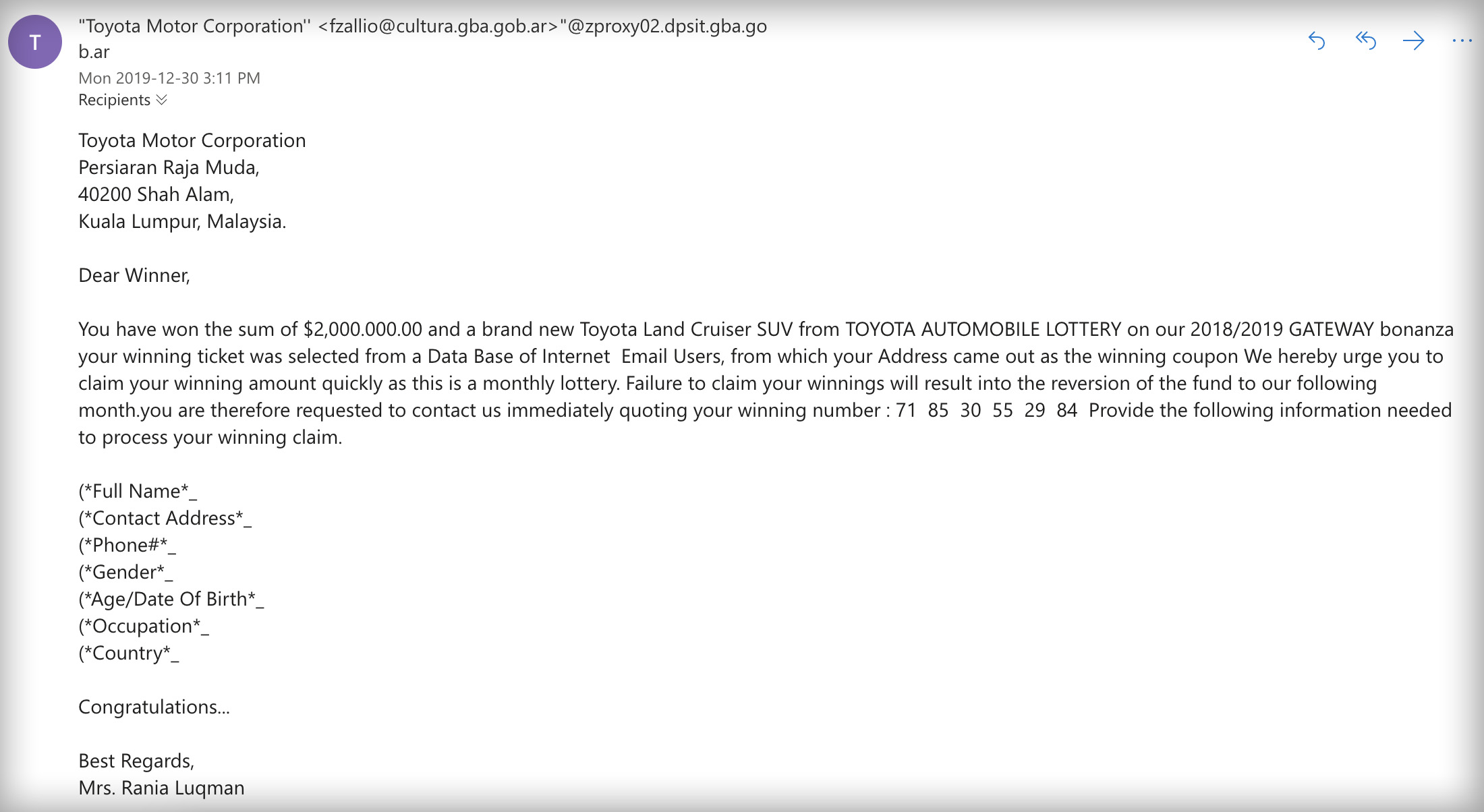 Here is how a bogus message from the Toyota headquarters looks like:
"Toyota Motor Corporation Persiaran Raja Muda,

40200 Shah Alam, Kuala Lumpur, Malaysia.

Dear Winner,

You have won the sum of $2,000.000.00 and a brand new Toyota Land Cruiser SUV from TOYOTA AUTOMOBILE LOTTERY on our 2018/2019 GATEWAY bonanza your winning ticket was selected from a Data Base of Internet Email Users, from which your Address came out as the winning coupon We hereby urge you to claim your winning amount quickly as this is a monthly lottery. Failure to claim your winnings will result in the reversion of the fund to our following month.you are therefore requested to contact us immediately quoting your winning number : 71 85 30 55 29 84 Provide the following information needed to process your winning claim.

(*Full Name*_

(*Contact Address*_

(*Phone#*_

(*Gender*_

(*Age/Date Of Birth*_

(*Occupation*_

(*Country*_

Congratulations…

Best Regards, Mrs. Rania Luqman".
Toyota Lottery Scam: How To Avoid
There are a bunch of few red flags here. Check the content for grammar mistakes – there are tons in the text above. Also, when the sender refers to you with "Dear winner" rather than your name you should stay away. These are just mail-merged emails.
Toyota Lottery Scam: How To Report
Make your family and friends aware of the Toyota Lottery Scam by sharing it on social media using the buttons provided. You can also officially report the scammers to the Federal Trade Commission using the link below:
How to protect yourself more:

If you want to be the first to find out the most notorious scams every week, feel free to subscribe to the Scam Detector newsletter here. You'll receive periodical emails and we promise not to spam. Last but not least, use the Comments section below to expose other scammers.
---
Verify a website below
Are you just about to make a purchase online? See if the website is legit with our validator:
vldtr®
Searching:

Domain age, Alexa rank, HTTPS valid, Blacklisting, SSL certificates, Source code, Location, IP address, WOT Trustworthiness, Spam reports, Advanced technology, Privacy Policy, Terms of Use, Contact options

TOP 3 MUST-WATCH FRAUD PREVENTION VIDEOS
1. Top 5 Amazon Scams in 2023
2. Top 5 PayPal Scams in 2023
3. How To Spot a Scam Email in 2023
Selma Hrynchuk
Selma is a fraud prevention specialist renowned for her expertise in private eye investigations and a remarkable partnership with law enforcement agencies. Beyond her investigative triumphs, her public speaking engagements and written works have empowered countless individuals to protect themselves and stay ahead of deceptive schemes. Selma's legacy shines as a tenacious agent of change, unyielding in her commitment to battling fraud and ensuring a safer world for all.