Hurricane Dorian Scam: How It Works
Every time there is a major natural disaster, criminals are relying on the emotional decisions of those who want to help. It is that time again, as Hurricane Dorian just hit the Bahamas, leaving 43 people dead, while the storm is heading to the United States. Florida, Georgia, South Carolina, North Carolina and Virginia all declared a state of emergency and many coastal counties from Florida to North Carolina issued mandatory evacuation orders.
Watch the video below to see the latest death toll report of Hurricane Dorian, on ABC News:
>
Hurricane Dorian Disaster Video
Many requests for fake charity donations are so common nowadays that they pop up in every medium, see below. Once the Bahamas disaster was on the way, fake Red Cross accounts and campaigns started to show up on Twitter, GoFundMe and Facebook.
As several people have their hearts and wallets open for the victims of Hurricane Dorian, many fall victim themselves to the cause. It happens over and over again. How?
Crooks are setting up bogus donations pages which collect victims' money and personal information. Others set up text message campaigns, or even contact people one by one, on Facebook Messenger. An example would be Denis Phillips, Chief Meteorologist with ABC, who received the following message via Facebook.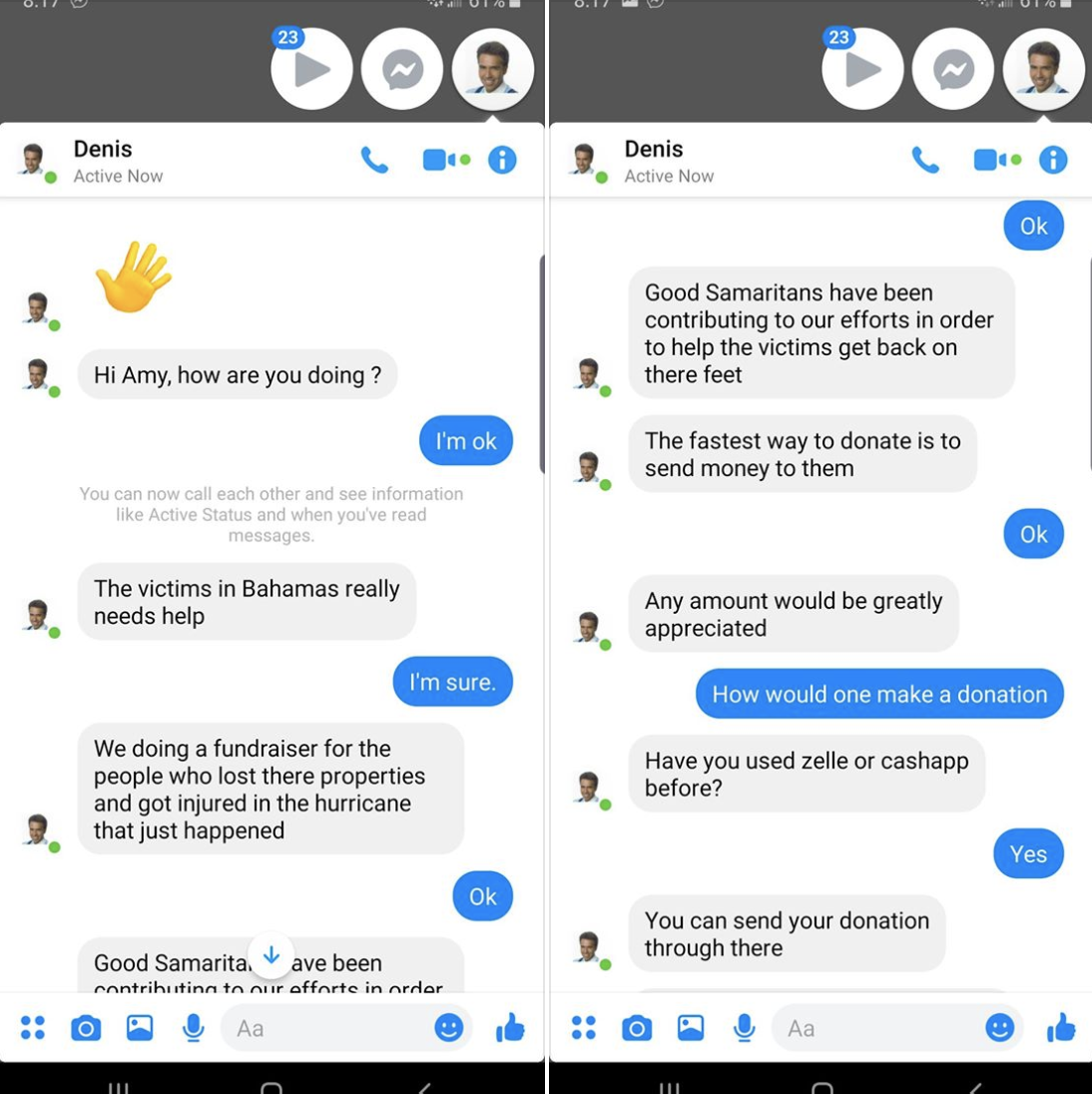 How You Can Help the Hurricane Dorian Victims
The safest place to donate goods and money for the victims of Hurricane Dorian is through the real Red Cross website. Other options would be The Salvation Army and Sol Relief. Last but not least, here is a compiled list with reputable charities.
>
Hurricane Dorian Scam: How To Avoid
If you have a good heart and like to help those in need, please research these organizations first. All legitimate charity organizations have to be registered. They also need to have an online presence. If they are small and claim they don't have a website, ask them for identification and their registration number. There is no shame in that.
If you donate money, you have the right to know precisely where it is going. And really, it's better to give, not to individuals with a collecting box, but online directly to the charity.
6 Tips To Consider Before Donating
The Better Business Bureau has offered the following tips to make sure your donation reaches those who need it most after the Hurricane Dorian:
1. Be cautious when giving online. Especially in response to unsolicited emails, text messages, or social media posts. If you want to give to a charity, go directly to their website.
2. Rely on expert opinion when giving to a charity. Go to www.bbb.org/charity to research charities and relief organizations to make sure they meet the 20 Standards for Charity Accountability.
3. Be wary of claims that 100 percent of donations will assist relief victims.
Charities always have fundraising and administrative costs. Even a credit card donation will involve, at a minimum, a processing fee.
4. Find out if the charity has an on-the-ground presence in the impacted areas.
 Unless the charity already has staff in the affected areas, it may be challening to bring in new aid workers to assist quickly.
5. Find out if the charity is providing direct aid or raising money for other groups.

Some charities may be raising money to pass along to relief organizations. If so, you may want to consider avoiding the middleman.
6. Gifts of clothing, food or other supplies. 
Drives (or flights in this case) for food and clothing, while well-intentioned, may not necessarily be the quickest way to help those in need – unless the organization has the staff and infrastructure to distribute such aid properly.
Hurricane Dorian Scams: How To Report

Make your family and friends aware of the Hurricane Dorian scams by sharing this article on social media using the buttons provided. You can also officially report the scammers to the Federal Trade Commission.
How to protect yourself more:

If you want to be the first to find out the most notorious scams every week, feel free to subscribe to the Scam Detector newsletter here. You'll receive periodical emails and we promise not to spam.
---
Verify a website below
Are you just about to make a purchase online? See if the website is legit with our validator:
vldtr®
Searching:

Domain age, Alexa rank, HTTPS valid, Blacklisting, SSL certificates, Source code, Location, IP address, WOT Trustworthiness, Spam reports, Advanced technology, Privacy Policy, Terms of Use, Contact options

TOP 3 MUST-WATCH FRAUD PREVENTION VIDEOS
1. Top 5 Amazon Scams in 2023
2. Top 5 PayPal Scams in 2023
3. How To Spot a Scam Email in 2023
Selma Hrynchuk
Selma is a fraud prevention specialist renowned for her expertise in private eye investigations and a remarkable partnership with law enforcement agencies. Beyond her investigative triumphs, her public speaking engagements and written works have empowered countless individuals to protect themselves and stay ahead of deceptive schemes. Selma's legacy shines as a tenacious agent of change, unyielding in her commitment to battling fraud and ensuring a safer world for all.