How the scam works:

(with video) Donald Trump is the new president of the United States of America and scammers already came up with ways to victimize those who want to know every single detail of his White House move. This time around, the subject is the wall that Donald Trump wants to build not only between the US and Mexico, but also between the US and Canada.
Watch the short video below to see Donald Trump's original shocking comments about building the walls:
Donald Trump Builds Walls Video
Just like during any other major world event, scammers create fake social media campaigns preying on some people's naivety to believe everything they read online. These fake posts claim to offer the reader everything they want to see — specifically exclusive latest news about the results of the presidential elections.
As everyone has been stressfully waiting to see the election's grand finale, scammers posted a fake Facebook video that claims to show you the plans of how these walls will be built and how they will look like. The clip comes with the title: "FOX Breaking News: Donald Trump Reveals How The Walls Between The US, Mexico, and Canada Will Look Like". The main image is stolen from the Internet.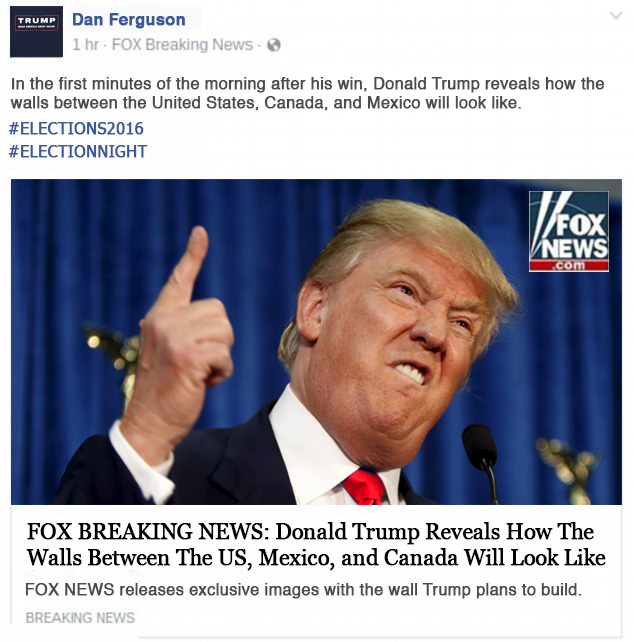 The video is linked to questionable websites that are known for spreading the rumors typically about celebrities' deaths and other fake breaking news. It is not just one website, but a few, so in case one of them is reported they still have a few back-ups.
As a victim, you are lured into giving a scammy app permission to view and post to your Facebook page. This way, the fake post circulates on social media and allows the site to scrape your (and other users') personal information.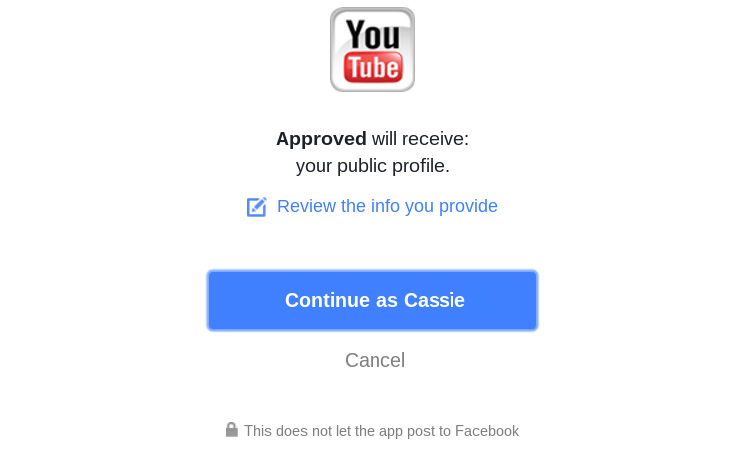 Once clicked on and installed, this agressive malware can destroy phones and computers and expose sensitive information to hackers. This trick is done throught the installation of a keylogger virus onto your device. A keylogger is able to read your keyboward typing and mouse moves.
How to avoid the Donald Trump Wall scam:
There have been so many similar scams that maybe you should know by now that every time a major world event hits, so do the scammers. However, make sure you only read your latest news about Donald Trump's presidency on only from reputable wesbites, such CNN, USA TODAY, NBC News, and others.
How to report the Donald Trump Wall scam:
Make your family and friends aware of this scam by sharing it on social media using the buttons provided. You can also officially report the scammers to the Federal Trade Commission using the link below:
Report Scammers To The FTC Here
How to protect yourself more:

If you want to be the first to find out the most notorious scams every week, feel free to subscribe to the Scam Detector newsletter here. You'll receive periodical emails and we promise not to spam. Last but not least, use the Comments section below to expose other scammers.
---
Verify a website below
Are you just about to make a purchase online? See if the website is legit with our validator:
vldtr®
Searching:

Domain age, Alexa rank, HTTPS valid, Blacklisting, SSL certificates, Source code, Location, IP address, WOT Trustworthiness, Spam reports, Advanced technology, Privacy Policy, Terms of Use, Contact options

TOP 3 MUST-WATCH FRAUD PREVENTION VIDEOS
1. Top 5 Amazon Scams in 2023
2. Top 5 PayPal Scams in 2023
3. How To Spot a Scam Email in 2023
Selma Hrynchuk
Selma is a fraud prevention specialist renowned for her expertise in private eye investigations and a remarkable partnership with law enforcement agencies. Beyond her investigative triumphs, her public speaking engagements and written works have empowered countless individuals to protect themselves and stay ahead of deceptive schemes. Selma's legacy shines as a tenacious agent of change, unyielding in her commitment to battling fraud and ensuring a safer world for all.