Civil Service Exam Scam: How It Works
The civil service is made up of people who work for the city, state, or federal governments in a variety of public service roles. These are the professionals who work to ensure that government policies and programs are followed accordingly to ensure that society runs as smoothly as possible.
In the United States, a Civil Service examination is administered throughout the year for candidates who are looking to join the civil service, usually as police officers, FBI or CIA agents, or as border patrol agents. Foreign service agents and IRS workers are also considered part of the civil service.
However, while the examination is a legitimate part of the application process, scammers and criminals are also out there looking to take advantage of unsuspecting candidates. Most commonly, they run fake education portals. Still, candidates need to be warned of fake promotional messages that advertise exam prep-materials, using the Coronavirus as a scapegoat for their initiatives.
Here is a screenshot of a fake civil service exam announcement: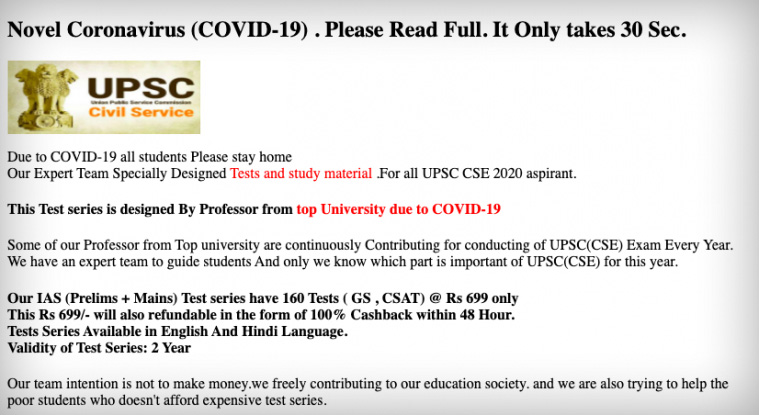 These incorrect URLs redirect users to a webpage with seemingly innocent copy: "Due to COVID-19 all students please stay home. Our Expert Team Specially Designed Tests and study material. For all UPSC CSE aspirant [sic]." It goes on to mention that their tests have been designed by university experts with financial advantages to help those of lower-income households, which also happens to be refundable after 48 hours. They also seem to be promising free Netflix subscriptions due to the pandemic.
It's immediately apparent that there is an abundance of grammar errors, which should wave red flags right of the bat. Unfortunately, the domain may appear to be authentic for some people who have less experience with government-led institutions. Those who continue navigating their way through the website will find that it branches off to another website that offers multiple exams at a reasonable fee with a promise of a refund. As one might suspect, the guarantee of a refund is nothing more than a false promise, and the money is gone.
For civil servant applicants to ensure that their examinations are legitimate, they must visit official government-led websites with accurate information. The full exam schedule is available in alphabetical order starting in July and is updated every month. To qualify for an exam, applicants must fill out an application form, pay a fee and obtain a fee waiver, while also meeting the minimum requirements for the position.
Check your local municipal listings for accurate and authentic information. Here are some useful links for civil servies tests in the United States and United Kingdom.
What is the Civil Service Exam
The civil service tests may be different from each other, depending on the civil service job. However, its purpose test is to act as a screening test that evaluates if an applicant meets the government's defined civil service minimum requirements. The threshold for passing the Civil Service exam is about 70%, which in any academic community is considered average, at best.
The test applies following civil service careers: Border Patrol Agent, Air Traffic Control Agent, CIA Agent, Police Officer, FBI Agent, US Customs Agent, Foreign Service Agent, USPS Worker, IRS worker, TSA member, and Secret Service Member.
The content of a civil service exam varies according to whether the job is a federal or state/municipal, whether the exam is competitive or non-competitive (applicants compete with each other or not), and the type of position you are applying for.
According to Test-Guide, most civil service tests are based on a combination of the following three topics:
Verbal Ability – All civil service exams will include an oral ability test. Evaluating that will help determine how well you can perform job tasks, including reading, proofreading, writing letters/memos, and using instructional manuals. As expected, the verbal ability test covers reading comprehension, vocabulary, and spelling, as well as writing and grammar.
Mathematical ability – It is only required for positions requiring some level of math aptitude. The numerical ability test covers ratios and proportions, arithmetic, geometry, algebra, interpreting/analyzing data, tables/graphs, as well as reasoning problems.
Clerical ability – This test measures how accurate and fast you perform various administrative tasks. As you can imagine, the clerical ability test assesses how well you can deal with typing, number or name-checking, filing, coding, and stenography.
Some jobs require you to take exams on topics such as following directions, reasoning, and decision-making.
Watch the video below to see examples of civil service tests:
Civil Service Tests: How To Report a Scammer
Warn your family and friends about the Civil Service Exam Scam by sharing it on social media using the buttons provided. You can also officially report the scammers to the Federal Trade Commission using the link below:
How To Prevent Identity Theft and More

If you want to be the first to find out the most notorious scams every week, feel free to subscribe to the Scam Detector newsletter here. You'll receive periodic emails – we promise not to spam. Meanwhile, educate yourself with some other fraud-related articles right under this paragraph, so that you can protect yourself in many other aspects and niches. Last but not least, use the Comments section below to expose other scammers.
Here are some must-reads for the end:
Administrative Assistant Job Scam
List with Government Grants for Individuals
---
Verify a website below
Are you just about to make a purchase online? See if the website is legit with our validator:
vldtr®
Searching:

Domain age, Alexa rank, HTTPS valid, Blacklisting, SSL certificates, Source code, Location, IP address, WOT Trustworthiness, Spam reports, Advanced technology, Privacy Policy, Terms of Use, Contact options

TOP 3 MUST-WATCH FRAUD PREVENTION VIDEOS
1. Top 5 Amazon Scams in 2023
2. Top 5 PayPal Scams in 2023
3. How To Spot a Scam Email in 2023
Selma Hrynchuk
Selma is a fraud prevention specialist renowned for her expertise in private eye investigations and a remarkable partnership with law enforcement agencies. Beyond her investigative triumphs, her public speaking engagements and written works have empowered countless individuals to protect themselves and stay ahead of deceptive schemes. Selma's legacy shines as a tenacious agent of change, unyielding in her commitment to battling fraud and ensuring a safer world for all.