7 Reasons Why Caleb Maddix and the YTA Method Signal a Scam
Hundreds of people have been writing to us in the last few weeks asking about Caleb Maddix and his YTA Method: is he a scammer? If you don't know who Caleb Maddix is – he an extremely young entrepreneur who pops up on ads at the beginning of every YouTube video (see image above), competing with Tai Lopez, John Crestani, and many other money-making gurus in the online world.
Caleb, who is 18, speaks very fast and encourages people to try the "new way of investing" and pitches the "greatest opportunity of our era." Shall we get in? We sure are.
We've been researching and gathering many elements that expose the alleged scam, including trying his product (unlike other people who've been bashing him online without doing it). Here are the pros and cons of the analysis – you be the judge yourself. Let's get started.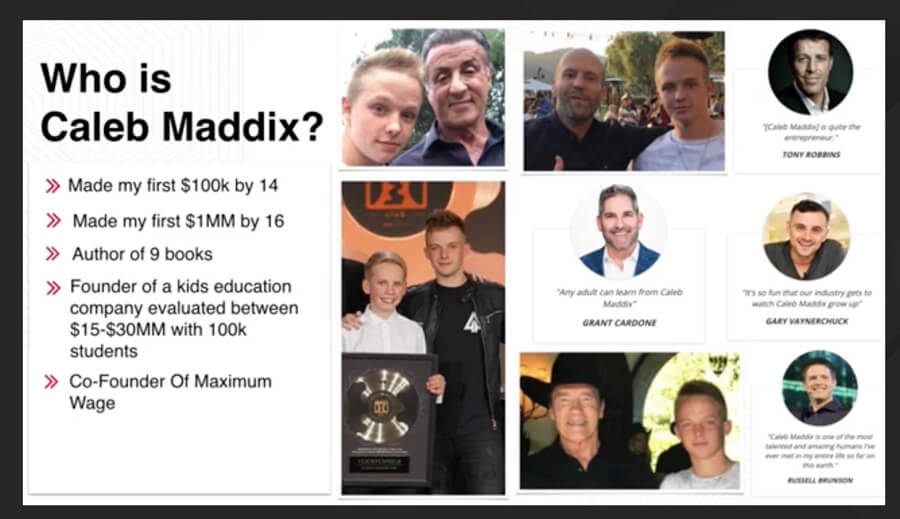 What Is the YTA Method
As a quick context, YTA stands for YouTube Automation. Caleb Maddix and his method teach students how to create automated YouTube channels by copying (they call it "modeling") other channels that have rich content and viewership in a particular niche, then slightly changing them, then automating them.
The 'secret' niche that Caleb doesn't want to reveal in his sales pitch is "Reddit text to speech" video creation. Unfortunately for him and for the people who purchase the program, there is a significant flaw with that – you'll see below.
Caleb Maddix teaches the course with a partner, Devon, who has been doing this for years successfully.
What Are the Red Flags
Here are seven red flags that non-believers point out when it comes to the YTA Method:
1. Reddit Niche – No Longer Monetizable
The Reddit text-to-speech niche is not YouTube-friendly anymore, meaning it is no longer monetizable. The video platform has banned the type of practices that consists of repurposing content without improving it significantly. 
Caleb's defense: he says that while that's true, the program doesn't focus only on Reddit videos but other niches and techniques that will help the students.
2. His YouTube Channel Has Low Numbers
The teenager strongly believes that this is the "opportunity of our era." However, he didn't do it himself.
Caleb's defense: He says that he does have automated channels, but can't reveal their identity. However, his actual YouTube channel doesn't even have videos with over 18k views. 
3. He Does't Show His Own Success on the Product
Caleb Maddix has been using Devon as an example, but he has never shown his own success on the exact product he is selling – despite his claim of having automated channels (point above).
Caleb's defense: In an interview with the YouTube sensation Stephen from Coffeezilla (name of the account), Caleb says he is a visionary, not a guru.
4. Not a One-Time Event
His "New Way" of getting you to make money on YouTube starts with a sales pitch that says, "I am going to reveal for you this ONE TIME. I am going to connect, and I am going to answer all your questions, etc." The event advertised as a "don't miss the date" type is a typical webinar that could give you access within a minute after you click on his page. The webinar is recorded and plays automatically every 15 minutes. The webinar platform shows two options of watching it per day, but literally, your next session starts within a few minutes.
5. Fake Video In The Past
Caleb rose to fame a few years ago with a viral video in which he allegedly closes a $10,000 sale through a phone call, recorded on tape. However, he admitted just a few days ago on the same interview with Coffeezilla that the video was fake.
Caleb's defense: He says there is a story behind it, as in he really closed a $10,000 deal but didn't record it on video, so we did a fake recording claiming it was the original. Whether he made the sale or not, we will never know, probably – unless the buyer comes out publicly and confirm the deal (and we mean the real buyer, not someone who will claim that).
You can watch Coffezilla's interview debate with Caleb Maddix below (you can subscribe there as well for updates):
6. Overused, Scam-Related Verbiage
Caleb Maddix repeatedly uses the same keywords that all the other money-making gurus do ("The New Proven Way," "Exclusive free training," "A lot of people ask me all the time," etc.). It would not be something wrong with it, but copying a tactic that's been spoiling the whole internet marketing industry for quite some time now would only lead to reactions like this:
Oh, and there is nothing exclusive about the free training. Everyone gets it.
7. Recession Specialist References
The 18-year old talks about investing, education, and how to survive during the recession. As another popular YouTuber named Spencer Cornelia (which you should subscribe to) points out: "We have a kid who has almost not even been alive during a recession which is now pitching a recession-proof product. How would he know anything about a recession?"
You can watch Spencer Cornelia's video on Caleb Maddix below:
About Caleb Maddix
Despite what most of Caleb's haters think, he is an atypical teenager. He is a brilliant entrepreneur who been done a lot for his age and deserves respect for that. His mindset is all business and knows more than a lot of 40-year-olds because he's been around influential business people since he was very young. He is driven, motivated, inspirational, and articulate.
If you watch and research his past, you'll see what we are talking about. However, while he is smart – we are sure he will be more successful – he falls victim for now to his own deceptive practices.
While the YTA Method offers a lot of value (we have the product, see below), it is clouded by the negativism that was created by the way he sells it. If he readjusts the promos, sales pitches, and incredible claims, his product will receive more respect. If he doesn't care, well, he will get what's seem to be going online right now. What do we mean?
We Took a Look at the YTA Method
We can't leave a review without taking a look at a product. We have been analyzing the YTA Method. The program provides a lot of insights for the regular YouTuber wannabe. There is some great educational content in there that could turn you into a YouTube pro. Most of it comes from Caleb himself and Devon. Educating the user about what viral videos really are is a win in itself. We give them that.
Is the price justified? For that specific part of the program, no. But again, if you are to make more money in the future from YouTube, well, maybe it's worth it. However, you could find a million tutorials on the platform on how to do the same thing for free.
However, referring to the method itself – copying other people's ideas, work, and channels – is a practice that we don't endorse. Lack of originality disguised as "modeling" to make money quick does not sit well with us.
Has anyone tried the YTA method? Feel free to share your experience in the Comments section below.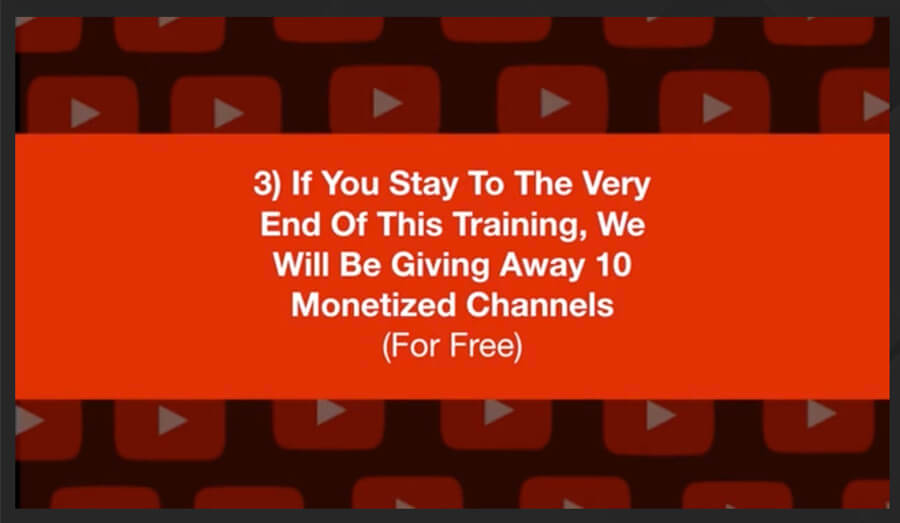 Understanding Gurus' Deceptive Formulas
Apart from Caleb Maddix and his YTA method, all the gurus DO present some sort of real opportunity. However, it's not about the opportunity itself, but about the predatory tactics used to sell it to the masses. And people buy because they are hit with the FOMO disease.
FOMO stands for Fear of Missing Out.
Below you can see a typical process of how a guru presents an otherwise regular product to the people:
1. "I have created this new way of making money that's been allowing me to travel the world. I am excited to share that with you" [insert videos with expensive cars and real estate to create the willingness to have the same]
2. "It is an opportunity of a lifetime that I could share with only 30 people that will be in my class" [creates emergency]
3. "Get an exclusive training with me for a reduced price if you join now." [creates the feeling of exclusivity and being part of a select community]
We are sure that you've seen this before, but we want you to understand the essence of the whole system. Are you ready?
6 Steps That Get You in The Hook
The psychology of getting tons of customers into the 'miracle programs' boils down to the following 6 points:
The fake guru picks a trendy niche/desire. For example, everyone wants to be a social media influencer these days.
The fake guru doesn't want to work for a year to build his social media accounts, credibility, and power, which will turn him into an influencer.
Instead, the fake guru looks for, say, 10 key-elements that help the social media presence and growth over time (tons of blogs around).
He then makes a video promo with the tagline: "The opportunity of a lifetime: Become an influencer." This ad will run at the beginning of your YouTube videos.
Those who want more info (everyone) will join a webinar in which the fake guru is giving away a couple of the key elements.
The fake guru charges $499 to enroll you into a program that will give you the other 8 features. Useful details to know, but at a ridiculous price.
The trick works because, well, they always have disclaimers such as "Results may vary." If you don't succeed, you probably blame yourself that you didn't work hard enough.
What you bought is education. Whether that's a little bit or a lot, rich or poor, worth or not – that's up to you and the results. We can give you another brilliant analogy to understand how the practice works:
"Think of the Gold Rush craziness back in the day. This present situation is like someone who wants the gold and the success but doesn't want to work hard in the freezing cold for it. Instead, he will sell you an opportunity of a lifetime and that's not the Gold Rush. It is a $997 shovel with incredible claims that it will help find the gold. If you don't find any, don't blame the shovel. Maybe you didn't dig where you had to¨, says Stephen from Coffeezilla.
Get it?
Online Marketing Scams: How To Report Them
Warn your family and friends about fake gurus by sharing this article on social media using the buttons provided. You can also officially report the scammers to the Federal Trade Commission using the link below:
How To Prevent Identity Theft and More

If you want to be the first to find out the most notorious scams every week, feel free to subscribe to the Scam Detector newsletter here. You'll receive periodic emails – we promise not to spam. Last but not least, use the Comments section below to expose other scammers.
---
Verify a website below
Are you just about to make a purchase online? See if the website is legit with our validator:
vldtr®
Searching:

Domain age, Alexa rank, HTTPS valid, Blacklisting, SSL certificates, Source code, Location, IP address, WOT Trustworthiness, Spam reports, Advanced technology, Privacy Policy, Terms of Use, Contact options

TOP 3 MUST-WATCH FRAUD PREVENTION VIDEOS
1. Top 5 Amazon Scams in 2023
2. Top 5 PayPal Scams in 2023
3. How To Spot a Scam Email in 2023
Selma Hrynchuk
Senior Editor at Scam Detector Media, Selma is a fraud prevention specialist with a wealth of experience in private investigations and collaborations with law enforcement. A captivating public speaker, Selma educates audiences about scams and personal safety. Through her insightful writing, she exposes criminals and shares essential tips for staying secure. Selma is a dedicated guardian against fraud, committed to unmasking deception and promoting integrity.