Uber Scams and Other Tricks: How They Work
Uber is one of the most popular transportation platforms in the world, operating in 633 cities worldwide. With over 1 billion rides up to date, it was the 10th most downloaded app last year. However, the popularity brought out a lot of Uber scams, as well.
Let's take a look at all the scams, weaknesses, and tricks that revolve around this taxi technology company. The first part of the article addresses to you as the Uber passenger in danger, while the second refers to the Uber drivers as victims. Let's take a look.
Watch the video below to see in video form the most common Uber scams exposed:
Feel free to contribute with your experience in the comments section, including your take on the Uber Say My Name movement. Let's dig into a bunch of Uber scams.
1. Fake Uber App
The bogus Uber app targets Android users using the Android.Fakeapp malware. This is how it works: after download. the phony application launches a login screen that looks almost identical to Uber's legitimate version. Once the user enters their user ID and password and hits "next," the malware launches the real Uber app, producing no cause for suspicion.
Now the criminal has your credentials (ID and password) and access to your account.

2. Unrequested Uber Upgrade
Let's say it's a big night for you – a birthday, private event, or a simple gathering with friends. You order an UberX for you and three buddies. The vehicle shows up, and it's a great, clean Toyota that gets you where you plan to go.
However, the next day you get a notification from Uber which comes with bad news. It says that due to the number of people in your group, your ride was upgraded to an UberXL. That means that your fare is now almost double.

This trick is a bit harder to avoid but not impossible. Here is why: you can be charged more if your group (and your luggage if you are going to the airport, for example) exceeds the capacity of the vehicle class.
This measure was implemented by Uber to prevent, say, five people with ten traveling bags from ordering a compact car and hoping they're getting away with it. Fair and square.
However, some greedy drivers abuse this feature. If it happens to you like in the case mentioned above, challenge the upgrade and explain the situation to the company.
If during the ride you feel the driver is not happy with your group or slightly references the 'crowd', don't be shy to take some snapshots with your phone. Better safe than sorry.
3. Canceling Your Uber Ride x 20
This scam happens around places where drivers wait on short-term parking areas with their app on.
Say you're in an airport and call a ride. The vehicle seems to be right there, however, it doesn't move. Six minutes later, it's still there. You decide to call to see what's going on but nobody answers.
Shortly after, you get a text message from the driver saying "I'll be there in two minutes". However, 3-4 minutes later, no car shows up.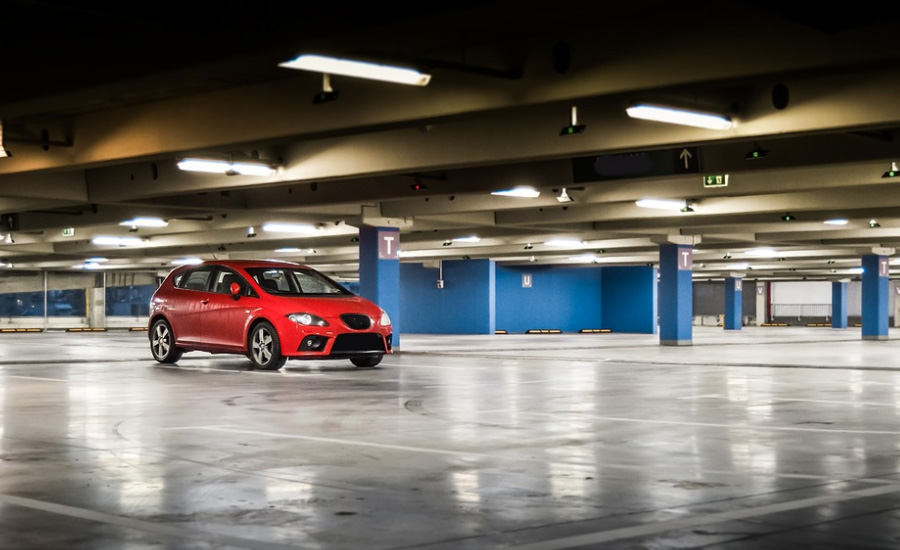 Your nerves are not that strong anymore, so you cancel, which means get charged a $5 fee. Little do you know that the driver repeats the process all day and many other clients are being taken for a different kind of ride.
Uber almost always gives you a $5 credit if you challenge a cancellation, but it's still bothering to have to start the process of requesting another ride. Nowadays, the cancellation fees apply in two minutes instead of five like they used to. If you see a vehicle hasn't moved within the first minute after you ordered it, call the driver.
Now you know that if he doesn't pick up, you should cancel.
4. Re-request the Uber Ride for Surge Price
You've been having a great day, everything goes well, and the ride you just ordered was a block away. However, as you get in the vehicle, you hear the driver mumbling something about the Uber app being messed up a bit.
"Could you please re-request the ride?", he might ask. "It'll be quick. I'll accept ride away", he adds. You don't pay attention to anything else and comply with his friendly demand.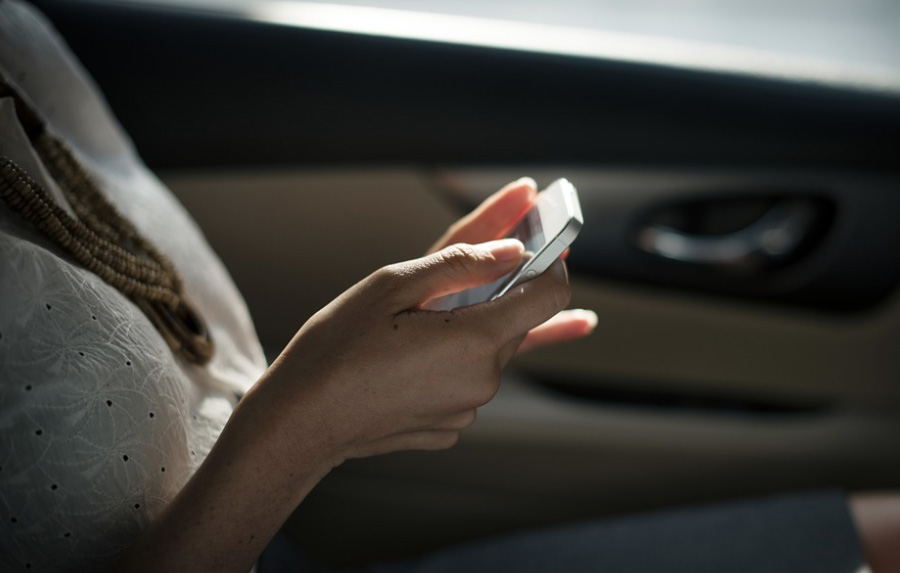 Recommended Read: ProofCam 107 Scam
What you don't know is that the fare has just gone up 35%, because surge pricing has come into effect. The Uber app did not mess up, it was just a little trick to get his fare higher. Don't re-request a ride before going into your app to check if it indeed malfunctioned.
The point is, since the driver didn't want to cancel the ride himself and therefore lose money, he asked you to do it. Just tell him it works fine on your end and ask to see his phone. It is not a time to get shy.
If you feel something is fishy, screenshot your first fare estimate then send it to Uber. They will sure adjust the final charge. Meanwhile, make sure you don't fall for fake customer service representative if you decide to complain on Twitter.
5. Fake Cleaning Fee
It's Saturday night, and you and your party had an amazing time out. It's 3AM, and the conveniently located ride-share just dropped you and your friends at home, after stopping by for some never-tasted-so-good fast-food.
The next day, what you thought was a $35 ride happens to be $150, thanks to a unilaterally assessed "cleaning fee" because of that one dirty napkin you left behind from your fast-food meal during the trip.
First things first – if you left a mess in the vehicle you deserve the charge, so you shouldn't complain. However, from a napkin to a vomit session in a car is a long way, so drivers must provide photographic evidence that their car was trashed.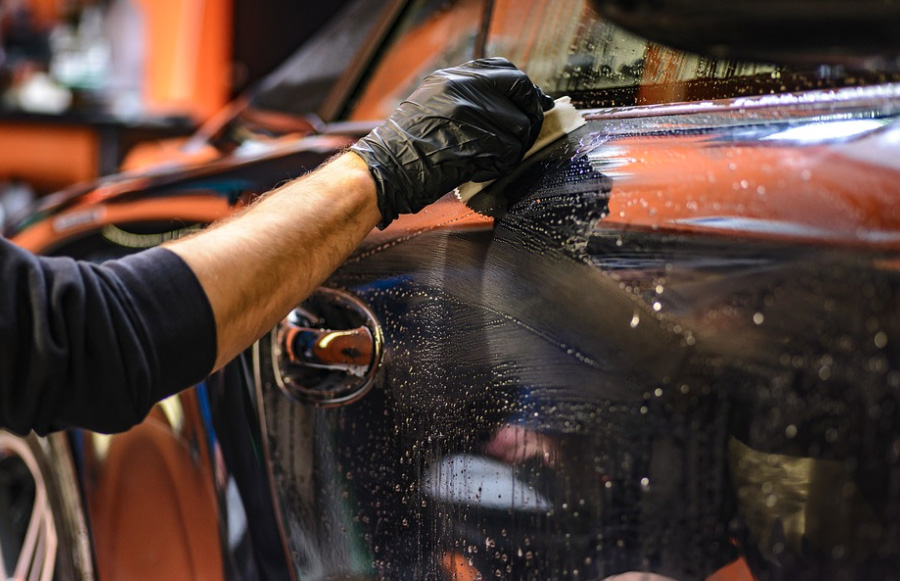 The problem is, some unethical drivers are not shy about setting up their seats to look that they've been vandalized if they didn't like their clients.
If you are with a big group, have been tipsy and a bit loud you are a good 'candidate' for an extra fee. If you feel the situation could generate into such a thing, take pictures of the inside of the car when you leave.
It's also a good idea to check your fare and credit card immediately so you can challenge it promptly if a problem arises.
Additional Scam: 6. Your Uber Code Is… Text Message From Admin
A big wave of questionable text messages is going around these days. They say: "Your Uber code is… If This wasn't you reply STOP to 07903561836". What is this?
Users are receiving this text when someone is trying to hack their Uber account via email registration. The illegitimate attempt to access the account by the scammers trying to use the user's credentials prompts the real Uber to send these text notifications, to verify if the user is the one who was supposed to. However, Uber's text message is a bit ambiguous, although the number (07903561836) seems to be a legitimate Uber admin phone number.
To make sure the text message is authentic, we contacted Uber. Here is their response:
"We're sorry to hear about any alarm this may have caused. It appears that your account may have been accessed illegitimately using your login credentials. As a security precaution, we have changed your account password. If you haven't done so already, please create a strong and unique password when you reset your password. You can update your Uber account password by following this link:
https://auth.uber.com/login/forgot-password
Additionally, we recommend changing your email address on your Uber account as an extra security precaution. This is also a good time to ensure you are using different email and password combinations across your accounts to prevent unauthorized access. We want you to know that we absolutely take situations like this seriously. Please know that your payment information is not stored on your Uber account. They are protected as we only hold the last 4 digits of your card on our application."
Additional Scam: 7. Uber New Device Sign In, Password Change
In this scam, victims receive emails similar to the one in the image below. The message looks like it's coming from the real Uber admin, notifying users of some sort of unusual activity on their accounts. The email says: "New device sign in. Your Uber account was used to sign in on the following device. Please review the details below to confirm it was you."
The victims know that haven't signed into their Uber accounts from a different device, so they quickly access the link provided by the scammers. Little do they know they offer their password to criminals on the fake sign-in page. Beware!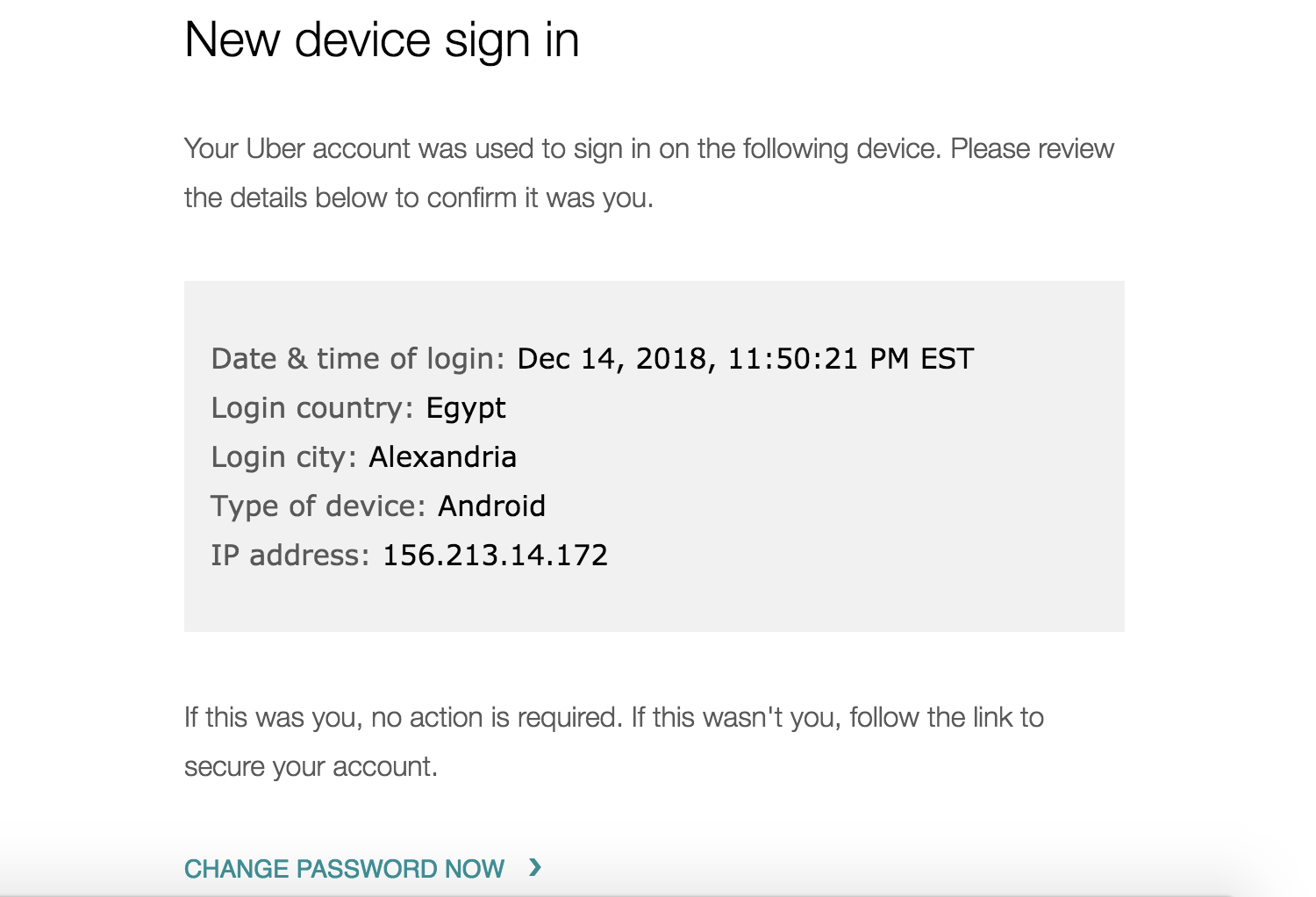 Uber: Say My Name Movement
There has been a lot of discussion about his topic in the last year. The Uber Say My Name Movement started after a young South Carolina student was killed after mistaking a car for a Uber she was waiting for. Her family started the campaign that made now every passenger ask the driver "What's my name?" before getting in the vehicle.
However, the drivers feel like this is not necessary, yet insulting, as the passengers could easily identify the car by the license number that appears on their app. On the other hand, there have been some free rides using the Uber Say My Name scam. Feel free to share your thoughts in the Comments section below, as it's a sensitive topic. Meanwhile…
Watch the video below to see how the Uber Say My Name movement went wrong:
What If You Are A Uber Driver? What Should Be Aware Of?
Watch the video below to see some Uber scams that target the drivers:
Uber Scams: How To Report Them
Warn your family and friends know about all these Uber scams by sharing this article using the buttons provided. You can also officially report the scammers to Uber using the link below:
Recommended Read
---
Verify a website below
Are you just about to make a purchase online? See if the website is legit with our validator:
vldtr®
Searching:

Domain age, Alexa rank, HTTPS valid, Blacklisting, SSL certificates, Source code, Location, IP address, WOT Trustworthiness, Spam reports, Advanced technology, Privacy Policy, Terms of Use, Contact options

TOP 3 MUST-WATCH FRAUD PREVENTION VIDEOS
1. Top 5 Amazon Scams in 2023
2. Top 5 PayPal Scams in 2023
3. How To Spot a Scam Email in 2023
Selma Hrynchuk
Selma is a fraud prevention specialist renowned for her expertise in private eye investigations and a remarkable partnership with law enforcement agencies. Beyond her investigative triumphs, her public speaking engagements and written works have empowered countless individuals to protect themselves and stay ahead of deceptive schemes. Selma's legacy shines as a tenacious agent of change, unyielding in her commitment to battling fraud and ensuring a safer world for all.