Facebook Dislike Button Scam: Protect Yourself from Cyber Threats
The Facebook Dislike Button Scam is back. Although is already June, 2023, the buzz around the elusive Facebook Dislike Button continues to circulate, fueling speculation about its potential implementation. While the truth remains uncertain, concerns arise regarding its possible misuse for cyberbullying. Critics argue that the button could be used to provoke others, creating conflicts rather than fostering empathy, which is Facebook's intended purpose for the feature.
As these debates persist, opportunistic criminals are taking advantage of the situation. So, how does the scam operate, and how can you safeguard yourself from falling victim? Let's talk about one of the most notorious Facebook scams.
It's not a new trick—scammers have intermittently perpetrated this scam over the past few years, capitalizing on users eagerly awaiting the arrival of the Dislike button. They create seemingly official campaigns to deceive unsuspecting victims into clicking on links that promise to enable the button but instead deliver malicious malware to their computers.
The scam manifests in two distinct ways:
1. Enable the Dislike Button
Under this guise, Facebook users are enticed to enable the Dislike button, believing they are activating a long-awaited feature. However, clicking the "Enable Now" button triggers the execution of troublesome JavaScript on their computers and results in the transmission of spam messages to their friends' lists.
To get rid of the virus will be extremely difficult. It's always a good idea to have powerful anti-malware programs like Kaspersky installed on your device, to start with.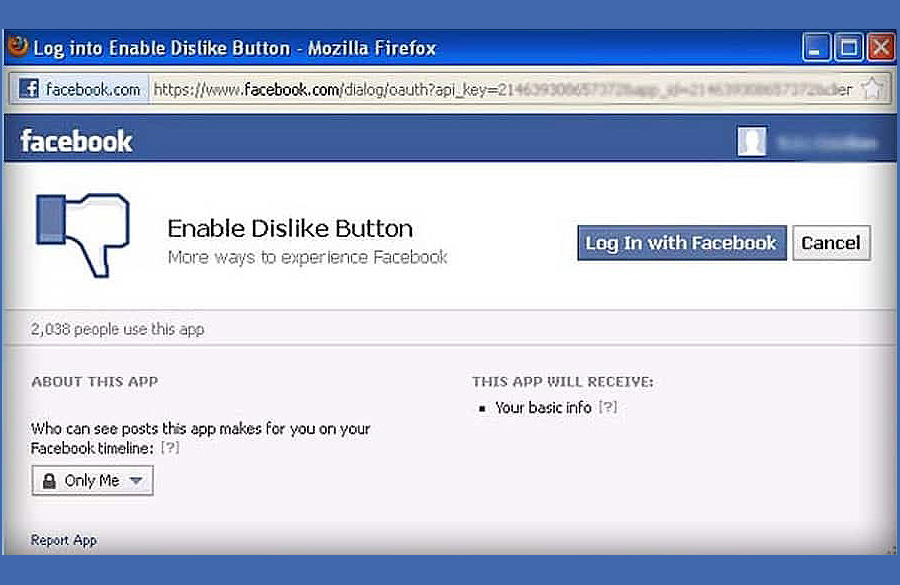 2. Install the Dislike Button
In this scenario, scammers send fabricated messages to Facebook users, enticing them with the opportunity to install or download the Dislike button themselves. Unsuspecting victims are guided through a seemingly harmless installation process, copying and pasting malicious code into their personal computers.
Watch the video below to see the Facebook Dislike Button Scam exposed from the beginning:
So, how can you protect yourself from falling into the Facebook Dislike Button Scam trap? Here are some essential precautions to consider:
Educate Yourself
Inform yourself about new features that you see in your news feed, online articles, or advertisements. Visit the Facebook Help page to gather accurate information about any potential features, as scammers often create misleading content.
Verify Links
Exercise caution when clicking on links. Only proceed if you are absolutely certain that the link leads to a legitimate website and is not a vehicle for distributing malware that could compromise your computer's security and your personal information.
Be Skeptical of "New" Features
Remain vigilant when encountering "new" links or features. Facebook typically announces significant updates or additions officially, rather than through friends or third-party sources. If and when the Dislike feature is launched, you'll be notified through official channels, just as you were informed about changes to your timeline.
Delete and Report Suspicious Messages
If you come across suspicious messages or links, delete them immediately and report them as spam. By taking swift action, you can help mitigate the spread of these scams and protect yourself and others.
Spread Awareness
Lastly, don't forget to share your knowledge with friends and family. Inform them about these scams, so they can exercise caution and avoid falling prey to misleading information and messages.
Remember, staying vigilant and adopting proactive measures are crucial in navigating the ever-evolving digital landscape. By being cautious and informed, you can enjoy a safer online experience and help create a more secure environment for everyone.
How To Report The Facebook Dislike Button Scam
Warn your family and friends about the Facebook Dislike Scam by sharing it on social media using the buttons provided. You can also officially report the scammers to Facebook or the Federal Trade Commission (FTC) using the links below:
Report To Facebook Here
Report To The FTC Here
How To Protect Yourself More
If you want to be amongst the first to receive notifications about the most prevalent scams every week, subscribe to our Scam Detector newsletter. You will receive periodic emails from us with insightful tips. That will include how to prevent fraud and information about the newest tools you can use to fight crime.
Meanwhile, feel free to educate yourself with some other Facebook fraud-related articles. They are listed under this paragraph, so that you know more about online security. Last but not least, if you have any bad experiences, make sure to use the comments section below to expose other scammers.
Facebook Violation of Terms Scam
---
Verify a website below
Are you just about to make a purchase online? See if the website is legit with our validator:
vldtr®
Searching:

Domain age, Alexa rank, HTTPS valid, Blacklisting, SSL certificates, Source code, Location, IP address, WOT Trustworthiness, Spam reports, Advanced technology, Privacy Policy, Terms of Use, Contact options

TOP 3 MUST-WATCH FRAUD PREVENTION VIDEOS
1. Top 5 Amazon Scams in 2023
2. Top 5 PayPal Scams in 2023
3. How To Spot a Scam Email in 2023
Selma Hrynchuk
Senior Editor at Scam Detector Media, Selma is a fraud prevention specialist with a wealth of experience in private investigations and collaborations with law enforcement. A captivating public speaker, Selma educates audiences about scams and personal safety. Through her insightful writing, she exposes criminals and shares essential tips for staying secure. Selma is a dedicated guardian against fraud, committed to unmasking deception and promoting integrity.