Your iCloud ID Has Been Deactivated: How The Scam Works

If you are an Apple user you might receive a phishing message on your iPhone meant to trick you into handing over your password and other pieces of personal information. This mobile message is urging you to immediately verify your iCloud ID before it gets deactivated.
You are then directed to a legitimate-looking website – icloudverify.co.uk, where you are asked to input your username and password. However, this is an unofficial Apple website so ignore it.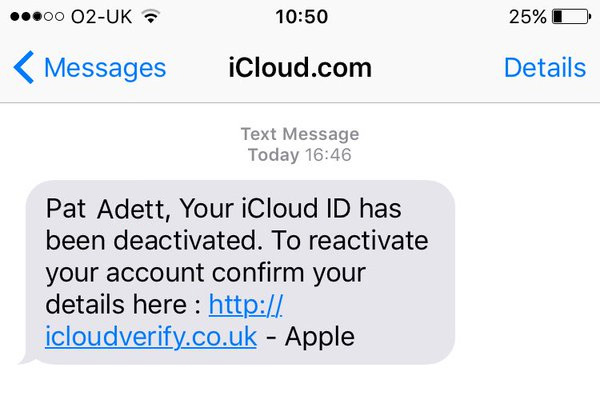 Victims are told their account has been locked for "security reasons," and are directed to enter other personal information like address and credit card details, in order to "unlock" the account.
However, the problem is that the scammers appear nowadays as real as possible by using the recipient's real name in the text message, Also, they're making their name appear on the call display as 'iCloud.com (as in the picture below)', using something named 'Caller ID spoofing'.
This means that through a software they can change the name showing on your screen as whatever they want.
How to avoid the iCloud ID Has Been Deactivated scam:

Random text messages on your phone are rarely real when it comes to Apple and iCloud. Delete the text and go ahead with your day. It's that simple. Be aware that scammers might use the same trick for your Apple ID or any other account, for that matter.
How to report the iCloud ID Has Been Deactivated scam:
Make your family and friends aware of this scam by sharing it on social media using the buttons provided. You can also officially report the scammers to the Federal Trade Commission using the link below:
How to protect yourself more:

If you want to be the first to find out the most notorious scams every week, feel free to subscribe to the Scam Detector newsletter here. You'll receive periodical emails and we promise not to spam. Last but not least, use the Comments section below to expose other scammers.
Related Articles and Pages:
Full List of Car Buying Tips and Scams

---
Verify a website below
Are you just about to make a purchase online? See if the website is legit with our validator:
vldtr®
Searching:

Domain age, Alexa rank, HTTPS valid, Blacklisting, SSL certificates, Source code, Location, IP address, WOT Trustworthiness, Spam reports, Advanced technology, Privacy Policy, Terms of Use, Contact options

TOP 3 MUST-WATCH FRAUD PREVENTION VIDEOS
1. Top 5 Amazon Scams in 2023
2. Top 5 PayPal Scams in 2023
3. How To Spot a Scam Email in 2023
Selma Hrynchuk
Selma is a fraud prevention specialist renowned for her expertise in private eye investigations and a remarkable partnership with law enforcement agencies. Beyond her investigative triumphs, her public speaking engagements and written works have empowered countless individuals to protect themselves and stay ahead of deceptive schemes. Selma's legacy shines as a tenacious agent of change, unyielding in her commitment to battling fraud and ensuring a safer world for all.