WhatsApp Charging Scam: How The Hoax Works
Is WhatsApp charging starting next week? Well, we have the answer. Watch out for a new social media hoax that is going around this week, asking you to pay for WhatsApp as a regular user. The fake message perpetrates mostly on Facebook and, of course, on the app itself. If you have experienced any WhatsApp scams, feel free to add variations of it in the comments section at the bottom of this article.
Let's see how the scam works, how to avoid it, and how to report it. How does it work? Let's take a look at a screenshot of the message that is being sent around.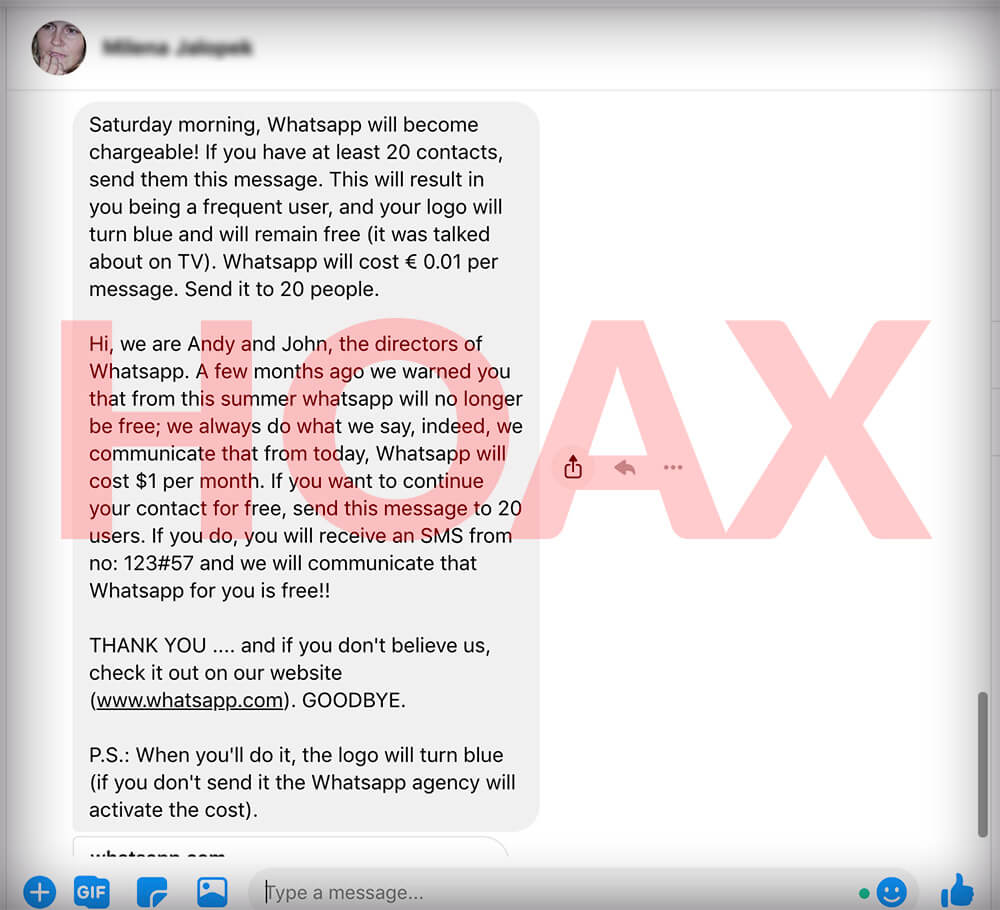 Like the Facebook Charging For Messenger, this hoax comes as an inbox text from a friend, who was naive enough to believe its content.
The message reads: "Saturday morning, WhatsApp will become chargeable! If you have at least 20 contacts, send them this message. This will result in you being a frequent user, and your logo will turn blue and will remain free (it was talked about on TV). WhatsApp will cost $0.01 per message. Send it to 20 people."
The message continues with the following text:
"Hi, we are Andy and John, the directors of WhatsApp. A few months ago, we warned you that from this summer WhatsApp would no longer be free; we always do what we say; indeed, we communicate that from today, WhatsApp will cost $1 per month. If you want to continue your contact for free, send this message to 20 users. If you do, you will receive an SMS from no: 123#57, and we will communicate that WhatsApp for you is free !!"
"THANK YOU …. and if you don't believe us, check it out on our website (www.whatsapp.com). GOODBYE."
"P.S.: When you'll do it, the logo will turn blue (if you don't send it the WhatsApp agency will activate the cost)."
Does this look real to you? Sharing this message with 20 (or any other number) of your friends does nothing but spamming them with another hoax.
It is exactly like the Facebook Charging Fees, which you can watch exposed in the video below:
Will WhatsApp Start Charging? Nope
WhatsApp for the regular users is free, at least at the time of this article's writing. Ignore the message or reply to your friend – who sent it to you originally – and let her/him know that they fell victim to this hoax. The message could also come from a person you don't know (probably a fake profile), so that's another reason to ignore it.
Another thing you need to learn in order to avoid typical social media scams is how to easily recognize if the profile contacting you is a fake account or not. How to do that? Read below.
How To Know If a Profile Is Fake
Watch the video below to see how you can easily identify if the profile contacting you on social media is a fake.
Since we are talking about WhatsApp scams to avoid, beware of other hoaxes and phishing schemes that you could fall victim to – see more here.
Meanwhile, beware of the WhatsApp Gold scam.
Pay For WhatsApp Hoax: How To Report
Let your family and friends know about the Pay For WhatsApp hoax by sharing this article on social media. If you don't recognize the profile that is sending you the unsolicited messages, you can also officially report them to Facebook using the link below:
---
Verify a website below
Are you just about to make a purchase online? See if the website is legit with our validator:
vldtr®
Searching:

Domain age, Alexa rank, HTTPS valid, Blacklisting, SSL certificates, Source code, Location, IP address, WOT Trustworthiness, Spam reports, Advanced technology, Privacy Policy, Terms of Use, Contact options

TOP 3 MUST-WATCH FRAUD PREVENTION VIDEOS
1. Top 5 Amazon Scams in 2023
2. Top 5 PayPal Scams in 2023
3. How To Spot a Scam Email in 2023
Selma Hrynchuk
Selma is a fraud prevention specialist renowned for her expertise in private eye investigations and a remarkable partnership with law enforcement agencies. Beyond her investigative triumphs, her public speaking engagements and written works have empowered countless individuals to protect themselves and stay ahead of deceptive schemes. Selma's legacy shines as a tenacious agent of change, unyielding in her commitment to battling fraud and ensuring a safer world for all.