Aldi Coupon Scam: How It Works
If you are reading this article, you probably came across a tempting coupon from Aldi, promising you the deal of the year. It is different than the Aldi Food Box Scam also going around these days, so let's take a look. Before we get any further and explain how the scam works, keep in mind that the name of the giant supermarket is being used as a front for this phishing scam in the United States and the United Kingdom.
The fake Aldi coupon comes promoted on WhatsApp and Telegram, but it could also be perpetrated via social media such as Facebook, Instagram, or Twitter. How does it work?
Watch the video below to see the Aldi Coupon scam exposed:
The offer listed in the coupon varies from scammer to scammer, but typical deals promoted are 60-80% off everything. This is just a regular phishing scam meant to collect your personal information, which will lead to identity theft.
Below is a screenshot of a Whatsapp message with a fake Aldi call-to-action.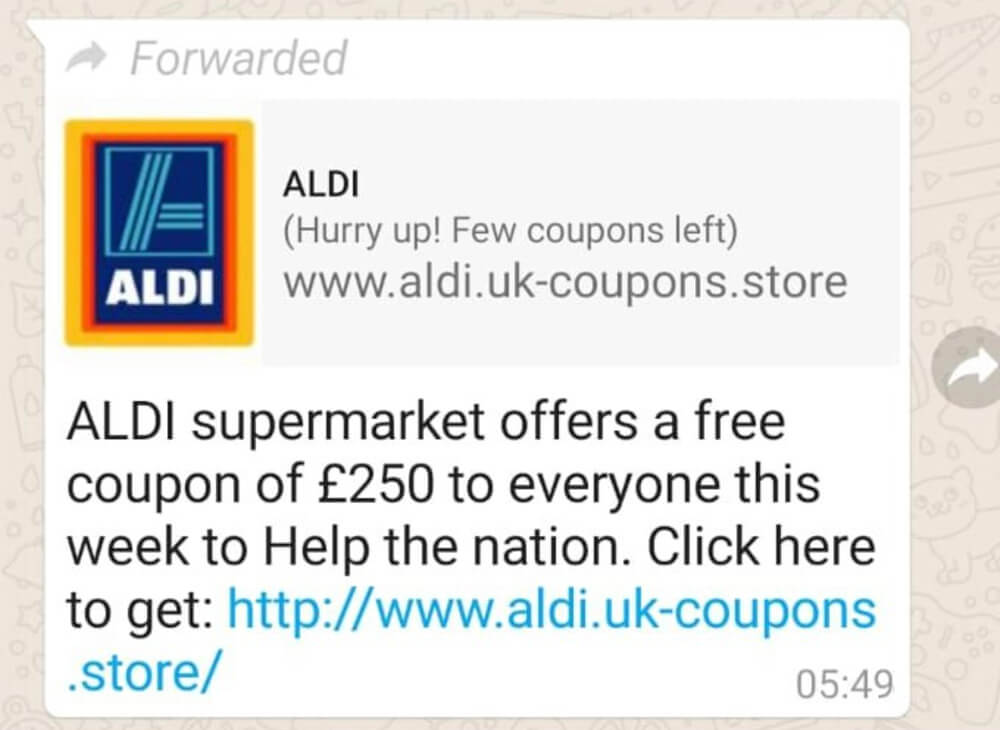 Large retailers such as Aldi never offer deals to customers via WhatsApp or through unsolicited email campaigns. At least not yet. Ignore the offer.
Aldi Coupon Scam: How To Report
Make your family and friends aware of the Aldi Coupon Scam by sharing it on social media. You can also officially report the scammers or any other suspicious email, text messages or social media promotions to the Federal Trade Commission using the link below:
How To Prevent Identity Theft and More
If you want to be the first to find out the most notorious scams every week, feel free to subscribe to the Scam Detector newsletter here. You'll receive periodic emails – we promise not to spam. Meanwhile, educate yourself with some other fraud-related articles right under this paragraph, so that you can protect yourself in many other aspects and niches. Last but not least, use the Comments section below to expose other scammers.
Here are some must-reads for the end:
Free Gift Card Scam
---
Verify a website below
Are you just about to make a purchase online? See if the website is legit with our validator:
vldtr®
Searching: Domain age, Alexa rank, HTTPS valid, Blacklisting, SSL certificates, Source code, Location, IP address, WOT Trustworthiness, Spam reports, Advanced technology, Privacy Policy, Terms of Use, Contact options

TOP 5 MUST-WATCH FRAUD PREVENTION VIDEOS
1. Top 5 Cryptocurrency Scams in 2021
2. Top 5 Amazon Scams in 2021
3. Top 5 PayPal Scams in 2021
4. Top 6 Instagram Scams in 2021
5. The Hottest Gadget of 2021, a Scam?