If You Do Online Shopping Beware of the Purchase Protection Scam
Purchase Protection Scam: How It Works
The online shopping experience worldwide is exceeding slowly but surely the traditional in-store purchasing. If you are like most people, you probably love buying stuff on websites such as Amazon, Craigslist and eBay. You may even pride yourself as being the deal-finder out of your circle of friends. However, be aware of the Purchase Protection Scam, which comes in two variations – mostly prevalent on Craigslist, but keep an eye on all platforms. Let's take a look.
Scenario 1. Fake Notification of Bad Sellers
Imagine this: shortly after your last purchase on Craigslist, you receive an official-looking email, which seems to be from the website's Buyer's Protection Plan. They inform you that the seller in your latest transaction was a cybercrook scamming the users. As a result, you will not be receiving the goods you ordered. The message looks very realistic and mimics almost perfectly the branding of the platform where you bought your items.
To straighten the mess out, they ask you to provide your account or credit card number in order to refund your money. Of course, you probably know by now, you won't get back anything at all, as the Buyer's Protection Plan email was a fake premise created by the scammy so-called 'seller'. It was all just a ruse to get your banking information.
Scenario 2. Fake Invoice of eBay Purchase Protection
This variation of the Purchase Protection Scam targets people who are in a rush to purchase items at a great price without due diligence. Hopefully, you are not one of them. How does it work?
Watch the video in the article below to see the Craigslist Purchase Protection Scam exposed on ABC:
Craigslist Scam Exposed on ABC
It works like this: as soon as someone is interested in buying an item on Craigslist (typically a bigger item such as a car, bike or household products), the scammer sends a message to the buyer from a fake eBay Vehicle Purchase Protection account saying that the transaction is, well, protected. Just like in the screenshot below featured by the same ABC story.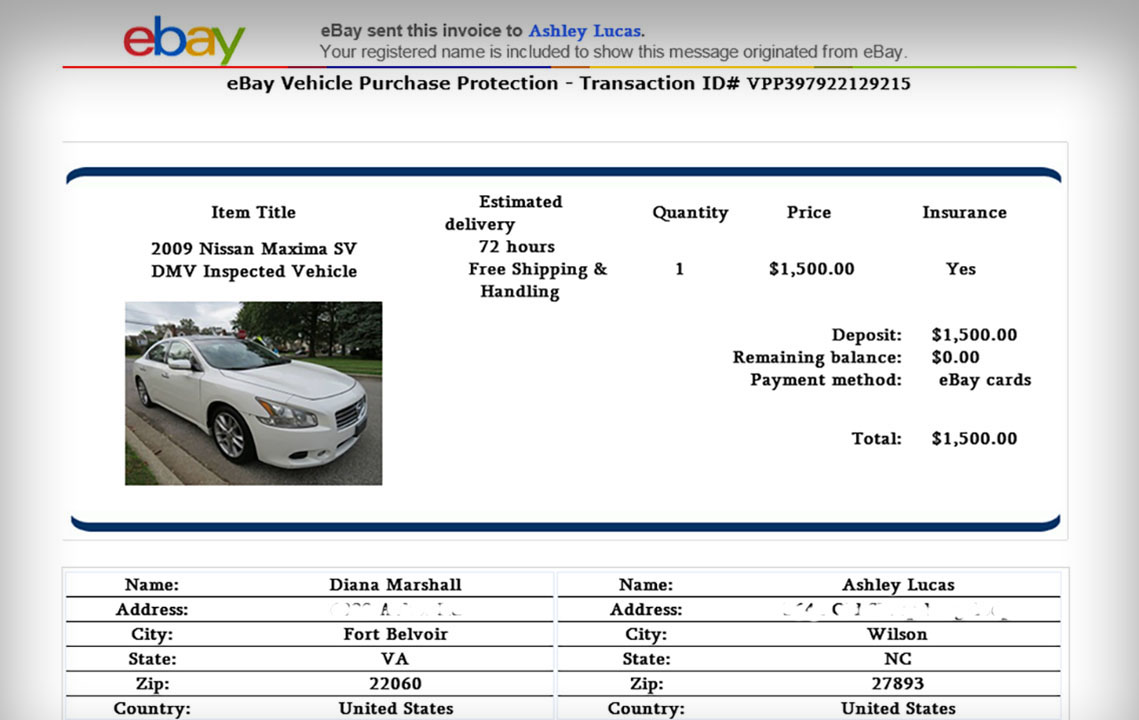 Feeling covered, the victims rush to send money for the item so they're not missing the deal, sometimes even paying in gift cards. In the case above, a 2009 Nissan Maxima was 'selling' for $1,500US.
eBay Purchase Protection Scam: How To Report
Make your family and friends aware of the Purchase Protection Scam by sharing it on social media using the buttons provided. You can also officially report the scammers to the Craigslist Support, eBay admin and Federal Trade Commission using the link below:
Report Scammers To The FTC Here
Report Scammers To Craigslist Here
How to protect yourself more:

If you want to be the first to find out the most notorious scams every week, feel free to subscribe to the Scam Detector newsletter here. You'll receive periodical emails and we promise not to spam. Last but not least, use the Comments section below to expose other scammers.