Netflix Credit Card Fraud: How It Works
You get an email from Netflix. The real Netflix.  It says your account is on hold – an authentic notice, too! You are asked to update your credit card number on Netflix's financial page. The real one, as well. Where is the scam? If you have a Gmail address with them registered on Netflix, you could be a victim of this scheme using the Netflix brand.
The scam is based on a feature that Gmail has incorporated in every address, called "Dots don't matter". It refers to the fact that if someone accidentally adds a dot within the first part of the email address when sending you the message, you'd still get it.
For example, if your email address is: JenPope@gmail.com, you would still get the email if someone types 'JenP.ope@gmail.com', or 'J.e.n.P.o.p.e@gmail.com'. So how does the scam work?
Watch the video below to see the Netflix Dots Don't Matter Scam:

Let's take a look at how the scam works: 'JenPope@gmail.com' and 'Jen.Pope@gmail.com' could be two different identities of two different people. However, Netflix doesn't know about the 'dots don't matter' Gmail feature, leaving an open gate for criminals to lure victims into giving away their credit card numbers.
Essentially, what scammers do is the following:
They go on Netflix.com and try to sign up with a bunch of made-up email addresses until they get an 'already registered' notification. Let's use the JenPope@gmail.com example. The crooks create a Jen.Pope@gmail.com (with a dot) account and sign up for a Netflix trial with a throwaway credit card number.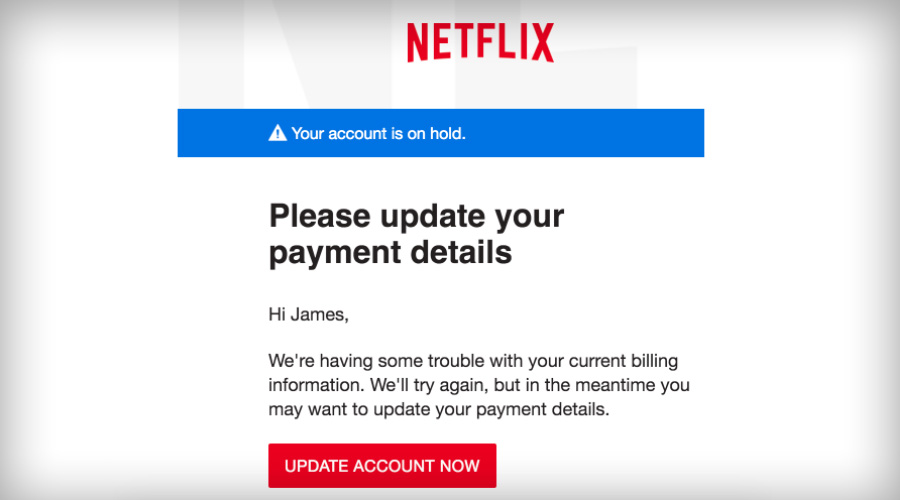 After Netflix applies the "active card check", scammers cancel the card then wait for Netflix to bill it. Getting an invalid card number, naturally Netflix emails Jen.Pope (also meaning JenPope due to the 'dots don't matter' feature) asking for a valid card. As Jen Pope – the victim – reads her email coming from the real Netflix, with an actual notification of her account being on hold, she freaks out and adds her credit card number, replacing the invalid one, which was not even hers.
As soon as the account has the new credit card number on file, the scammer changes the contact email address to his own and continues to use Netflix forever, using Jen Pope's card.
Netflix Credit Card Update Fraud: How To Avoid
If you receive this email from Netflix, verify the spelling of your email address in the email to make sure doesn't have any extra dots – or if they are in the right place. Also, when the Financial page is open on your Netflix account, look at the credit card number that's there already and compare it to yours (you'll see the last four digits). If you remember yours then will be easy to identify the fraud, but if you don't then check your records.
Some people might think the last four digits showed there may be from a previous credit card number used in the past, which also makes it easy to fall for this scam.
Netflix Credit Card Update Scam: How To Report
Make your family and friends aware of this scam by sharing it on social media here. You can also officially report the scammers to the Federal Trade Commission using the link below:
Recommended Reads
Equifax Data Breach: The Wrong Phone Number 
How Scammers Steal Our Purchase After We Pay For It
How To Quit Smoking – Selling A Product That Doesn't Exist
A Brilliant Scam Using Tablets For Sale
---
Verify a website below
Are you just about to make a purchase online? See if the website is legit with our validator:
vldtr®
Searching:

Domain age, Alexa rank, HTTPS valid, Blacklisting, SSL certificates, Source code, Location, IP address, WOT Trustworthiness, Spam reports, Advanced technology, Privacy Policy, Terms of Use, Contact options

TOP 3 MUST-WATCH FRAUD PREVENTION VIDEOS
1. Top 5 Amazon Scams in 2023
2. Top 5 PayPal Scams in 2023
3. How To Spot a Scam Email in 2023
Selma Hrynchuk
Selma is a fraud prevention specialist renowned for her expertise in private eye investigations and a remarkable partnership with law enforcement agencies. Beyond her investigative triumphs, her public speaking engagements and written works have empowered countless individuals to protect themselves and stay ahead of deceptive schemes. Selma's legacy shines as a tenacious agent of change, unyielding in her commitment to battling fraud and ensuring a safer world for all.