Fortnite Scams of a Game With 400 Million Registered Players
Watch out for the plethora of Fortnite scams that keep emerging. According to the developer Epic Games, Fortnite has over 400 million users playing the game and the number is growing. For those who don't know, Fortnite is an online video game launched in 2017, which became a cultural phenomenon worldwide and gained popularity even amongst celebrities like Drake, Joe Jonas or Roseanne Barr.
Although is free, the game generates over $300 million in sales per month, thanks to its in-app purchases using the so-called V-Bucks. Since its launch, Fortnite has made over a billion dollars, racking in over 1.5 million/day just in iOS, according to Fortune.
Unfortunately, wherever there is a lot of money there are a lot of criminals, too. Over 50,000 Fortnite scam alerts have been recorded in the last few months, enough for us to compile a list with the most notorious practices. Let's take a look.
1. Get More Skins, Gear and Weapons
The game's currency – V-Bucks – is used by users to purchase skins (the avatars of their characters) and many other accessories that make them stronger competitors. In this particular scam, the crook first creates a friendship with you, to gain your trust. How does the scam work?
Watch the video below to see a victim losing his money and access to his Fortnite account through this scam:
Essentially, how the scheme works is that after the scammer wins you over as a friend he promises a bunch of free skins that he's not using anymore. In order to help you with that, he asks for your Fortnite credentials so he can 'transfer' the skins successfully.
Well, once he is into your account, he will change your password and block your access. Now he also has your personal information and credit card details tied to your profile.
2. Free V-Bucks
This is the most used trick to get all the naive users falling for the scam. Crooks set up new websites promising free V-Bucks (or at a reduced price), asking victims in return for personal information and – in most cases – to fill out a survey. By doing these surveys, the users facilitate scammers to receive commissions from the survey companies. When it comes to purchasing V-Bucks "for cheap", the good deal requires that you provide a credit card number.
Over 4,770 questionable websites/domain names dedicated to Fortnite have been reported. Beware. The only way to purchase V-Bucks is through the game's in-app platform. That's it.
Here are more Fortnite scams.
3. V-Bucks Generators
The last paragraph above relates to this scam as well. There is no such thing as a legitimate V-Bucks generator – you can get them only from the game itself.
What's surprising is how well the websites ('generators') are done. They also require the credentials to log into your account, as well as other personal information that scammers could use for identity theft.
4. Fake App Downloads
Technology is a beautiful thing, especially since there is an app for everything nowadays. These fake Fortnite apps promising you a million benefits also come with a plethora of malware, which once installed in your phone could compromise your Android device. The virus detected in this Fortnite scam is Trojan.Malpack. Here is how it works.
The bogus Fortnite apps are very similar to the ones used when the Pokemon Go scams made their rounds after the game was released. This makes them easy to identify. However, sometimes the signs aren't as clear. You should ensure you always purchase original and spyware-free games by downloading them from a trustworthy video game store like YuPlay.
5. YouTube and Instagram Ads
Fortnite has a tremendous amount of exposure on YouTube, most of the users streaming their adventures and inspiring others with their successes. However, that's the field where most of the scammers find their victims. The promise of free V-Bucks, gear, skins, weapons and other hacks lure users into outside of the platform, where they are tempted with noting but lies.
To get all these benefits, they are required to join questionable websites where they are invited to provide their personal information and credit card numbers. What's even worse, these phoney deals are approved paid advertisements on Youtube and Instagram feeds, like the one below: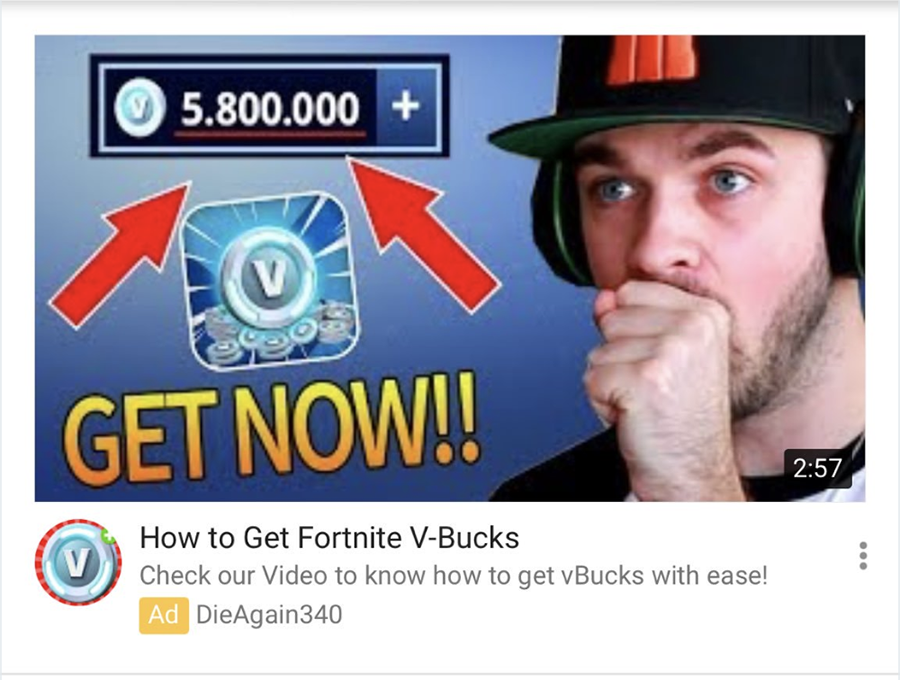 6. Fake Fortnite Coupons
The same way the ads above promote free V-Bucks or V-Bucks generators, the fake Fornite coupons have been also attractive for the wrong reasons all over the Internet. Whether they promise free skins or game currency in exchange for a simple download or filling a survey, they are definitely something to avoid for now.
7. Extortion of Fortnite Users
There have been several reports of extortionists threatening Fortnite users in the last few weeks. According to Narcity, "four different cases that have been brought to the police as of recent all detail young men who had been messaged through Instagram, the sender claiming that they could get Fornite codes if they exchanged personal images in return. Once the victims sent an image, they were then further threatened, claiming that if they didn't send more photos, the images would be shared publicly."
In conclusion, whether you have children playing Fortnite or you are a user yourself, beware of who you – or your kids – are interacting with when it comes to the game. Better safe then sorry!
Video Gaming Scams: How To Report
Make your family and friends aware of these 7 Fortnite scams by sharing this article on social media. You can also officially report the questionable accounts, emails, and any kind of scammers to the Federal Trade Commission using the link below:
Stay Vigilant of Fortnite Scams
Scams on Fortnite have become a growing concern for players worldwide. Unfortunately, the fake Fortnite promises are often too good to be true, and players who fall victim to these scams can lose not only their personal information but also real money.
Overall, it is important for Fortnite players to be vigilant and cautious when it comes to these scams. Players should always be wary of any messages or emails that ask for their personal information or payment, and should only download programs or enter information on trusted websites. Additionally, players should avoid using hacks and cheats in the game, as they can lead to serious consequences. By taking these precautions, players can help protect themselves and their accounts from the risks of Fortnite scams.
---
Verify a website below
Are you just about to make a purchase online? See if the website is legit with our validator:
vldtr®
Searching:

Domain age, Alexa rank, HTTPS valid, Blacklisting, SSL certificates, Source code, Location, IP address, WOT Trustworthiness, Spam reports, Advanced technology, Privacy Policy, Terms of Use, Contact options

TOP 3 MUST-WATCH FRAUD PREVENTION VIDEOS
1. Top 5 Amazon Scams in 2023
2. Top 5 PayPal Scams in 2023
3. How To Spot a Scam Email in 2023
Selma Hrynchuk
Selma is a fraud prevention specialist renowned for her expertise in private eye investigations and a remarkable partnership with law enforcement agencies. Beyond her investigative triumphs, her public speaking engagements and written works have empowered countless individuals to protect themselves and stay ahead of deceptive schemes. Selma's legacy shines as a tenacious agent of change, unyielding in her commitment to battling fraud and ensuring a safer world for all.