Federal Grant Scam: How It Works
As our mandate is to educate our readers about the latest financial fraud cases, we have a new one this week – the Federal grant. A fake $9,000 government grant is offered via a phone call by scammers impersonating the federal authorities. Free money from the government is always lovely to have but watch out for this scam. It even involves using a Steam card (like in this example), if you know what that is.
Alternatively, scammers could make you believe that you received a Federal Supplemental Educational Opportunity Grant (FSEOG), which is a grant dedicated to undergraduate students with exceptional financial needs. But the main scam targets the everyday citizen.
Let's take a look.
Imagine this: you get a call from someone claiming to be from the government and informing you that, because of the COVID-19 economic situation and some new specific laws and regulations, you are eligible to receive $9,000. That's a grant, which is money that you don't have to return. A stimulus check.
The only conditions for you to fully qualify are that you don't have a criminal record, didn't go bankrupt the last six months, and have been a loyal citizen for the government. Furthermore, you can use the money for a useful purpose to start a business or an education stage. Besides, to receive the grant, a full conversation needs to be established.
But how does the Government Grant Scam work? Watch the video below to see it exposed:
Federal Grant: How To Avoid
If you want to protect yourself from scams like these, you never have to reveal your personal data to anyone you don't know. You can't win money for grants you didn't apply for, anyway. Call his bluff or hang up the phone.
If you want to play with someone who calls to say you won money, ask him/her to send you a valid check, just like the real grants come. Don't give your actual address, maybe only your work's address. Free money from the government doesn't happen that easily.
In a different variation of the fraud, beware of many SBA loan scams or debt relief scams (check out the Freedom Debt Relief) going around.
Federal Grant Scam: How To Report
Warn your family and friends about the Federal Grant Scam by sharing it on social media using the buttons provided. You can also officially report the scammers to the Federal Trade Commission using the link below:
How To Prevent Identity Theft and More

If you want to be the first to find out the most notorious scams every week, feel free to subscribe to the Scam Detector newsletter here. You'll receive periodic emails – we promise not to spam. Last but not least, use the Comments section below to expose other scammers.
Feedback Received:
We wrote this article as a response to the plethora of email messages we received via our email and Facebook page, asking us about the integrity of the federal grant. Here are the most significant comments and experiences from our readers (grammar included – the spelling is as they did it). Did you receive anything similar?
Paula Adams:
"I was sent a number from a friend on my Facebook mentioning free government grants for a 2% clearance fee. MY wife died two months ago, and I was desperate for finances. I said I wanted 10,000 dollars, and they said I would need to buy Walmart gift cards to pay the 200 dollar fee. To sweeten the pot, they said they would add 2000 dollars to the payout. They did not respond and did not deliver that night. The following day they told me I needed to pay an additional 550 dollars to get the grant. Once again, desperation caused me to be foolish. They said I would get the cash at my home at noon. They did not show up and still never have. When I finally got in contact, they said I needed to pay another 300 dollars, and they would deliver. The guy kept telling me the reason I did not have my grant was that I had trust issues. He kept trying to get me to say I cancel without a refund. They already withdrew the money from the gift cards. So they have 750 of my money. I could not afford to give someone 750 dollars. The number that I texted back and forth with is 715-997-1769 said his name is David I also have an email and to Cash app id's I want this prick arrested. He still keeps pestering me for the Custom Fee of 300 dollars more."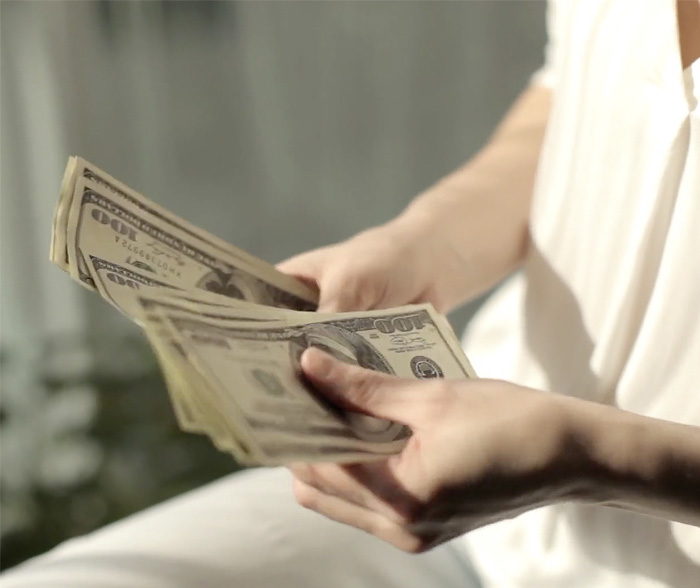 Michele C:
"I received a call stating that I was randomly chosen because of my good standing as a citizen. I was being given a grant fo $11k. Now I received a grant for college. I had to apply tor it, and the check came to me, and I did not pay for anything, ill also say this, I could barely understand her with her heavy middle Eastern accent. When I called her out on her B.S., she said to me, "screw you." The # was: 202.618.2551 from Damascus, MD, for an "ARRA" grant. My unique number was #MS717. What tipped me off was, she needed payment for 250$ to pay for something being careful of what she said what the amount was for."
Barb Z:
"I got a call from Brenda from New York 2128659827. She told me I was getting a grant from the U.S. Government because I was a good citizen. I didn't have a criminal record and have not filed for bankruptcy in the last six months. I needed to call 2532895076 to release the grant of$14,589. I called spoke to a man named Anthony Wilson Badge# AW118. He started asking me my age if I owned my home if I lived alone. When I questioned why this was needed, he told me to shut up and called me a bitch and hung up on me. This federal grant is definitely a SCAM!!!"
Peter:
"This person said if I want free grant money. I had to pay $500, and within 24 hours, a box will be at my door. Coming from FedEx, it was $40.000,00 all in cash. This person said to go to western union or get an Amazon gift card and put the money on and that the $500 on it, is that cash is counterfeit. Still, he said winning money I was about to go for I did give him my name, not my bank account I know a person just done it they pay that person there $500 and 24 hours a box was at there door it was cash."
I wanted to know is that a scam because the person got now $40.000,00. I just put it in there bank account wow who can't use $40.000. Also, he supposes to work for the Federal Government Agency. So is that a scam the person told me no its no scam it is legal the one that got the box with cash in it myself I wanted to go for it, but I didn't go through with it."
Christina P:
"I received a call today from 202-768-2119, which came up on my phone as a Washington D.C. number. I was randomly selected to receive a $9000 grant. They even stated that I did not apply but was randomly selected because no criminal background, haven't filed for bankruptcy in the last six months, etc. They stated they were from the Grant & Treasury Department. This was a grant given to me by the U.S. Government, not a school grant, etc. They gave me a code to receive my grant. Also asked me if there was a Wal-Mart, Walgreens, Western Union blah blah that I wanted it sent to in order to receive cash in hand. Mind you, they also had my info, except my actual address. They even knew what city I live in. I was instructed to call 206-629-6019, give them my code, and follow further instructions to receive my money. After speaking with the next person, I almost fell for this until they said I needed a deposit of $250, and I would receive it right back (receiving a total of $9250). I explained to them that I did not have that right now, and the lady put me on hold. She came back and said she could put my file on hold until further notice (but there was no rush), or could I find a way to get the money. I was told I could call her back (her name was Janet ext 1167) when I get to the parking lot, and they would stay on the line with me blah blah. You know the rest. These people need to be stopped."
Jameela:
"I Just received a call from 1 306 687 6676 saying I have been granted a $7000 Loyalty Grant from the U.S. Government. I was told to call 202 602 2691 and speak to the Financial Management. I was given an I.D. # of 7169765."
Helen Royka:
"I received a call from 789-023-4567 ext 101 from a man saying his name was Stephen Johnson and he was with the federal government. Did I ask what division? He said the Federal Government, so I said what division as there are so many. He couldn't answer and just gave me his ext number. He said that I was eligible to receive a 9,000 grant that is under the National Recovery Act or AARA put in place by Barack Obama in 2009. He then gave me a 315-221-3673 number along with a code to give them to be able to gain access to said money. I called but minded you, I already knew it was a scam, so I decided to play with them. The man asked me to go to a dollar general, family dollar, rite-aid, or Walgreens and purchase a card for 250.00, and once I did that, he would release my funds. I laughed and said I am unemployed and don't have that, and he asked how long before I would have it. I told him again I am unemployed, and he hung up on me. I tried calling back the 789 number that called me first, and it was out of service, so I called the 315number back and told the man I would be reporting him for scam and fraud. He said you could do what u wish and proceeded to tell me I was crazy. I said if u work for federal government u cant talk to people like that, so I asked for his name, branch of government he worked for, and his superior officer's name and number. He said I don't have to give you that information and said I was insane and then hung up on me. I thoroughly enjoyed myself giving them as much grief as I could. Best laugh I have had in a long time."
Martin:
"Just got a call saying I got government grant for 9200$. All I needed was to get a 100$ steam card call this number 202-643-7280 give dem ref code for the money to deposit in my account which I made a mistake by giving them a Netspend account info which I just canceled by checking on the internet to see if this was a scam. Federal grant my a*&"
Julie S.:
"WOW!!  I got a call from a Virginia number 804-974-0925. Woman with a heavy accent said I was chosen because I had no bankruptcies, no criminal records, etc., to receive $9k from a federal grant. Gave me an I.D. # and phone number to call. I wanted to know how long before I was going to call the 202-922-6299 number she gave me. I called right away and got a heavy accent guy who gave id #1102, John Carter. Using Google voice recognition, he repeated the limited info I gave the first caller. He instructed me to go to a Walmart and call him from the parking lot, and he will stay on the phone while I make a transaction, including a $200 registration card I must use to activate, and I will receive $9,200 via money gram. I was told not to say anything to anyone about it, and would you believe I got a call back from the 202# a couple of hours later, encouraging me to go to Walmart. Said the money was from American Recovery Reinvestment under Health and Human Services. This is the stimulus act during Bush and Obama administrations that sent $300-$600 in tax rebates, etc. and sometimes checks. What a scam!!!"
---
Verify a website below
Are you just about to make a purchase online? See if the website is legit with our validator:
vldtr®
Searching:

Domain age, Alexa rank, HTTPS valid, Blacklisting, SSL certificates, Source code, Location, IP address, WOT Trustworthiness, Spam reports, Advanced technology, Privacy Policy, Terms of Use, Contact options

TOP 3 MUST-WATCH FRAUD PREVENTION VIDEOS
1. Top 5 Amazon Scams in 2023
2. Top 5 PayPal Scams in 2023
3. How To Spot a Scam Email in 2023
Selma Hrynchuk
Senior Editor at Scam Detector Media, Selma is a fraud prevention specialist with a wealth of experience in private investigations and collaborations with law enforcement. A captivating public speaker, Selma educates audiences about scams and personal safety. Through her insightful writing, she exposes criminals and shares essential tips for staying secure. Selma is a dedicated guardian against fraud, committed to unmasking deception and promoting integrity.