Zoom Meeting Invitation: How The Scam Works
One of these days, you may receive an email that looks like you have been invited to a Zoom meeting. The invitation seems very official and slightly bears Zoom's branding and style.
The email going around looks like this – see screenshot below: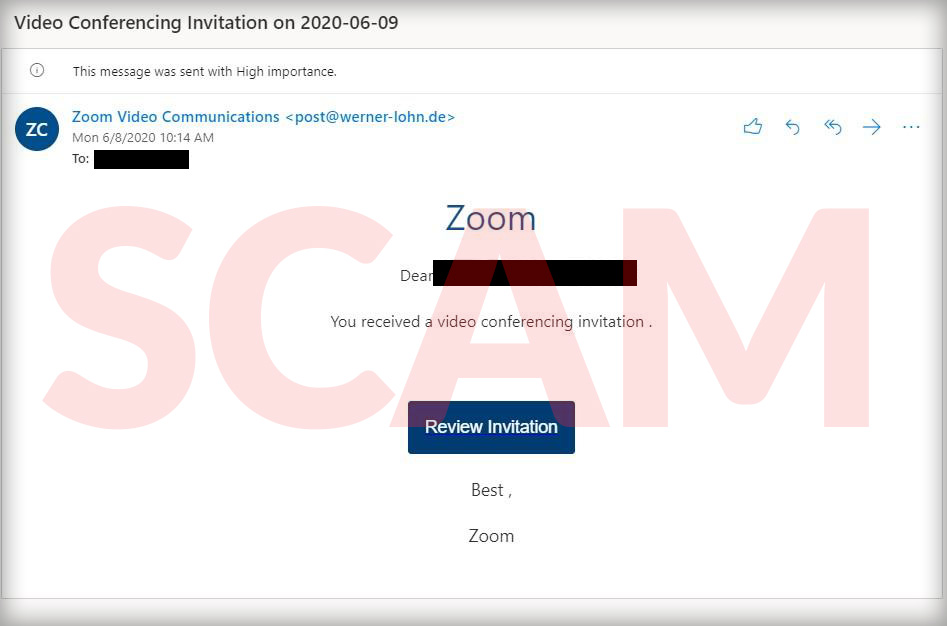 Let's take a look at why you should not click the link:
1. Zoom doesn't send meeting invites. They come from the person you know who is inviting you.
2. This invite was not sent by a known contact.
3. It does not contain any of the usual Zoom info such as meeting ID, options to join via phone or internet, or meeting password.
What happens if you click this link? Simply put, you would open up your organization to a host of threats. Users who click on the link in the email will navigate through a variety of webpages, which will take them in the end to a compromised login page that will infect their PC with malware and steal their credentials.
Alternatively, scammers create images and fake websites with Zoom branding. When victims are trying to access the link absentmindedly, the bogus page informs that the users need to use the latest version of Flash software. An invitation for an upgrade is popping up, leading those who believe that they have a Zoom meeting to install malicious code on their devices.
The scam works because platforms such as Zoom, GoToMeeting, or Join.Me have increased their user base during the pandemic to hundreds of millions of people. For example, Zoom officially now has over 300 million daily meeting participants! However, with this growing popularity comes a bunch of problems as well. Zoom suffered a data breach recently. Over half-million credentials were stolen, and later were sold on the internet for less than a cent apiece.
You can check if your email is compromised by accessing this website and type in your address.
Zoom Meeting Invite Scam: How To Avoid
Don't click on links from people you don't know, especially if they look like this. The scheme is similar to traps such as the Pinterest password change, fake PayPal alert, and several Whatsapp scams. When in doubt, if a link is legitimate, log into the platform by going to their official website by typing the domain name into the browser yourself.
Technology is a beautiful thing, but be aware of the plethora of requests online, regardless of the platform. Stay safe!
Zoom Invitation: How To Report a Scammer
Warn your family and friends about the Zoom Meeting Invitation Scam by sharing it on social media using the buttons provided. You can also officially report the scammers to the Federal Trade Commission using the link below:
How To Prevent Identity Theft and More

If you want to be the first to find out the most notorious scams every week, feel free to subscribe to the Scam Detector newsletter here. You'll receive periodic emails – we promise not to spam. Meanwhile, educate yourself with some other fraud-related articles right under this paragraph, so that you can protect yourself in many other aspects and niches. Last but not least, use the Comments section below to expose other scammers.
Here are some must-reads for the end:
---
Verify a website below
Are you just about to make a purchase online? See if the website is legit with our validator:
vldtr®
Searching:

Domain age, Alexa rank, HTTPS valid, Blacklisting, SSL certificates, Source code, Location, IP address, WOT Trustworthiness, Spam reports, Advanced technology, Privacy Policy, Terms of Use, Contact options

TOP 3 MUST-WATCH FRAUD PREVENTION VIDEOS
1. Top 5 Amazon Scams in 2023
2. Top 5 PayPal Scams in 2023
3. How To Spot a Scam Email in 2023
Selma Hrynchuk
Selma is a fraud prevention specialist renowned for her expertise in private eye investigations and a remarkable partnership with law enforcement agencies. Beyond her investigative triumphs, her public speaking engagements and written works have empowered countless individuals to protect themselves and stay ahead of deceptive schemes. Selma's legacy shines as a tenacious agent of change, unyielding in her commitment to battling fraud and ensuring a safer world for all.