Domain Name Trademark Certification Fraud: How It Works
We received this tip from a reader who almost fell for the Domain Name Trademark Certification scam, aka the Certified Domain Email. It happens when somebody offers to purchase your website and domain name. How does the scam work and how to stay safe online? The scam has been going around for a while, but this time it comes with a new twist. Let's take a look.
Watch the video below to see the Certified Domain Scam exposed:
Let's say you put a domain name up for sale, on a specialty website such as Sedo. A couple of days after, somebody contacts you claiming to be a domain broker. He is looking to buy the domain name on behalf of an investor that wants it for a new business. You're happy.
He offers more than your asking price and justifies this by saying he gets a commission. He is not interested in a lower price because the commission would also be small. It makes sense and that's good news, right?
Let's assume you agree. In this case, he requires that you have the domain certified to verify that you are the current owner. Also, he wants to make sure that there are no trademark issues so he suggests getting an independent market valuation.
Avoid Websites Called DigiRock-Int and Domain Tools Digital Certification
While it is possible to get domain certification from platforms like GoDaddy and 101Domain, the agent tells you that the only one that offers trademark verification is Domain Tools Digital Certification, at http://services.digital-certificates.net/default.htm. Another scamming website to be aware of is Digi-Rock, at digirock-into.com.
The websites are bogus and claim to have great partners such as BBB and Escrow.com. Of course, once you pay the 99 dollars for the trademark verification, their 'investor' withdraws the offer. Burnt.
Fake Investor Offers To Buy Your Website But Is Scared By The Domain Name Trademark Infringement
Here is the content of the initial email coming from the fake agent:
"My client offers a sum in $10,000 – $30,000 range. The exact figure will depend on the appraisal results (see below). Before we go any further we need only one thing from you:
My client is a professional investor and he buys certified domains only. If your domain has been certified, please email me the certificate and we will proceed with the sale. If you don't have a certificate it's not a problem. I may send you a link where you can obtain it. Please don't worry. It takes 1-2 minutes to order it. The results will be sent to you within 24 hours. Then you send me the certificate via email and we'll proceed with the sale.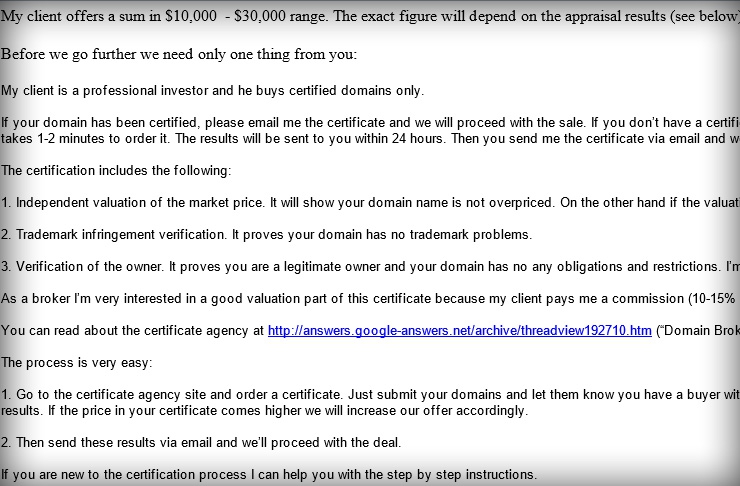 The certification includes the following:
1. Independent valuation of the market place. It will show your domain name is not overpriced. On the other hand, if the valuation comes higher we will increase the price accordingly.
2. Trademark infringement verification. It proves your domain has no trademark problems.
3. Verification of the owner. It proves you are a legitimate owner and your domain has no obligations and restrictions. I'm sure that you are a legitimate owner so it will be only a formality.
As a broker, I'm very interested in a good valuation part of this certificate because my client pays me a commission (10-15% of the sale price) on every domain purchase. So I am not interested in a low price too. You can read about the certificate agency: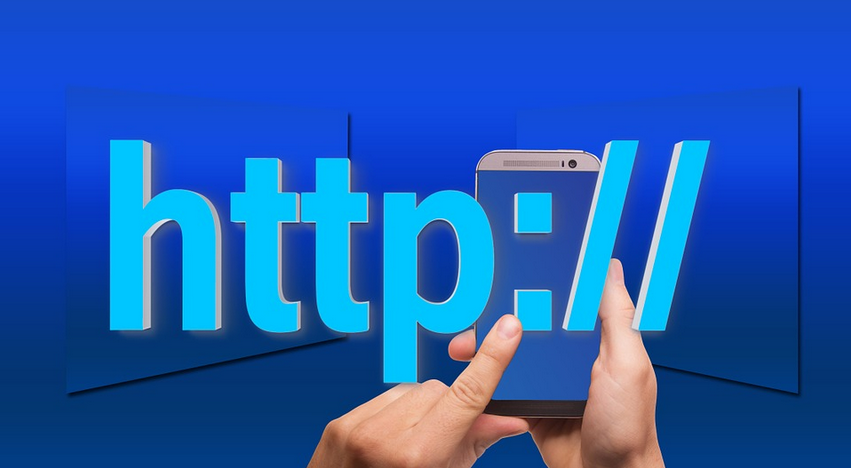 The scammer continues to explain what you should do step by step, to make sure you're falling for the trick. He continues:
"The process is very easy:
1. Go to the certificate agency site and order a certificate. Just submit your domains and let them know you have a buyer with a $xx,xxx offer, and need a valuation near this number. After several hours you will get the results. If the price of your certificate comes higher, we will increase our offer accordingly.
2. Then send these results via email and we'll proceed with the deal.
If you are new to the certification process, I can help you with the step by step instructions."
There are a couple of things that don't look right in this message. One is the tone used in the second paragraph. The phrase "The results will be sent to you in 24 hours" sounds like a promise, as it would be coming from the owner. The second one is the fact that the Google Answers link provided has a ".net" domain name ending, not ".com", like all the other legitimate postings.
Certified Domain Scam: How To Avoid
Be aware of the Domain Name Trademark Certification approach especially if you are not in the domain name industry. Trust only legitimate companies. Research, read forums, look for genuine online feedback. Many companies claim to be the only ones to service you in one particular area.
In the case above, Escrow.com confirmed that Domain Tools Digital Certification is NOT their partner.
Last but not least, beware of all the other domain name related scams out there: Fake Domain Name Registrar, Domain Renewal, and the Domain Purchase Rip-off.
Domain Name Certification Scam: How To Report
Make your family and friends aware of the Certified Domain scam by sharing it on social media using the buttons provided. You can also officially report the scammers to the Federal Trade Commission using the link below:
How to protect yourself more:

If you want to be the first to find out the most notorious scams every week, feel free to subscribe to the Scam Detector newsletter here. You'll receive periodical emails and we promise not to spam. Last but not least, use the Comments section below to expose other scammers.
Related Articles and Pages:
Fake Amazon Shipping Notification Scam
Online Reputation Management Companies Scam

---
Verify a website below
Are you just about to make a purchase online? See if the website is legit with our validator:
vldtr®
Searching:

Domain age, Alexa rank, HTTPS valid, Blacklisting, SSL certificates, Source code, Location, IP address, WOT Trustworthiness, Spam reports, Advanced technology, Privacy Policy, Terms of Use, Contact options

TOP 3 MUST-WATCH FRAUD PREVENTION VIDEOS
1. Top 5 Amazon Scams in 2023
2. Top 5 PayPal Scams in 2023
3. How To Spot a Scam Email in 2023
Selma Hrynchuk
Selma is a fraud prevention specialist renowned for her expertise in private eye investigations and a remarkable partnership with law enforcement agencies. Beyond her investigative triumphs, her public speaking engagements and written works have empowered countless individuals to protect themselves and stay ahead of deceptive schemes. Selma's legacy shines as a tenacious agent of change, unyielding in her commitment to battling fraud and ensuring a safer world for all.