How the scam works:
Trying to buy a car online could be a disaster if you don't pay attention. The best places to buy used cars online might turn out to be big disappointments. One of the most fraudulent moves around is the Buy A Car Online scam. Let's take a look.
Let's say you're looking at purchasing a vehicle and check out the best Internet car buying sites. You have many options to buy a car online, including sites like Gumtree, Craigslist, Kijiji, Oodle, etc. As you finally found a great looking car that piques your interest, you decide to contact the seller. After a few hours, you receive the following answer:
"My name is [any name] and I was an employee in [your country] for the last 2 years, that's how I got the car. I shot a documentary there. Now I finished it and I moved back to Ireland where is my home and to bring the car here for registration I have to pay almost the price of the car so it's to expensive. It is in excellent condition, no accidents, no scratches, no dents, no need for additional repairs, very well maintained. I agree to give you a few days to test it. The car is registered in [your country] so it will be a very easy process. If you decide to buy it I will bring it at your home address anywhere in [your country]. I will wait for your email if you are interested and have the funds ready. Thank you".
Well, it seems like a decent fella, and a documentary maker? Cool, he sounds trustful. However, as you continue the conversation showing your interest and asking for the next step, he will respond:
"I will be more than happy to show you the car, but I left the care at Gumtree garage and they will take care of the delivery to your address. I had a few transactions with them because of my work around the world and I am a verified seller on Gumtree so we can use their services for free. The price also includes 7-days trial period and all paperwork for registration. This means that Gumtree will take care of canceling the registration of my name and register the car on your behalf in [your country].
Now let me explain the process how this deal works. Once you confirm me you agree with the procedure, I will forward the details to Gumtree and they will contact you with all the details that you need to complete this deal and also to see that I am covered by them and that I am a verified seller. The car will be delivered to your home address once the payment is ready with insurance covered by me until you take the ownership, RWC, keys, logbooks, clear title, full service plan and all the papers signed."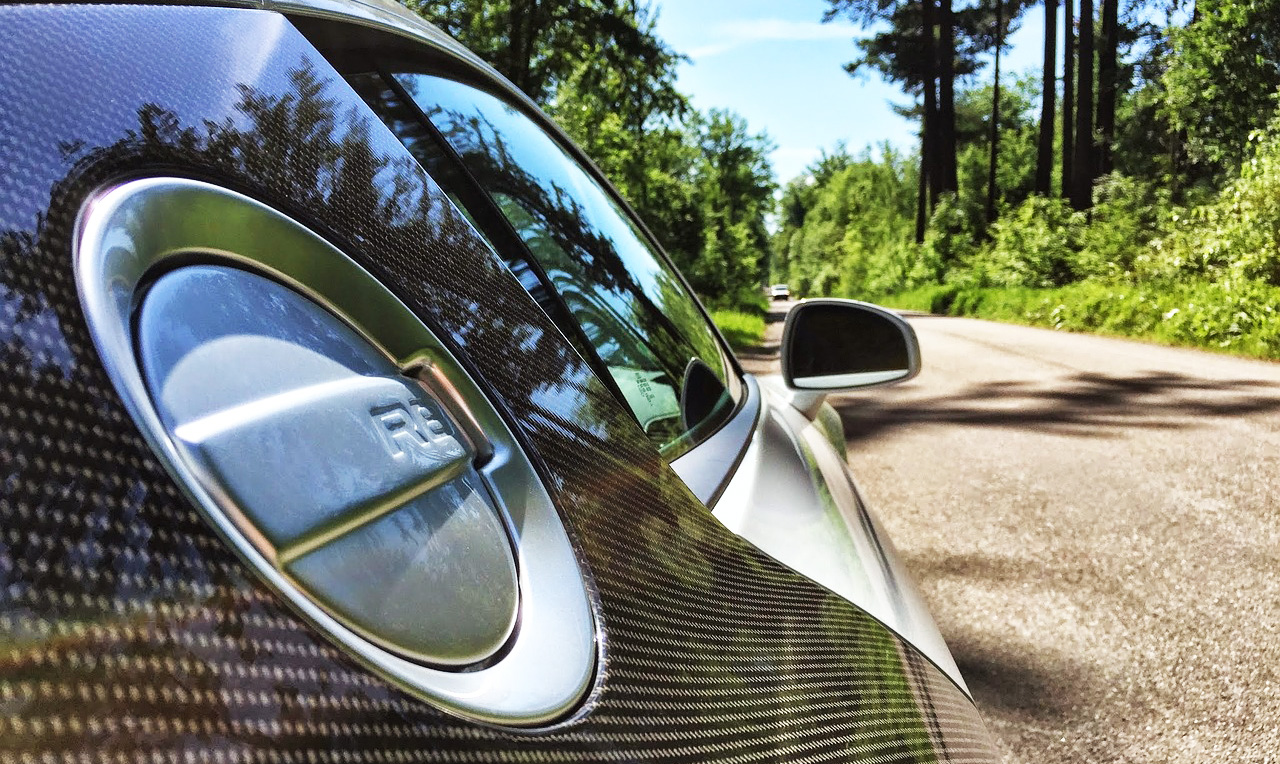 Then he continues:
"Payment will be made to Gumtree and not to me, I don't ask any money in advance. After you send them the deposit once with the invoice (already signed by me) printed and signed you will receive the car in 3 working days and you will have 7 days to inspect and test the car with an mechanic. Please note that I also signed the notification of change of ownership (NCO). All the time, your money will be at Gumtree. At the end of the inspection period (7 days) you are forced to make a decision: keep the car and Gumtree will pay me or reject the car and you will get refunded to your bank account. I have two more persons interested in buying the car.
All I need from you is your full name, address, phone number and a copy of your passport so I can register you as potential buyer on Gumtree. As soon as I will get the requested details, I will send you a copy of my passport so you can be sure that I am a honest man. This is my phone number [his phone # here] and you can call me anytime you want. Thank you. Yours faithfully."
If it sounds good to you and decide to go ahead, here is how you're going to get scammed. He says "Payment will be made yo Gumtree, and not to me". That might throw you off as subconsciously you may trust Gumtree as a well-known brand. However, the scammer will impersonate a Gumtree real representative and contact you via email (with a fake Gumtree email address) and asking you for payment.

The scam varies as the crooks might even have a fake website looking like Gumtree where you can make your payment, so it may dissipate your doubts. Needless to say, after you pay you will never receive any car, let alone the fact that now the scammers have your passport and all your personal information.
How to avoid:

Never buy a car online without actually seeing it in person and taking it for a test drive. Call scammer's bluff. Usually, when the "seller" of the car is not present for the transaction, it is the biggest red flag. Think about it: would YOU sell your $10,000 car without being there? The best places to buy used cars are great for the selection of the cars, but not for the quality of the 'sellers'. Buying a used car online should be done with extreme caution and research.
How to report:

Make your family and friends aware of this scam by sharing it on social media using the buttons provided. You can also officially report the scammers to the Federal Trade Commission using the link below:
Report Scammers To The Federal Trade Commission Here
How to protect yourself more:

If you want to be the first to find out the most notorious scams every week, feel free to subscribe to the Scam Detector newsletter here. You'll receive periodical emails and we promise not to spam. Last but not least, use the Comments section below to expose other scammers.
---
Verify a website below
Are you just about to make a purchase online? See if the website is legit with our validator:
vldtr®
Searching:

Domain age, Alexa rank, HTTPS valid, Blacklisting, SSL certificates, Source code, Location, IP address, WOT Trustworthiness, Spam reports, Advanced technology, Privacy Policy, Terms of Use, Contact options

TOP 3 MUST-WATCH FRAUD PREVENTION VIDEOS
1. Top 5 Amazon Scams in 2023
2. Top 5 PayPal Scams in 2023
3. How To Spot a Scam Email in 2023
Selma Hrynchuk
Selma is a fraud prevention specialist renowned for her expertise in private eye investigations and a remarkable partnership with law enforcement agencies. Beyond her investigative triumphs, her public speaking engagements and written works have empowered countless individuals to protect themselves and stay ahead of deceptive schemes. Selma's legacy shines as a tenacious agent of change, unyielding in her commitment to battling fraud and ensuring a safer world for all.