IP Address Survey Scam: How It Works
(with video below) Did you just receive a notification on your computer screen that says: "Your IP address was selected to participate in an anonymous survey about your experiences with your Internet service provider"? Then you were told that "in consideration for your time, at the end of this survey you will be presented with several exclusive offers worth at least $70?"
Regardless of what country or city you live in, this message is geotagged by crooks so the name of your own Internet service provider is placed at the top of the message (see pic), so you believe is legitimate.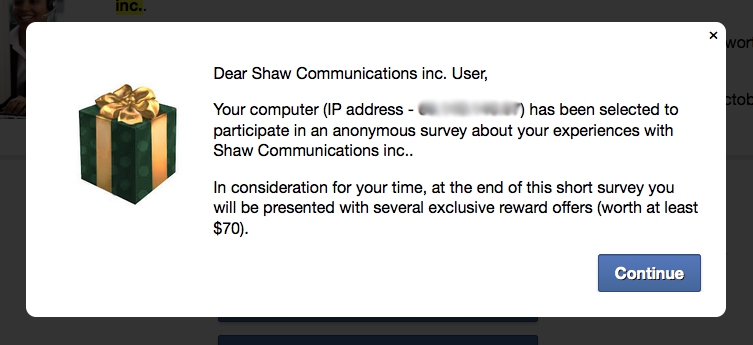 In reality, your Internet service provider doesn't have anything to do with this, so don't blame them. Tricksters just use your IP address in their malicious software so the name of the service shows automatically. Don't worry, you are not alone, millions of people around the world get this "personalized" pop-up on their screen. How does the scam work? It's based exactly on the same concept as the iPhone Tester and 'Miracle' Product for Weight Loss scams.
Watch the video below to see in action the Miracle Product scam exposed or read on:
Miracle Product Scam Exposed Video
There are thousands of Internet service providers worldwide. For the sake of explaining this scam we are going to use the one fake offer we received at Scam Detector, scammers using the name of Shaw Communications (see image below). Indeed, it could be any other name, so feel free to report a questionable pop-up and mention the name of the Internet service provider in the Comments section at the bottom of this article.
Okay, let's assume you got the pop-up notification. Those interested in taking the "opinion survey" are required to click 'OK' and then are redirected to a questionable website. Once you are there, you are presented with a few made up questions. What kind?
They might be 'Yes-No' questions such as "Are you satisfied with [insert your Internet service provider here]'s services?" or "How long have you had [insert your internet service provider here] service?".
Once you answer all these, you will receive a notification saying: "Thank you for your feedback! With our sincere thanks, please choose up to (4) offers below. Due to high participation, these reward offers can only be reserved within the next 60 minutes."
Of course, the offer pages are where the scammers want to take you. There are a bunch of 'miracle' products covering all the insecurities in one person: weight-loss kit, anti-aging product, teeth whitening, potency, etc. Once you pick your "reward", you are only required to pay $2.97 for the shipment in order to get the trial offer.
Other crooked statements are posted on those pages – just so you can pay them as soon as possible – such as: "Sell Out Risk: High", "Available to [insert your city here] Residents Only", "Regular Price: $12.97, now $2.97 for Limited Time Only". Last, but not least, there are a bunch of fake Facebook comments at the bottom of the page, all endorsing the products.
This is the oldest scam in the online book. Bait, sense of emergency, fake testimonials, hit and run.
Needless to say, in order to pay the $2.97 shipping fee you are required to provide a credit card number. From there, sky is the limit for those who have your numbers.
IP Address Survey Scam: How To Avoid
If you get this pop-up, close it. This is not a survey ordered by your Internet service provider. It's just the simple way for scammers to get to you using a brand name to lure you in and buy their 'miracle' products. Don't get us wrong, there are several legitimate companies that provide weight loss and anti-aging programs out there.
However, certain scammers also ask for personal information so they can sell it to third parties or use it to steal your identity. Do your research well when you are looking for self-improvement products online.
IP Address Survey Scam: How To Report
Warn your family and friends aware of the IP Address Survey scam by sharing using the buttons provided. You can also officially report the scammers to the Federal Trade Commission using the link below:
How To Prevent Identity Theft and More

If you want to be the first to find out the most notorious scams every week, feel free to subscribe to the Scam Detector newsletter here. You'll receive periodic emails – we promise not to spam. Meanwhile, educate yourself with some other fraud-related articles right under this paragraph, so you can protect yourself in many other aspects and niches. Last but not least, use the Comments section below to expose other scammers.
Here are some must-reads for the end:
Final Expense Life Insurance Scam
Bed Bug Treatment Scam
Post Office: Change of Address Scam
Bad Credit: Auto Loans Fraud
Government Surplus Auctions Scam
---
Verify a website below
Are you just about to make a purchase online? See if the website is legit with our validator:
vldtr®
Searching:

Domain age, Alexa rank, HTTPS valid, Blacklisting, SSL certificates, Source code, Location, IP address, WOT Trustworthiness, Spam reports, Advanced technology, Privacy Policy, Terms of Use, Contact options

TOP 3 MUST-WATCH FRAUD PREVENTION VIDEOS
1. Top 5 Amazon Scams in 2023
2. Top 5 PayPal Scams in 2023
3. How To Spot a Scam Email in 2023
Selma Hrynchuk
Selma is a fraud prevention specialist renowned for her expertise in private eye investigations and a remarkable partnership with law enforcement agencies. Beyond her investigative triumphs, her public speaking engagements and written works have empowered countless individuals to protect themselves and stay ahead of deceptive schemes. Selma's legacy shines as a tenacious agent of change, unyielding in her commitment to battling fraud and ensuring a safer world for all.