How the scam works:
One of these days you might receive an e-mail one claiming to be from the Mercedes-Benz headquarters in Germany. The letter is signed by Dieter Zetsche, who is the real CEO of the auto company, however in this case scammers just impersonate him.
The subject of the e-mail could be anything along these lines: "Answer and Win a Mercedes-Benz Car". Once you open the message, here is what you'll see:
"You are selected to a Loyalty Reward from Mercedes-Benz. Answer the below questions correctly and stand a chance of winning our Promotional Award Grand prize, $500,000 USD and a Brand New 2015 Mercedes-Benz GLK350 4Matic SUV Car. If you have never had a Mercedes-Benz, this is your chance to benefit from our Company, If you have had any of our products this is your opportunity of enjoying some of our benefits apart from the comfort ability and efficiency of our products.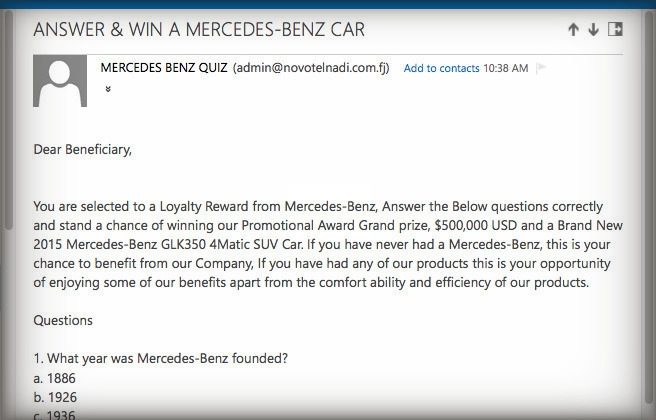 Questions:
1. What year was Mercedes-Benz founded?
a. 1886; b. 1926; c. 1936
2. Who was the founder of Mercedes Benz?
a.Terry Benz; b.Tom Benz; c.Karl Benz 3.
In which country is the Benz Headquarters Located?
a. Germany; b. United Kingdom; c. United State of America.
Send your answers along with your Name, Sex, Phone Number, Alternate Email, Country and Occupation via this email address.
EMAIL: info.clarkdawson@yahoo.co.fr
NAME: Mr CLARK DAWSON PHONE: +1 303 578 3190
Regards, Dieter Zetsche Mercedes-Benz, CEO
How to avoid the Mercedes-Benz Award scam:
Just delete the email with no regrets. The random e-mails with awards are making a huge comeback this year and there are tens of thousands of people who fall victim for it. Cyber crooks couldalso replace the Mercedes-Benz brand and CEO's name with other famous brands: BMW, Toyota, Chrysler, Lexus, etc – so beware! Mercedes-Benz or any other major brand never send messages like this, let alone full of grammar mistakes such as the one above (did you spot random capital letters and "United State of America"?). They have huge marketing teams that organize contests and awards in more sofisticated ways. Last but not least, look for the domain name in the sender's email address. For example, the e-mail above from "Clark Dawson" came from admin@novotelnadi.com.fj, which is registered in Fiji!
Report a scammer name below, in the Comments section.
How to report the Mercedes-Benz Award scam:
Make your family and friends aware of this scam by sharing it on social media using the buttons provided. You can also officially report the scammers to the Federal Trade Commission using the link below:
How to protect yourself more:

If you want to be the first to find out the most notorious scams every week, feel free to subscribe to the Scam Detector newsletter here. You'll receive periodical emails and we promise not to spam. Last but not least, use the Comments section below to expose other scammers.
---
Verify a website below
Are you just about to make a purchase online? See if the website is legit with our validator:
vldtr®
Searching:

Domain age, Alexa rank, HTTPS valid, Blacklisting, SSL certificates, Source code, Location, IP address, WOT Trustworthiness, Spam reports, Advanced technology, Privacy Policy, Terms of Use, Contact options

TOP 3 MUST-WATCH FRAUD PREVENTION VIDEOS
1. Top 5 Amazon Scams in 2023
2. Top 5 PayPal Scams in 2023
3. How To Spot a Scam Email in 2023
Selma Hrynchuk
Senior Editor at Scam Detector Media, Selma is a fraud prevention specialist with a wealth of experience in private investigations and collaborations with law enforcement. A captivating public speaker, Selma educates audiences about scams and personal safety. Through her insightful writing, she exposes criminals and shares essential tips for staying secure. Selma is a dedicated guardian against fraud, committed to unmasking deception and promoting integrity.