ATM Device Scam: How It Works
(with video below) You walk up to an ATM, absentmindedly insert your card and type in your PIN. You walk away with your cash and get on with the day. A few days later, you start to notice some unusual charges on your card. Little did you know, the ATM you used had a thin device in the slot where you inserted your card.
This device can read your card number. Meanwhile, a minuscule well-hidden video camera captures your PIN. After you leave, scammers come to collect the equipment and soon empty your accounts using the PIN.
Watch the video below to see the Bank Machine Device scam exposed:
ATM Bank Machine Device Scam Video
ATM Device Scam: How To Avoid
Always make sure the slot where you insert your card has nothing attached to it. These devices may be cleverly disguised to look like normal parts of an ATM, so look carefully. If you see one of these devices, contact your local police department to help your fellow bankers from being made victims.
There is a similar scam happening at gas stations as well. See the Gas Station Skimmer Scam.
On the other hand, there have been several reports that the same style of devices has been used by criminals inside major stores that have self-checkout lanes.
They go in couples to the machine, pretending to pay for their groceries, and while one of them stands strategically so he can block the security cameras' view, the other one installs the device on top of the payment terminal.
You can see how these fake devices look like below, with and without the terminal. A few hours later, criminals come back to collect the skimmer along with all the information that is stored on it.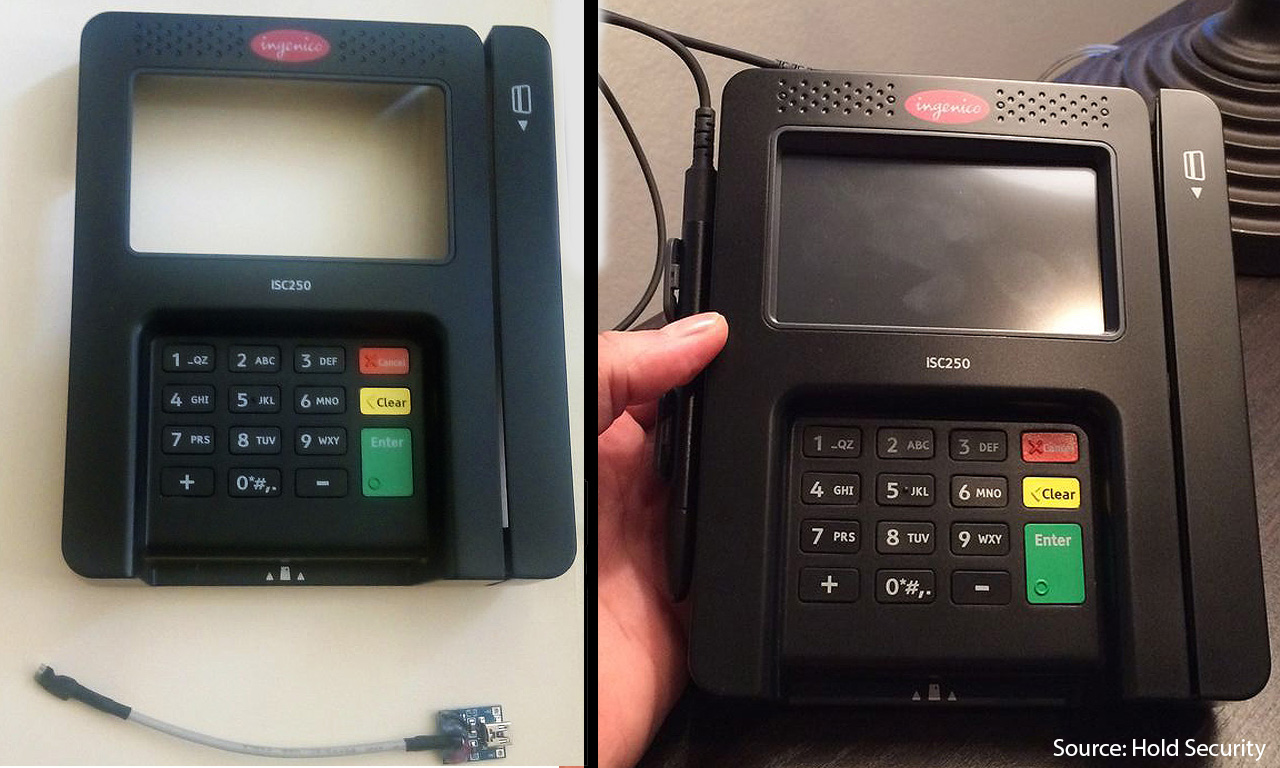 ATM Device Scam: How To Report
Make your family and friends aware of this scam by sharing it on social media using the buttons provided. You can also officially report the scammers to your local Police department or to the Federal Trade Commission using the link below:
How To Protect Yourself More:

If you want to be the first to find out the most notorious scams every week, feel free to subscribe to the Scam Detector newsletter here. You'll receive periodical emails and we promise not to spam. Last but not least, use the Comments section below to expose other scammers.
Related Articles and Pages:

Full List of Online Auction/Tech Scams

Fake Amazon Shipping Notification Scam

Online Reputation Management Companies Scam

PayPal Alert Notification Scam

---
Verify a website below
Are you just about to make a purchase online? See if the website is legit with our validator:
vldtr®
Searching:

Domain age, Alexa rank, HTTPS valid, Blacklisting, SSL certificates, Source code, Location, IP address, WOT Trustworthiness, Spam reports, Advanced technology, Privacy Policy, Terms of Use, Contact options

TOP 3 MUST-WATCH FRAUD PREVENTION VIDEOS
1. Top 5 Amazon Scams in 2023
2. Top 5 PayPal Scams in 2023
3. How To Spot a Scam Email in 2023
Selma Hrynchuk
Senior Editor at Scam Detector Media, Selma is a fraud prevention specialist with a wealth of experience in private investigations and collaborations with law enforcement. A captivating public speaker, Selma educates audiences about scams and personal safety. Through her insightful writing, she exposes criminals and shares essential tips for staying secure. Selma is a dedicated guardian against fraud, committed to unmasking deception and promoting integrity.