Amazon Shopping Credits Scam: How It Works
(with video below) Amazon is growing its business by the hour, 197 million people visiting the website every month. Regardless of what kind of account you have, regular or Prime, you may become a victim of the latest scheme using the name of the company. The scam comes as an email claiming to be from the Amazon headquarters. How does it work?
Watch the video below to see in action the Amazon Shopping Credits scam exposed:
Amazon Shopping Credits Scam Video
The email informs you that you have some credits worth $75, which you can cash out right away or that use on your next purchase.
This credit was apparently awarded because of some recent transactions or promotions. The victim is urged to cash out or use the credit before the end of 'this month' – which, of course, could be any month – as scammers send this email all year long.
This way, criminals create the sense of urgency, which makes a lot of people send in their personal information.
The email reads (see pic below):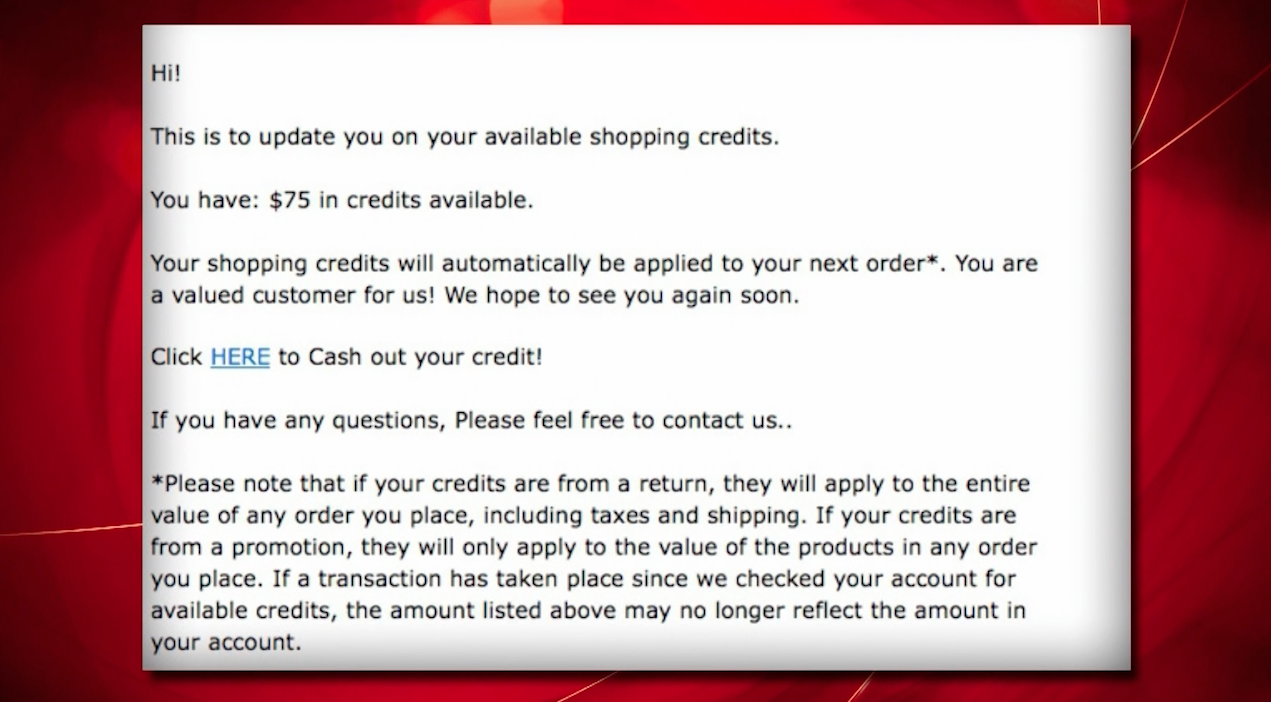 "This is to update you on your available Amazon shopping credits. You have $75 in credits available. Your shopping credits will automatically be applied to your next order*. You are a valued customer for us! We hope to see you again soon.
Click HERE to cash out your credit!
If you have any questions, Please feel free to contact us.
*Please note that if your credits are from a return, they will apply to the entire value of any order you place, including taxes and shipping. If your credits are from a promotion, they will only apply to the value of the products in any order you place. If a transaction has taken place since we checked your account for available credits, the amount listed above may no longer reflect the amount in your account."
Once victims click on the HERE highlighted word, they are taken to a page that replicates the original Amazon website. There, the user is required to use the credential to log in, which leads to identity theft and credit card fraud.
Amazon Shopping Credits Scam: How To Avoid
It's always a good idea to look for the red flags, first. For example, this email came to Scam Detector from a non-existent domain name located overseas. You can look for the origin of a domain name on websites like Whois.
The content of the email is also written in bad grammar, while the message itself has absolute no Amazon branding. However, be careful about those, too.
Amazon Shopping Credits Scam: How To Report
Make your family and friends aware of this scam by sharing it on social media using the buttons provided. You can also officially report the scammers to Amazon using the link below:
Report Scammers To Amazon Here
How To Protect Yourself More:

If you want to be the first to find out the most notorious scams every week, feel free to subscribe to the Scam Detector newsletter here. You'll receive periodical emails and we promise not to spam. Last but not least, use the Comments section below to expose other scammers.
---
Verify a website below
Are you just about to make a purchase online? See if the website is legit with our validator:
vldtr®
Searching:

Domain age, Alexa rank, HTTPS valid, Blacklisting, SSL certificates, Source code, Location, IP address, WOT Trustworthiness, Spam reports, Advanced technology, Privacy Policy, Terms of Use, Contact options

TOP 3 MUST-WATCH FRAUD PREVENTION VIDEOS
1. Top 5 Amazon Scams in 2023
2. Top 5 PayPal Scams in 2023
3. How To Spot a Scam Email in 2023
Selma Hrynchuk
Senior Editor at Scam Detector Media, Selma is a fraud prevention specialist with a wealth of experience in private investigations and collaborations with law enforcement. A captivating public speaker, Selma educates audiences about scams and personal safety. Through her insightful writing, she exposes criminals and shares essential tips for staying secure. Selma is a dedicated guardian against fraud, committed to unmasking deception and promoting integrity.