Top 3 Viber Scams
Social media has taken over the world and made it easier to reach people in far corners of the world in mere minutes. It has been a blessing of the 21st century, but surprisingly, it's also been used by scammers to dupe people of their hard-earned money. It is the case happening on one of the most popular platforms in the world, Viber, a messenger chat app that has over one billion users and 14,000 employees.
Taking advantage of Viber's great service and outreach to a broad audience, cybercrooks have created a variety of scams. Typically, the scammers contact the Viber users in various ways and try to extract vital personal information from them – the same way that all the Whatsapp scams work, as well.
1. Viber Chat With Admin
You may receive an email or text message claiming to be sent from a Viber admin. They invite users to add services or updates to the app via a link, in a similar fashion to the WhatsApp Gold Version scam. Most people are often unaware that when they click this link, they provide scammers with access to add them to a premium phone line, which they'll be charged for hundreds of dollars. How?
Watch the video below to see in action how these sneaky premium lines work:
Also, scammers are taking advantage of Viber upgrades to harm people. As people try to upgrade their apps to the latest version, they add phishing links that cause them to download unwanted software.
2. Viber Lottery: The Call
Viber scams can be in the form of several variants. Most people are unsuspecting and do not know how to respond when confronted by these situations.
A particular version of the scam occurs when a user is called by someone who is pretending to be from a well-known company. These calls are usually so convincing and may even include the logos of those brands. Then, the caller announces that there's a lucky draw, and the user has won a specific sum of money.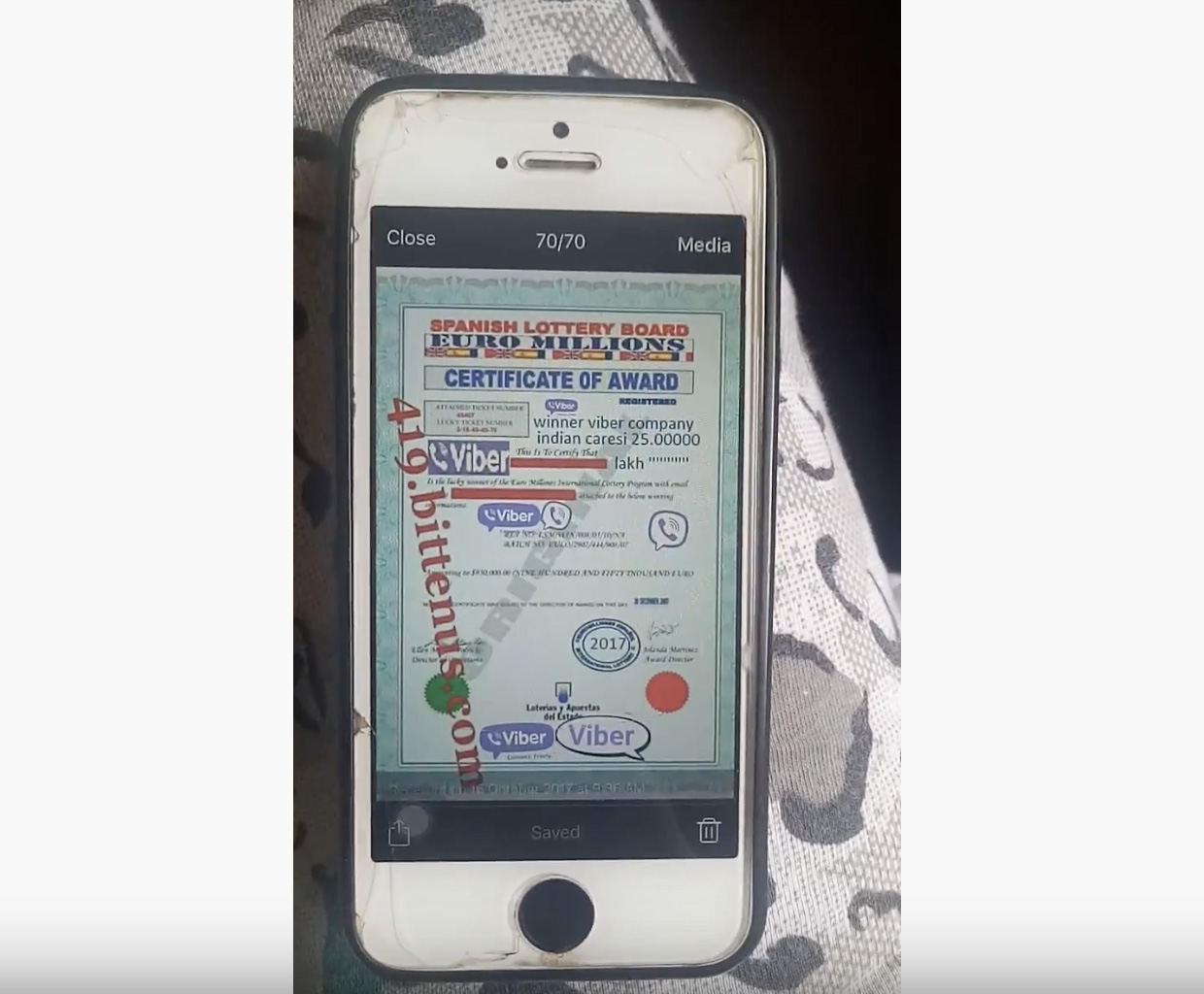 Once the scammers get the victims' trust, they proceed by asking for vital information such as bank or card details. People who fall victim to this scam end up losing vast sums of money. It's important for people not to give in to these requests too easily. Try to ask for some form of verification before getting too serious with the caller.
Believe it or not, a victim lost $55,000 to this scam – see details here.
3. Viber Lottery: The Text Message
Alternatively, the contact from the crooks comes in the form of a text message – in regards to the "Viber Lottery". The amount won in the lottery will also be clearly stated. Same as above, instead of giving you details on how to redeem your winnings, the message will demand that you input personal information. However, some extreme cases may request that you pay for the cheque to be brought to you.
Ask yourself this before giving in to their demands; "why would anyone need me to pay for a reward I supposedly earned or why would I need to provide my bank details to have my payments processed?".
Calls and messages like this have been a trend for some time now and have caused users to suffer reasonable financial losses.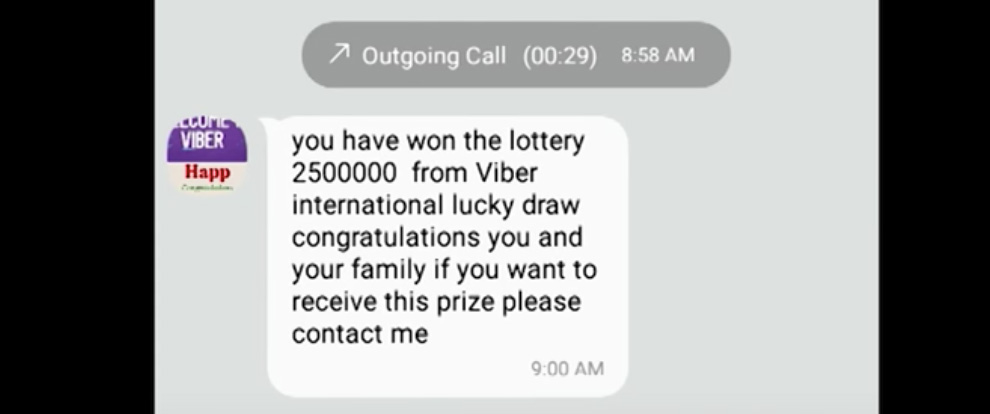 Viber Message Scam: How to Avoid
There are thousands of scammers on all social media platforms around the world. They could easily convince you to reveal hidden information about yourself that could cost you a lot. You can protect yourself from scammers via the following ways:
Avoid giveaways, promotions, and surveys. Crooks often users "gift cards" and different reduced prices on social media under the pretense of giving you some reward after rounding up with a survey. These schemes are used to obtain credentials from users, as seen in this Hack Facebook Account article. A major sign of a fraudulent message or call is when the promotion is being advertised only by the scammer but isn't on the company's official website.
Fake accounts. Criminals create fake accounts to get access to yours by impersonating real people. Watch the video below to see how cybercrooks hack into social media accounts:
Using these fake accounts, they then try to extract information from them or take advantage of their contact list. Fake accounts are everywhere; that is why it's not advisable to talk to people you don't know online. Avoid replying to messages that demand vital personal information.
Watch the video to see how you can see if a social media account is fake or real:
Avoid live streams. Do you want to watch a new movie? Not on a platform that you don't know. One popular thing to note about scammers is that they are known to offer deals that are too good to be true via messages, text, or calls. After extracting some pieces of info, they may then send you an email or text with a malicious link.
This link redirects to websites that distribute malware or those that request that you input banking details. Regardless of whatever they offer, they are only trying to steal your vital information, which may later be used for identity theft or social engineering. Live streams of events should be accessed on pages of the event, not elsewhere. Watch movies only from authorized sources.
Stay away from clickbait. Clickbait is designed to inform of some attractive pieces of news or images to attract users to click on malicious links. These links are sometimes embedded in the messages sent to users at random on Viber. Fake messages are usually sent from genuine-looking numbers.
These links are usually connected to websites with harmful content such as a giveaway, contest, or survey scams. If you receive any unsolicited messages from unknown numbers, it's best to avoid them if you can't confirm the identity of the person you're engaging in a conversation with.
Viber Scams: How To Report
Warn your family and friends about these Viber scams by sharing the article on social media using the buttons provided. You can also officially report the scammers to the Federal Trade Commission using the link below:
How To Prevent Identity Theft and More

If you want to be the first to find out the most notorious scams every week, feel free to subscribe to the Scam Detector newsletter here. You'll receive periodic emails – we promise not to spam. Meanwhile, educate yourself with some other fraud-related articles right under this paragraph, so you can protect yourself in many other aspects and niches. Last but not least, use the Comments section below to expose other scammers.
---
Verify a website below
Are you just about to make a purchase online? See if the website is legit with our validator:
vldtr®
Searching:

Domain age, Alexa rank, HTTPS valid, Blacklisting, SSL certificates, Source code, Location, IP address, WOT Trustworthiness, Spam reports, Advanced technology, Privacy Policy, Terms of Use, Contact options

TOP 3 MUST-WATCH FRAUD PREVENTION VIDEOS
1. Top 5 Amazon Scams in 2023
2. Top 5 PayPal Scams in 2023
3. How To Spot a Scam Email in 2023
Selma Hrynchuk
Selma is a fraud prevention specialist renowned for her expertise in private eye investigations and a remarkable partnership with law enforcement agencies. Beyond her investigative triumphs, her public speaking engagements and written works have empowered countless individuals to protect themselves and stay ahead of deceptive schemes. Selma's legacy shines as a tenacious agent of change, unyielding in her commitment to battling fraud and ensuring a safer world for all.