Mystery Box Scam: How It Works
Watch out for all kinds of mystery box offers online, a trendy scam that's been flourishing in the last few weeks. People have been writing us inquiring about the veracity of new terms such as Discraft Mystery Box, Hypebeast, or Dragon Ball Z Mystery Box. In this article, we will address these so-called surprise purchases and will show you how to check if a website is legit or not. Let's dive in.
If you purchase items online regularly, you might come across deals named "Mystery Auctions" or — as in the last scam that hits our social media feeds — the Mystery Gift Box. In the first case, those are auctions containing items that are 'sold' as a surprise, so you might get an item that is worth less than you bid, or — if you are lucky — is more valuable than your bid.
Avoid Mystery Boxes At All Costs
The scam works by building fake feedback, full of fixed testimonials, such as people referring to what great deals they struck (spending $300 for something worth $2,400). The scammers post the fake positive feedback themselves and then people bid for non-existent items.
The scenario mentioned above is the less dangerous scam – if there is such a thing. The newest fraud that's making the rounds this week is running as an official Facebook ad (hello Facebook?!) and looks like this:
Under a fake CNN breaking news tag, it announces that the famous Anonymous group plans to redistribute the world's health during this COVID-19 crisis. The grammar mistakes should represent the first red flag that would catch your attention. However, let's continue with how the promise of those impersonating the 'Anonymous' goes.
What does this system look like? The fake story takes us to a dubious Shopify store that is so poorly managed that it's hard to believe that Facebook actually approved that ad. We'll take a look at this website's failures, but let's see what they offer first.
Bogus Gift from the Anonymous Group via CNNEWSDEALS
The mystery gift box presented here is called the Anonymous Gifting Pack. For $47, what a deal! Let's see what they say:
"You never know what you might get in a Mystery Box. Perfect gift for the people who don't know what they want.. Value of gift is anywhere from USD20 to USD1000 worth. Items are picked at random. Perfect gift idea for Christmas or this holiday season. We have all inventory in stock, usually ships SAME DAY from USA. If high volume orders can take up to 48 hours. Who buys a Mystery Box?"
"Ever felt adventurous enough to buy a product that is a complete mystery? Take a risk; it just may pay off. Maybe you become the new owner of a gold Rolex? The mystery is endless. Try our new Digital Mystery Box to win full game product keys, skins, and weapons for your favorite game such as Pubg, Fortnite, Black Ops 4, Counter-Strike CS: GO, and tons more."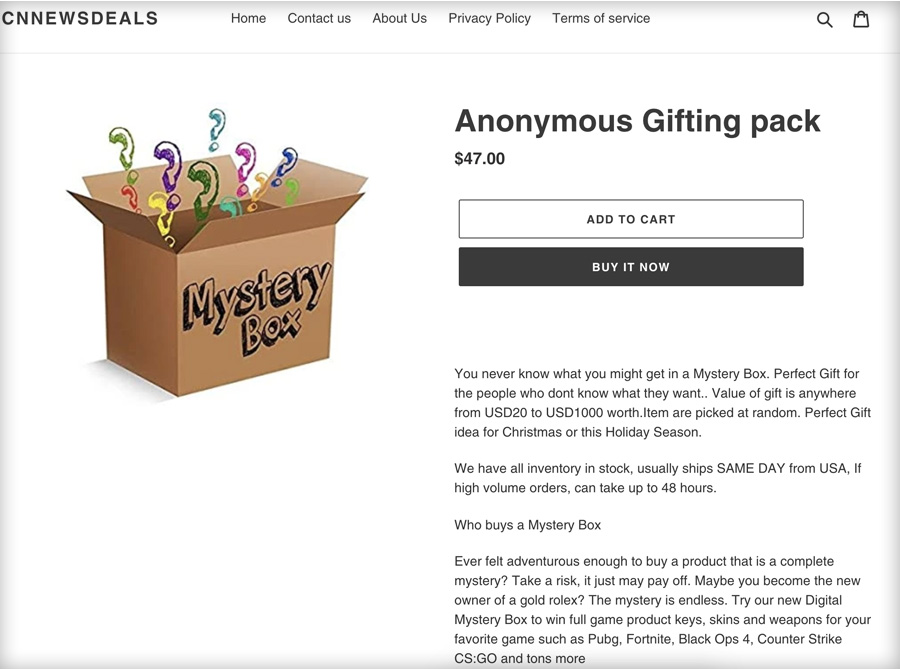 As expected, you put your credit card details and expect to receive something. Good luck with that!
Tipped off again by the horrible grammar mistakes, we decided to take a look at this fake CNN News Shopify store (by the way, they missed an 'N' in the title, too). What's on the homepage? An unfinished site.
Even if you go on all the other pages (About, Contact us, Terms of Use), they have no information whatsoever.
Mystery Box Scam: How to Avoid
Do never consider purchasing the mystery gift box — not even for fun — or especially around special times of the year, such as Mother's Day, Christmas, birthdays, etc. If you like this sort of gambling, you might as well buy a 6/49 ticket. It's cheaper, and you have a bigger chance to actually win something.
You can check if a 'mystery box' website is legit by using our website validator, which tells you if a site is genuine or not.
How To Report the Mystery Gift Box Scam
Warn your family and friends about the Mystery Box Scam by sharing it on social media using the buttons provided. You can also officially report the scammers to the Federal Trade Commission using the link below:
How To Prevent Identity Theft and More
If you want to be the first to find out the most notorious scams every week, feel free to subscribe to the Scam Detector newsletter here. You'll receive periodic emails – we promise not to spam. Meanwhile, educate yourself with some other fraud-related articles right under this paragraph, so that you can protect yourself in many other aspects and niches. Last but not least, use the Comments section below to expose other scammers.
Here are some must-reads for the end, especially during the COVID-19 crisis:
Difference Between IRA Rollover and Transfer Scam
Cancelled Flight Compensation Scam
Best Air Purifier for Allergies and Asthma Scam
---
Verify a website below
Are you just about to make a purchase online? See if the website is legit with our validator:
vldtr®
Searching:

Domain age, Alexa rank, HTTPS valid, Blacklisting, SSL certificates, Source code, Location, IP address, WOT Trustworthiness, Spam reports, Advanced technology, Privacy Policy, Terms of Use, Contact options

TOP 3 MUST-WATCH FRAUD PREVENTION VIDEOS
1. Top 5 Amazon Scams in 2023
2. Top 5 PayPal Scams in 2023
3. How To Spot a Scam Email in 2023
Selma Hrynchuk
Selma is a fraud prevention specialist renowned for her expertise in private eye investigations and a remarkable partnership with law enforcement agencies. Beyond her investigative triumphs, her public speaking engagements and written works have empowered countless individuals to protect themselves and stay ahead of deceptive schemes. Selma's legacy shines as a tenacious agent of change, unyielding in her commitment to battling fraud and ensuring a safer world for all.