Coinbase Text Scam: How It Works
Beware of a new Coinbase text scam going around these days. It comes as a notification on your phone saying that a withdrawal – from your account – has been requested from a specific IP address. As the cryptocurrency industry is still new and many people don't know all the ropes, many victims for this Coinbase Text Message Scam.
Here is a screenshot of the bogus message: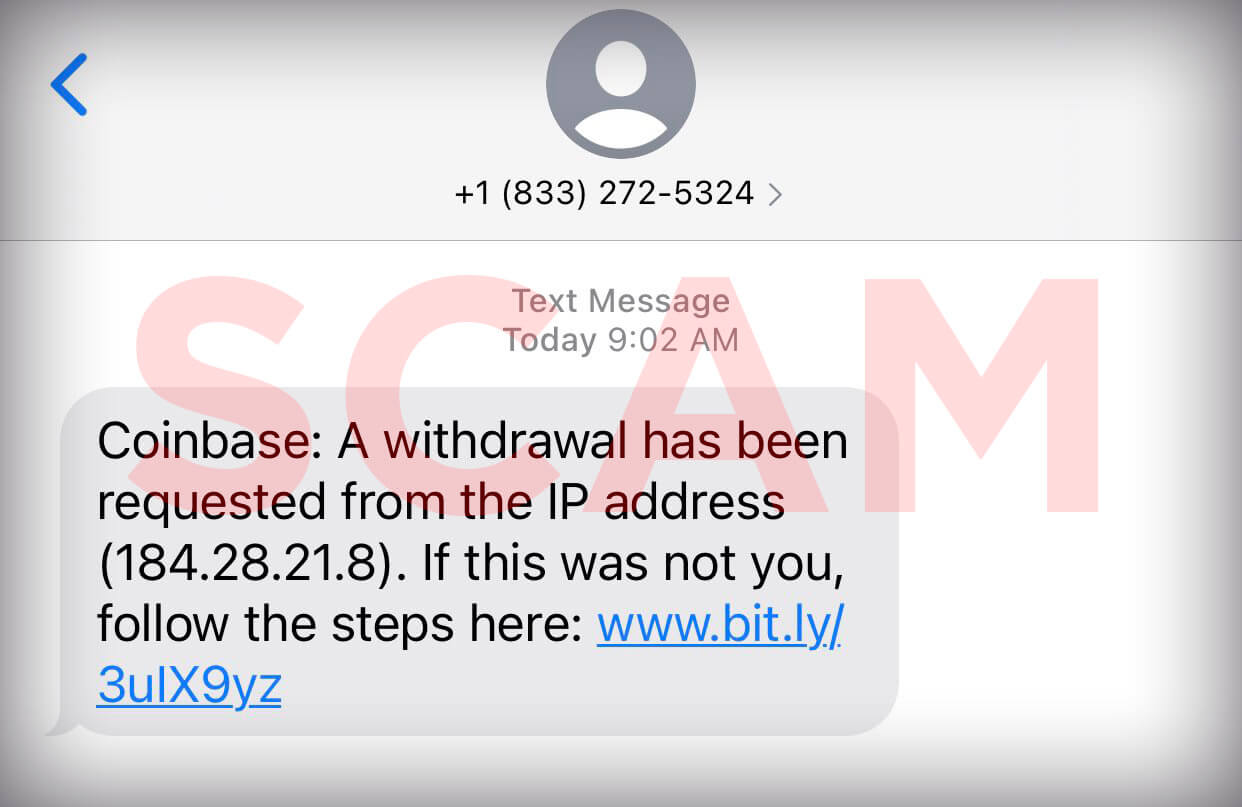 Coinbase Text Message Content
The Coinbase text message sounds exactly like this: "Coinbase: A withdrawal has been requested from the IP address (184.28.21.8). If this was not you, follow the steps here: http://bit.ly/3boHnRM".
Some people ask themselves, "how do the scammers know that I have a Coinbase account?" The answer is simple: they don't. They just send this mass text to hundreds of thousands of smartphone owners. Chances are, they will definitely find someone who has a Coinbase account. It's that simple – just like most of the text message scams out there.
As you can see in the screenshot above, the Coinbase text scam is perpetrated automatically from 1 (833) 272-5324. However, rest assured, the number is constantly changing as it gets reported.
These messages are NOT coming from the Coinbase headquarters. The company even warned its clients about this fraud.
Coinbase Text Message Scam: How To Report
Let your family and online friends know about the Coinbase text scam by using your social media platforms. You can also officially report crypto scammers and other suspicious activities to the Federal Trade Commission (FTC) using the link below:
How To Protect Yourself More
If you want to receive the most prevalent scams via email on a weekly basis, please subscribe to the Scam Detector newsletter. You will receive periodic messages – not spam or junk.
Meanwhile, educate yourself with some other cryptocurrency fraud-related articles under this paragraph, so that you know how to stay safe online. Also, feel free to use the comments section below to expose other Coinbase scammers.
---
Verify a website below
Are you just about to make a purchase online? See if the website is legit with our validator:
vldtr®
Searching:

Domain age, Alexa rank, HTTPS valid, Blacklisting, SSL certificates, Source code, Location, IP address, WOT Trustworthiness, Spam reports, Advanced technology, Privacy Policy, Terms of Use, Contact options

TOP 3 MUST-WATCH FRAUD PREVENTION VIDEOS
1. Top 5 Amazon Scams in 2023
2. Top 5 PayPal Scams in 2023
3. How To Spot a Scam Email in 2023