How the scam works:

(with video below) Looking at work from home jobs with data entry tasks? Don't fall for the How to Make Money Fast scam, aka the Hiring Ad Posters Job or How To Make Money From Home scam. Let's take a look. How does the scam work?
Watch the video below to see in action the Work From Home Jobs/ How To Make Money Online scam exposed:
Work From Home Jobs Scam Video
Spending a lot of time on your computer, you know there are ads and emails everywhere about people making ridiculous amounts of money working from home, but you're wise – you just don't fall for any tempting offer.
One day, however, one of those How To Make Money From Home ads is showcasing opportunities such as "posting ads online", "make money online", or "work for home jobs". People apparently are making a lot of money by doing something that looks like a decent job and you may think: 'If they can, why can't I?'
Scammers send emails in bulk, to thousands of people at once, featuring beautiful but stolen from the Internet pictures like the one at the top of this article. The content of their email is something like this:
"Let me ask you a simple question… Could you use some extra money? You could! Great! And if I could show you how to earn an extra income, and all you'd need to spend is a couple of hours a day at your home computer… Would that intrigue you? Then read on…

Very few people know what I am going to share with you now, and those that do are making a nice living online. In fact, I've earned over $25,000 since I discovered this unique opportunity. And no, it's not like anything else you've seen before. I'm going to show you numerous companies that will pay you good money to post ads online for them. * You don't need any experience * You don't need any special skills * You don't need a marketing degree All you need is a computer and internet access. Let's face it, if these companies did all the work themselves, it would take forever! That's where you come in.

Companies worldwide are bending over backwards to find people to post ads for them, and they'll pay you nicely in return. Here's how it works…

* You type the ads

* You submit the ads

* You choose your own hours

* You do as many as you want, no restrictions. You'll be provided with a list of over 100,000 companies you can work with starting today. It's as easy as 1-2-3…

* Choose the companies you would like to work with. (1000s to choose from)

* Login to your ad account.

* Enter your ads into the forms and hit submit.

* Sit back and wait for your checks to come in. If you need extra cash, act now… Go straight to..

[web page selling you a program]"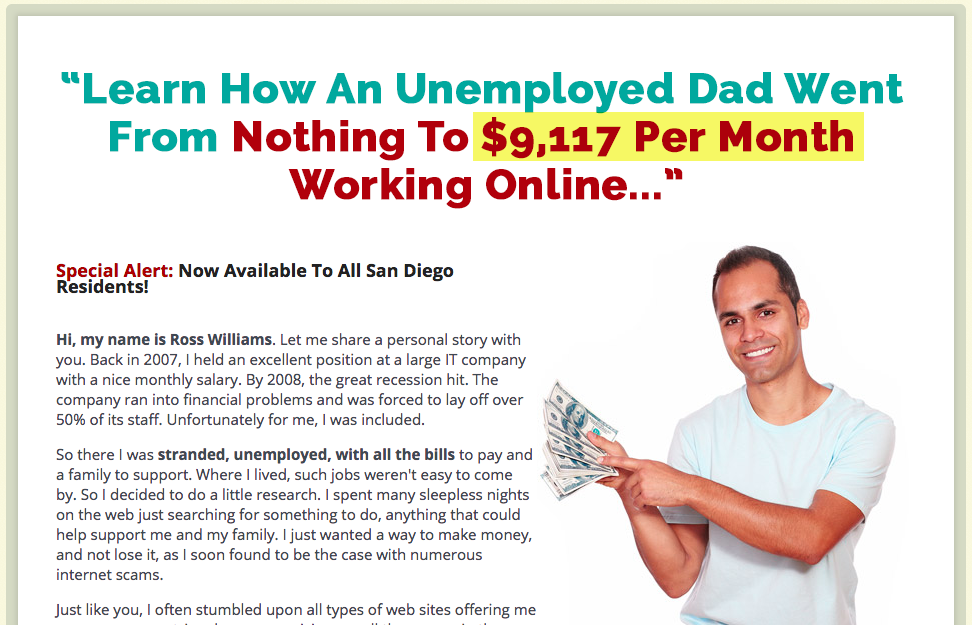 Well, when you click on the link, you're then invited to pay for a program that supposedly will make you thousands of dollars a month. All you have to do is…pay first. To convince you, they use key-phrases such as "Money back guarantee", "Unemployed dad went from nothing to $9,117/month", or "No skills required". Above all, they even give you an ad posting calculator supposedly showing you how much money you can make by how many ads you post. But then bam! You have to pay in order to get paid.
Sellers justify the charge with this phrase: "We don't take any percentage of your paycheck or earnings. In order to provide you with our service and exceptional customer support we do have to charge a small fee". Nice try.
They price they ask is $69.95, but if you pay today (read every day, as their website updates the date according to whenever you open it) it will cost you $34.95. What a deal!
So you pay $34.95 for future online details. The 'job' is posting ads to forums or websites for various clients, and there is a promise that you will be provided with a huge list of customers.
Needless to say, providing your credit card number for that $34.95 charge will rack up your next financial statement, in exchange for some bulls–t.
Last but not least, we need to mention that the image above features the testimonial of a fake person, Ross Williams. If you do a reverse image search, the gentleman in this picture is a stock photography actor (this particular image is sold on Shutterstock, Dreamstime, and many other well-known stock image websites). See below.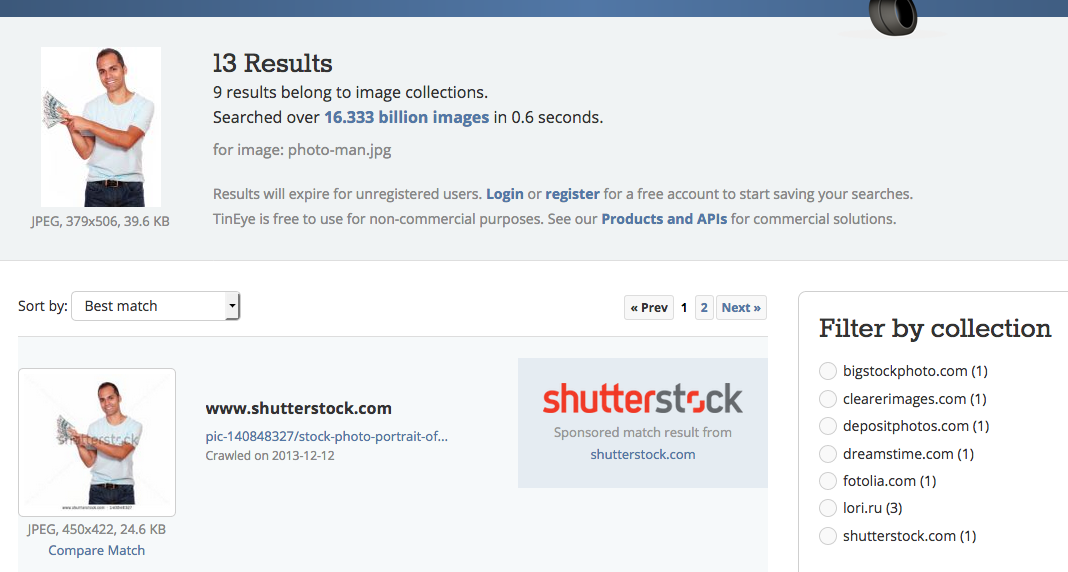 How to avoid the Work From Home Jobs – Hiring Ad Posters Scam:
Do not fall for this; you should never pay for a job that's supposed to pay you. That's the first red flag. All the scammers need is your credit card. Not to mention that unsolicited emails without even addressing to your name are another red flag to consider. Always do your research and work only for legitimate employers. If you are really thinking of earning money or rewards online, here are a couple of great alternatives:
Swagbucks.com
Swagbucks.com is the world's largest free online rewards program. You get paid by doing things online which you might do anyway, such as searching the web, discover products, take surveys, watch videos, or play games. You can also get free iTunes and Amazon cards. The company has a A+ rating with the Better Business Bureau. You can register for free HERE
. They have a $5 sign-up bonus.
If you are into paid surveys, this is the place. GlobalTestMarket is an industry leader in online research panels, where members are invited to participate in online surveys on numerous topics, and in return are eligible for cash or regular and frequent entry into sweepstakes. Highly recommended, as they also have A+ rating with the Better Business Bureau. You can register for free HERE.
How to report the Work From Home Jobs – Hiring Ad Posters Scam:
Make your family and friends aware of this scam by sharing it on social media using the buttons provided. You can also officially report the scammers to the Federal Trade Commission using the link below:
How to protect yourself more:

If you want to be the first to find out the most notorious scams every week, feel free to subscribe to the Scam Detector newsletter here. You will receive periodical emails and we promise not to spam. Last but not least, use the Comments section below to expose other scammers.
---
Verify a website below
Are you just about to make a purchase online? See if the website is legit with our validator:
vldtr®
Searching:

Domain age, Alexa rank, HTTPS valid, Blacklisting, SSL certificates, Source code, Location, IP address, WOT Trustworthiness, Spam reports, Advanced technology, Privacy Policy, Terms of Use, Contact options

TOP 3 MUST-WATCH FRAUD PREVENTION VIDEOS
1. Top 5 Amazon Scams in 2023
2. Top 5 PayPal Scams in 2023
3. How To Spot a Scam Email in 2023
Selma Hrynchuk
Selma is a fraud prevention specialist renowned for her expertise in private eye investigations and a remarkable partnership with law enforcement agencies. Beyond her investigative triumphs, her public speaking engagements and written works have empowered countless individuals to protect themselves and stay ahead of deceptive schemes. Selma's legacy shines as a tenacious agent of change, unyielding in her commitment to battling fraud and ensuring a safer world for all.