Solar Stimulus Program: How the Scam Works
The solar panel scams continue to pop up with a new addition. Criminals never get tired of trying to swindle people of their money. They come up with different schemes and frauds that cause unsuspecting victims to lose vast sums of money. What makes them so dangerous is how they can seemingly hide a scam in unexpected places. It is the case with the Solar Stimulus Scam, happening this month in the United States, United Kingdom, Canada, and Australia.
If that happened to you, feel free to expose the names of the company that contacted you in the Comments section. How does the scam work?
The Solar Stimulus ad will pop-up on your Facebook feed, promising you a lot of things. It could be on any other social media platform as well. Scammers post the message and customize the details to suit their victims. You may see it and think that you've hit the jackpot. But you should think again and save yourself from a lot of trouble. The fake solar stimulus package offers homeowners complete coverage of their electricity bills for the next six months if they accept the switch to solar. But it doesn't just end there.
According to the details of the ad (grammar mistakes included):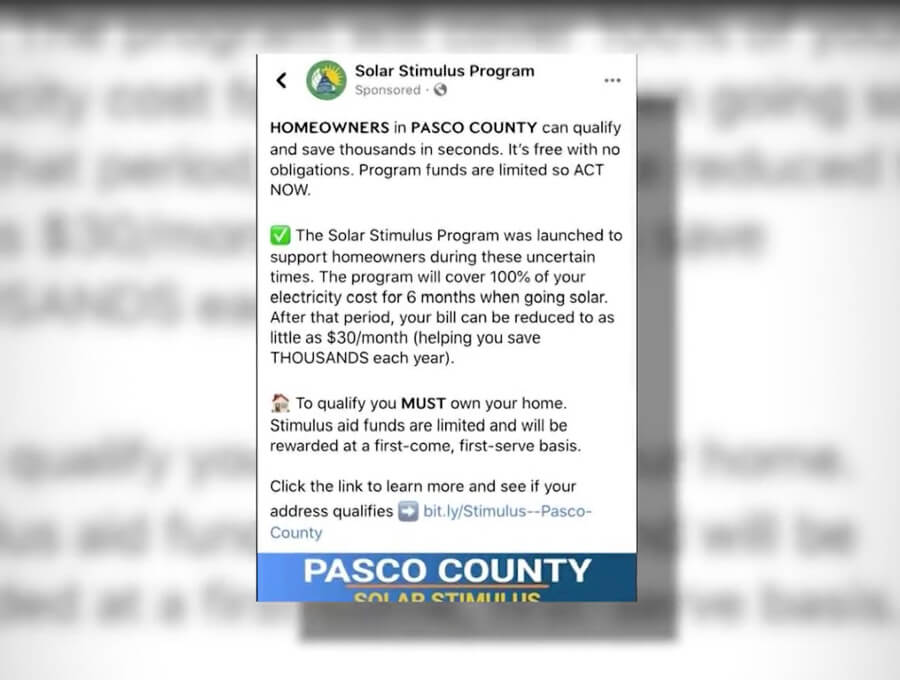 "Homeowners in [your city] can qualify and save thousands in seconds. It's free with no obligations. Program funds are limited, so ACT now. The Solar Stimulus Program was launched to support homeowners during these uncertain times. The program will cover 100% of your electricity cost for 6 months when going solar. After that period, your bill can be reduced to as little as $30/month (helping you save THOUSANDS each year). To qualify, you MUST own your own home. Stimulus aid funds are limited and will be rewarded at a first-come, first-serve basis. Click the link to learn more and see if your address qualifies."
The promises don't end there.
Once you are looking into the offer, you find another message which may trick you into falling for the scam. It says, "There's no better time to go solar! The American Solar Association [or Canadian, Australian, British] has put together an exciting new Solar Stimulus to help you go solar with ease. When you go ahead with the Stimulus Program, we will write you a check for $500 ($1,000 in California), plus we give you the peace of mind knowing that you will have no payments for the next 6 months!* Now you can lock in your rate for the next 25 years and gain energy independence through solar power!"
The real danger about this scam is that it's not restricted to one state or county. Everyone is at risk, and the message can always pop-up on your fees. Usually, the scammer spends some time to ensure that the deals of the scam appeal to whoever reads it. The ad has been designed to attract you, and it includes words such as funds, stimulus, and aids – especially since we are all going through some incredible, tough times. You may also find the Washington administration's logo on the ad (or the logo of your country/state/province government).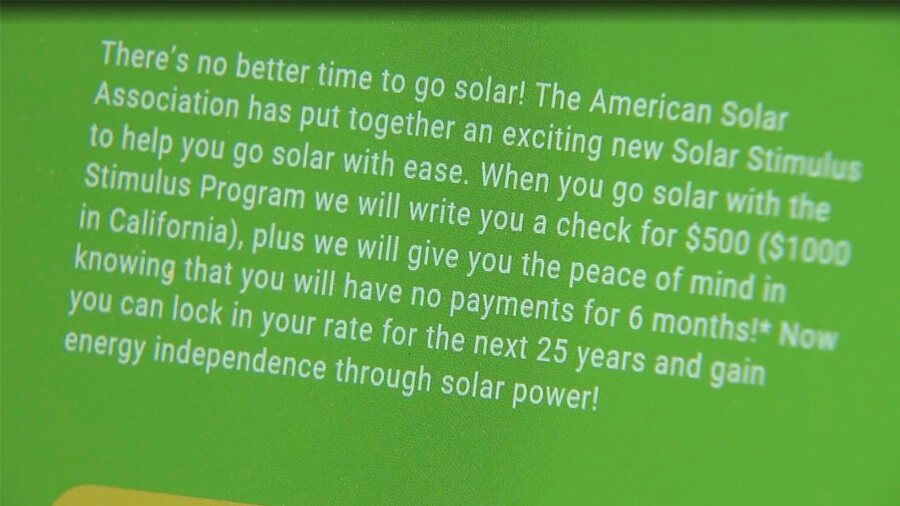 Owing to the seriousness and tone of the ad, a lot of people have fallen victim to it. They believe the content of the promo and go-ahead to complete whatever process is asked of them. This scam usually puts residents more at risk.
In case you reach out to the fraudulent company, the representative that answers the phone will ask you for a lot of personal information. If you are ready to start taking advantage of the deal, you need to pay for some services that – unfortunately – little do you know will never come. The person who answers the phone sets you up with an appointment next week, but you pay over the phone, first. It is a clear indication that the ad came up from a fraudulent company.
Watch the video below to see the Solar Stimulus Program scam exposed by the news, too:
How to Avoid the Solar Stimulus Program Scam
Do not fall for the name of your city that shows up in the ad. You may even see residents from your town featured on the offer page but make no mistake. These testimonials (name of the city) are done through geotagging software, which allows the reader to see pinpointed "clients" precisely in their areas.
If you do some research, you'll find out that it's all a scheme designed to rip you off your money. As the old adage says, if it's too good to be true, you should probably avoid it. There are presently no legitimate offers that provide such type of benefits.
Such attempts to dupe people of their money are disappointing because of the effects they have on them. It's best to avoid anything that has the tag Solar Stimulus aid or fund.
How To Report a Stimulus Scammer
Warn your family and friends about the Solar Stimulus Program Scam by sharing it on social media using the buttons provided. You can also officially report the scammers to the Federal Trade Commission using the link below:
How To Prevent Identity Theft and More

If you want to be the first to find out the most notorious scams every week, feel free to subscribe to the Scam Detector newsletter here. You'll receive periodic emails – we promise not to spam. Meanwhile, educate yourself with some other fraud-related articles right under this paragraph, so that you can protect yourself in many other aspects and niches. Last but not least, use the Comments section below to expose other scammers.
---
Verify a website below
Are you just about to make a purchase online? See if the website is legit with our validator:
vldtr®
Searching:

Domain age, Alexa rank, HTTPS valid, Blacklisting, SSL certificates, Source code, Location, IP address, WOT Trustworthiness, Spam reports, Advanced technology, Privacy Policy, Terms of Use, Contact options

TOP 3 MUST-WATCH FRAUD PREVENTION VIDEOS
1. Top 5 Amazon Scams in 2023
2. Top 5 PayPal Scams in 2023
3. How To Spot a Scam Email in 2023
Selma Hrynchuk
Selma is a fraud prevention specialist renowned for her expertise in private eye investigations and a remarkable partnership with law enforcement agencies. Beyond her investigative triumphs, her public speaking engagements and written works have empowered countless individuals to protect themselves and stay ahead of deceptive schemes. Selma's legacy shines as a tenacious agent of change, unyielding in her commitment to battling fraud and ensuring a safer world for all.