Snow Removal Services Scams: How They Work
(with videos below) Whether you're looking for residential snow removal services or commercial ones, be aware of a bunch of snow removal scams happening this time of the year. Let's take a look at a few versions of the scam, starting with the residential sector.
Watch the video below to see in action the Snow Plowing Services Scam exposed:
Snow Plowing Removal Scam Video
Variation 1: The Deposit. It is winter, it is cold, and you don't want to go outside twice a day to clear the snow from your driveway and sidewalk. Then, one day you open your mailbox and find a flyer with a fantastic offer: $200 for snow removal service done twice daily, until March 31! Sounds good, doesn't it?
Happy about finding this great deal you call the number on the flyer. A representative of the company comes to your door within the hour. They have you sign a contract, which requires you to pay half now and half towards the end of the winter. You give them $100, but you will never see them again. The contract had fake names on it.
Variation 2: The Charity. In a different version of the residential snow removal scam, crooks offer to shovel your driveway for $100, claiming the money you pay will go towards a charity located in your city. They may even show you a fake paper from 'the charity' empowering them to go around town on their behalf.
Variation 3: Commercial Roof. Old, but still happening. Watch the video below to see in action the Roof Snow Removal Services Scam exposed:
Roof Snow Removal Services Scam Video
How does it work? Questionable quality contractors may pass by your house offering to remove the snow from your roof for 'a good price', on the spot. Saying yes to that could be a very costly decision, not necessarily because of the price you pay the worker, but rather the damage that could be done to your roof (amateurs start from the bottom up sticking shovels under shingles destroying them).
What could be even worse is that some roofing companies don't even have workers compensation. If the contractors slip and fall off your house, on your property, this may become a legal battle.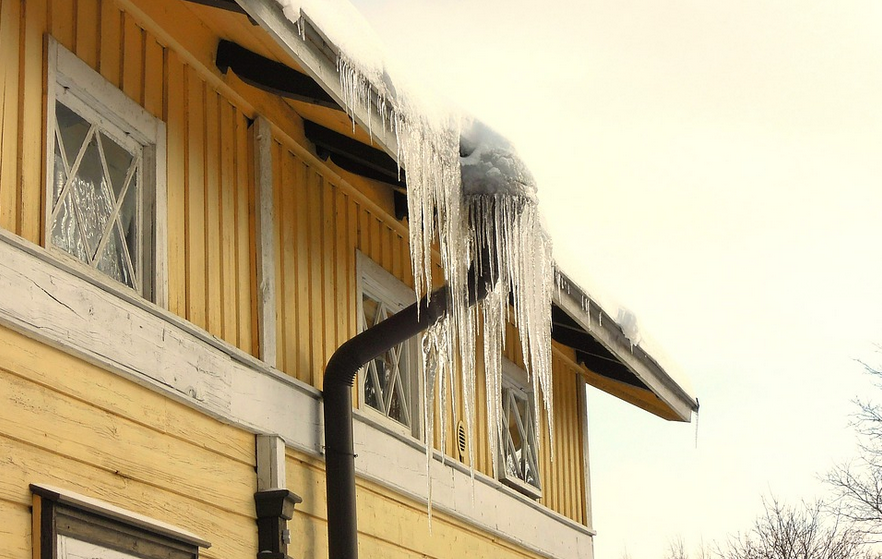 Snow Removal Services Scam: How To Avoid
Always chose the best commercial or residential snow removal companies by checking their reviews online. There are plenty of resources out there. If contractors come to your house, ask for identification and license. Meanwhile, never agree to all the terms over the phone. Some companies charge by the inch of snow. Whether you live in NYC, Chicago, Calgary, or Fairfax, the basic common sense diligence should always be the same.
Alternatively, give up going to the gym and get plenty of healthy exercise shovelling your snow.
Snow Removal Services Scam: How To Report
Make your family and friends aware of the snow removal scam by sharing it on social media using the buttons provided. You can also officially report the scammers to the Federal Trade Commission using the link below:
Report Scammers To The FTC Here
How to protect yourself more:

If you want to be the first to find out the most notorious scams every week, feel free to subscribe to the Scam Detector newsletter here. You'll receive periodical emails and we promise not to spam. Last but not least, use the Comments section below to expose other scammers.
---
Verify a website below
Are you just about to make a purchase online? See if the website is legit with our validator:
vldtr®
Searching:

Domain age, Alexa rank, HTTPS valid, Blacklisting, SSL certificates, Source code, Location, IP address, WOT Trustworthiness, Spam reports, Advanced technology, Privacy Policy, Terms of Use, Contact options

TOP 3 MUST-WATCH FRAUD PREVENTION VIDEOS
1. Top 5 Amazon Scams in 2023
2. Top 5 PayPal Scams in 2023
3. How To Spot a Scam Email in 2023
Selma Hrynchuk
Selma is a fraud prevention specialist renowned for her expertise in private eye investigations and a remarkable partnership with law enforcement agencies. Beyond her investigative triumphs, her public speaking engagements and written works have empowered countless individuals to protect themselves and stay ahead of deceptive schemes. Selma's legacy shines as a tenacious agent of change, unyielding in her commitment to battling fraud and ensuring a safer world for all.