How the scam works:
(with video below) Angelina Jolie officially just filed for divorce from Brad Pitt and that's not a scam. TMZ broke the story claiming they know Angelina was extremely upset because Brad was doing "something with the kids" that was inappropriate for a parent. Many other voices state that it relates to drugs or even sexually abuse, because Angelina asks for full physical custody of the kids, which is unusual in California unless there is some unacceptable conduct from one of the parents.

Watch the video below to see the shocking story broken by TMZ:
TMZ Breaks The 'Brangelina' Story Video
Unfortunately – as usual every time a major news story occurs – scammers take advantage of the situation to victimize people who believe in their lies.
In this particular "Brangelina" case, criminals posted links on all the social media outlets using stolen images and titles related to alleged Brad's behaviour. The title used is: "Brad Pitt Secretly Caught On Camera Abusing His Daughters". Once open, the link is automatically posted on your wall so all your friends believe you recommend the reading. From here, there are several ways you could become a victim.
Just like in other similar "latest news" type of Facebook scams, clicking the message link will take you to a page which looks exactly like Facebook, but is a fake. A bogus video player is also displayed along with an "Update Required" notification. The site asks you to download a Flash Player update in order to watch the video.
Clicking on the "Install" button will install malware on your computer. This malware program will gather your information (passwords, account numbers), and email them back to the scammer. One of the most notorious ones is the Koobface worm, which has earned scammers income mainly through pay-per-install malware.
In a different variation of the scam, if you want to see the promised Brad Pitt abuse video you are required to share the article on Facebook, first. That's how you got to see all your friends sharing it earlier. How do the scammers benefit from this? Let's take a look.
After you click the "share" button, another notification comes up on your computer's screen. And this is where the money is for scammers. To continue, you are required to take a survey, for which scammers get affiliate commissions. "To watch this video, please confirm you are old enough by taking this survey," says the notification. Since people are curious in nature, many wouldn't mind taking a 2-minute survey just to see the Pitt abuse. Only there is nothing to be seen.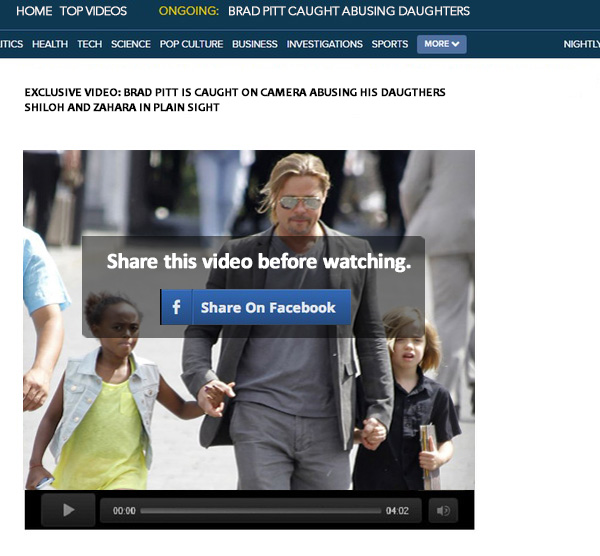 How to avoid the 'Brangelina Divorce' scam:
Most importantly, when you see the preview on your Facebook newsfeed, look for the domain name on which the article is apparently posted on. It should be right under the picture. If it's not a website or name you heard of (which should be at least a decent media outlet, such as TMZ) you can rest assured somebody is playing tricks in order to lure people into clicking on the link.
How to report the 'Brangelina Divorce' scam:
Make your family and friends aware of this scam by sharing it on social media using the buttons provided. You can also officially report the questionable websites to the Federal Trade Commission using the link below:
How to protect yourself more:

If you want to be the first to find out the most notorious scams every week, feel free to subscribe to the Scam Detector newsletter here. You'll receive periodical emails and we promise not to spam. Last but not least, use the Comments section below to expose other scammers.
Related Articles and Pages:
Full List of Face To Face Scams

Solar Panels For Your Home Scam
Emergency Locksmith Services/ 24 Hour Locksmith Scam

Water Heater Repair Emergency Plumbing Service

Emergency Garage Door Repair Service Scam

Heating and Air Conditioning Repairs Services Scam

Cheap Home Security Systems Scam
Low Interest Rate Credit Cards Scam

---
Verify a website below
Are you just about to make a purchase online? See if the website is legit with our validator:
vldtr®
Searching:

Domain age, Alexa rank, HTTPS valid, Blacklisting, SSL certificates, Source code, Location, IP address, WOT Trustworthiness, Spam reports, Advanced technology, Privacy Policy, Terms of Use, Contact options

TOP 3 MUST-WATCH FRAUD PREVENTION VIDEOS
1. Top 5 Amazon Scams in 2023
2. Top 5 PayPal Scams in 2023
3. How To Spot a Scam Email in 2023
Selma Hrynchuk
Selma is a fraud prevention specialist renowned for her expertise in private eye investigations and a remarkable partnership with law enforcement agencies. Beyond her investigative triumphs, her public speaking engagements and written works have empowered countless individuals to protect themselves and stay ahead of deceptive schemes. Selma's legacy shines as a tenacious agent of change, unyielding in her commitment to battling fraud and ensuring a safer world for all.