Regional Sales Representative Scam: How It Works
Sometimes companies post-employment opportunities looking for "regional online sales representatives". The products could be of any kind, from electronics to sports apparel. Yes, there might be some legitimate ones, but what follows is an example of the Regional Account Supervisor Scam.
The potential rep (you) is promised a 10% commission on every transaction. There is no registration fee and no charges, so you think it is a great job, already doing math on how much you can earn per month. You are in! A week or two after you sign up, you receive an order from a "client" – $20,000 worth of products or services. Wow, you could make $2,000 if this goes through! The deal does go through, and you get your "client's satisfaction".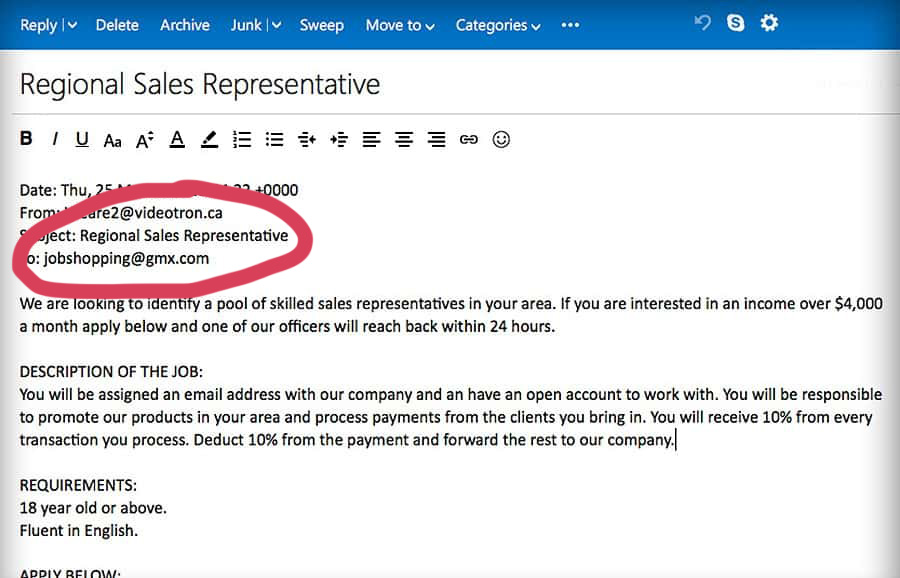 The scammer will send you the $20,000 check and, following instructions, you deposit it in your account, keep your $2,000 and send the rest to the company that hired you. The fake check that you received and deposited will bounce in a few business days, making you responsible to the bank for $18,000.
The image above is captured from an actual scam e-mail.

How to Avoid the Regional Account Supervisor Scam
No business that tells you to deposit large checks in your account is legitimate. That is not how business works – you could skip the country with the whole amount. So if you are EVER told to put a check for money that is not yours in your account, that lets you know someone is trying to pull a fast one on you. Beware of this Regional Account Supervisor scam!
In the meantime, if you are really looking for a job and seek to make some money until you find the next ideal job, you could try Swagbucks.com
, which is the world's largest free online rewards program. You get paid by doing things online which you might do anyway, such as searching the web, discover products, take surveys, watch videos or play games. You can also get free iTunes and Amazon cards. The company has an A+ rating with the Better Business Bureau. You can register for free HERE
.
Regional Sales Representative: How To Report a Scammer
Let your family and friends know about the Regional Sales Representative Scam by sharing it on social media using the buttons provided. You can also officially report the scammers to the Federal Trade Commission using the link below:
How To Prevent Identity Theft and More

If you want to be the first to find out the most notorious scams weekly, feel free to subscribe to the Scam Detector newsletter here. You'll receive periodic emails – we promise not to spam. Meanwhile, educate yourself with some other fraud-related articles right under this paragraph, so that you can protect yourself in many other aspects and niches. Last but not least, use the Comments section below to expose other scammers.
Here are some must-reads for the end:
Mystery Shopper Job Scam
Administrative Assistant Job Scam
---
Verify a website below
Are you just about to make a purchase online? See if the website is legit with our validator:
vldtr®
Searching:

Domain age, Alexa rank, HTTPS valid, Blacklisting, SSL certificates, Source code, Location, IP address, WOT Trustworthiness, Spam reports, Advanced technology, Privacy Policy, Terms of Use, Contact options

TOP 3 MUST-WATCH FRAUD PREVENTION VIDEOS
1. Top 5 Amazon Scams in 2023
2. Top 5 PayPal Scams in 2023
3. How To Spot a Scam Email in 2023
Selma Hrynchuk
Selma is a fraud prevention specialist renowned for her expertise in private eye investigations and a remarkable partnership with law enforcement agencies. Beyond her investigative triumphs, her public speaking engagements and written works have empowered countless individuals to protect themselves and stay ahead of deceptive schemes. Selma's legacy shines as a tenacious agent of change, unyielding in her commitment to battling fraud and ensuring a safer world for all.