How the scam works:

It happened before, and it seems to keep going every time a celebrity dies. The scam made its rounds when Paul Walker passed away; then it happened when Robin Williams died. Criminals are at it again, taking advantage of the naivety of millions of fans around the world. How does the scam work?
Watch the video below to see the Prince Video Message scam exposed.
Prince Video Message Scam Video
The scam, which you may see shared by your Facebook friends, claims to be a video of Prince leaving a message for Donald Trump, recorded "just minutes before his death in the recording studio located in Minneapolis." Needless to say, you (and the plethora of fans) might be fooled into believing it is genuine. The main reason for that might be the fact that your Facebook friends share it on their wall, on the same day.
If you click on the link, you are taken to a fake website featuring (obviously) a fake article with the video. However, to see Prince's message to Trump, you are required to share the article on Facebook, first. That's how you got to see all your friends sharing it earlier. But how would the scammers benefit from this?
After you share it, another notification comes up on your computer's screen. And this is where the money is for scammers. To continue, you are required to take a survey, for which scammers get affiliate commissions. "To watch this video, please confirm you are old enough by taking this survey," says the notification. Since all the millions of fans want to see Prince's last few minutes on video, many wouldn't mind taking 2-minute surveys.
We hope you didn't fall for that!
How to avoid:
It should be common sense by now that every time a tragedy occurs, the next day the same type of scam appears on social media. Whether it's about an actor or an athlete, a calamity or newsworthy world events, never take surveys and share the news before even see it. That should be your first red flag.
Make your family and friends aware of this scam by sharing it using the buttons provided.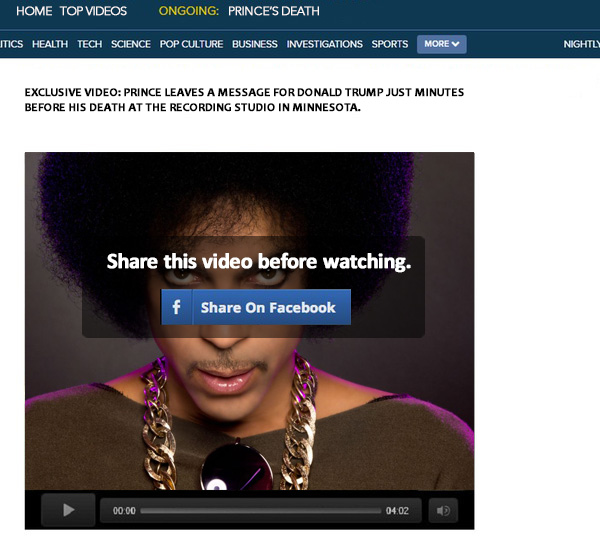 ---
Verify a website below
Are you just about to make a purchase online? See if the website is legit with our validator:
vldtr®
Searching:

Domain age, Alexa rank, HTTPS valid, Blacklisting, SSL certificates, Source code, Location, IP address, WOT Trustworthiness, Spam reports, Advanced technology, Privacy Policy, Terms of Use, Contact options

TOP 3 MUST-WATCH FRAUD PREVENTION VIDEOS
1. Top 5 Amazon Scams in 2023
2. Top 5 PayPal Scams in 2023
3. How To Spot a Scam Email in 2023
Selma Hrynchuk
Senior Editor at Scam Detector Media, Selma is a fraud prevention specialist with a wealth of experience in private investigations and collaborations with law enforcement. A captivating public speaker, Selma educates audiences about scams and personal safety. Through her insightful writing, she exposes criminals and shares essential tips for staying secure. Selma is a dedicated guardian against fraud, committed to unmasking deception and promoting integrity.