How the scam works:

(with video below) Watch out for the latest fraudulent activity in the mining industry, the Underground Mining Jobs scam. A fake company advertises open positions for underground labourers, mining engineers, field technicians, and supervisors. Ads are on wesbites such as Kijiji, Oodle, or Craigslist.
If you are a out-of-work miner and currently looking for job opportunities, you might come across Internet ads featuring a new company, called Red Maple Mining. Once contacted and interviewed, you are supposed to go through a background check. How does the scam work?
Watch the video below to see the Background Check For Mining Job Scam exposed:
Red Maple Mining also asks for your driver's licence number, social security number, credit card info and more in order to apply for one of the jobs. Their website says the company needs to charge $9.95 to run a background check. Once you pay for the background check, you never get the job.

On their website, ther company states: "Red Maple Mining Co. Is striving to become mid-tier mining company with stable and sustainable revenue attained through acquisition, discovery, development, and production of various metals. We will achieve this by improving on our current assets and the strengths and capabilities we have demonstrated by out recent successes in developing and and operating our newest open pit, as well as our ongoing partner-funded exploration ventures.
In Sudbury, Canada, Red Maple Co's open-pit operation is producing copper and platinum group metals. We also have active partner-funded exploration underway for nickel, copper and PGMs. Outside Of Sudbury, Maple Mining Co has active exploration for copper and gold in British Colombia do to it's current partnerships. Red Maple Mining Co's growth strategy is to focus on value-accretive, near-term production opportunities while also maintaining active exploration for large-scale discovery.
Red Maple Mining Co's sustainability strategy drives a high standard or performance with respect to safety, health, the environment, and the community. This corporate social responsibility focus provides support for our ongoing activities and is important for attracting high-quality people, high-quality opportunities, and partner funding. We have a string relationship with local aboriginal communities."
The text is probably copied and pasted from a different mining company's website.
How to avoid the Underground Mining Jobs scam:
Keep in mind that any legitimate business would not be doing business this way. The Human Resources department would be sending out information and would be contacting you, even for entry level mining jobs. Reputable companies never advertise with just 'We're looking for people" phrases.
Also, look to see if they have more ways to contact them. If they only provide an email address with no phone number or address, it's a first red flag. It is certainly a scam if the email you send bounces back as well. Last but not least, look for grammar errors in the text.
How to report the Underground Mining Jobs scam:

Make your family and friends aware of this scam by sharing it on social media using the buttons provided. You can also officially report the scammers to the Federal Trade Commission using the link below:
How to protect yourself more:

If you want to be the first to find out the most notorious scams every week, feel free to subscribe to the Scam Detector newsletter here. You'll receive periodical emails and we promise not to spam. Last but not least, use the Comments section below to expose other scammers.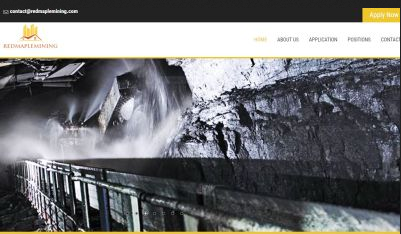 ---
Verify a website below
Are you just about to make a purchase online? See if the website is legit with our validator:
vldtr®
Searching:

Domain age, Alexa rank, HTTPS valid, Blacklisting, SSL certificates, Source code, Location, IP address, WOT Trustworthiness, Spam reports, Advanced technology, Privacy Policy, Terms of Use, Contact options

TOP 3 MUST-WATCH FRAUD PREVENTION VIDEOS
1. Top 5 Amazon Scams in 2023
2. Top 5 PayPal Scams in 2023
3. How To Spot a Scam Email in 2023
Selma Hrynchuk
Selma is a fraud prevention specialist renowned for her expertise in private eye investigations and a remarkable partnership with law enforcement agencies. Beyond her investigative triumphs, her public speaking engagements and written works have empowered countless individuals to protect themselves and stay ahead of deceptive schemes. Selma's legacy shines as a tenacious agent of change, unyielding in her commitment to battling fraud and ensuring a safer world for all.