Pinterest Password Scam: How It Works
(with video below)
If you're an avid Pinterest user, watch out for the latest scam, the Pinterest Password Reset or Pinterest Login scam. Let's take a look at it.
Pinterest is vastly popular with millions of users pinning pictures to their boards every day. Phishing scams are nothing new, and this latest Password Reset scam targets users of the photo sharing site.
In this latest scam involving Pinterest, scammers are sending email notifications to registered users advising them that they have successfully reset their passwords. Users click on the link in the email and are led through a variety of screens which will take them to a compromised website which will infect their PC with malware.
Watch the video below to see in action a different variation of the Pinterest scam:
Scammers create images and fake websites with the Pinterest branding. They look very realistic and lure victims into clicking on the link provided, where they are required to put in their login credentials.
One of the latest tricks is also the key phrase: "Someone logged into your Pinterest account from a new location in Argentina [or any other country]. We just want to confirm this was you.
If you did not log in from this location, you should follow the link below to tell us you didn't make the change. We'll lock your account until you secure it with a new password. To lock your account and prevent unauthorized usage, click this link or paste it into your browser".
Needless to say, the link (see pic below) will take you to a very similar page to the real Pinterest website.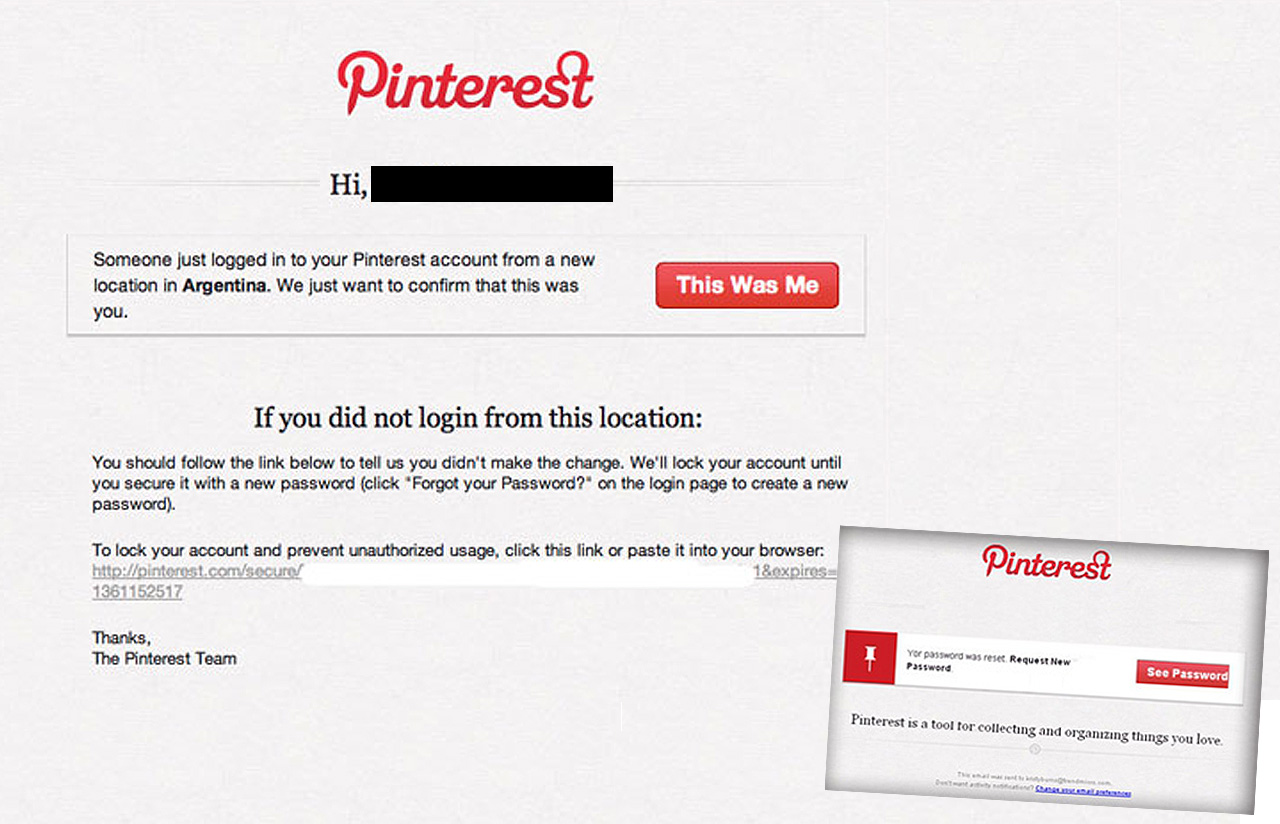 Pinterest Password Scam: How To Avoid
When making any account changes, such as password updates, only do so on the actual site of which you are making the change, in this case, www.pinterest.com. Be aware that Pinterest never sends emails requesting login or password information from its users.
Finally, be sure you always have updated and fully functioning virus protection and anti-malware software on your computer to protect yourself from these types of issues.
How To Protect Yourself More

If you want to be the first to find out the most notorious scams every week, feel free to subscribe to the Scam Detector newsletter here. You'll receive periodical emails and we promise not to spam. Last but not least, use the Comments section below to expose other scammers.
Related Articles and Pages
Facebook Customer Service Number Scam
How Scammers Hack Into Your Facebook Account
---
Verify a website below
Are you just about to make a purchase online? See if the website is legit with our validator:
vldtr®
Searching:

Domain age, Alexa rank, HTTPS valid, Blacklisting, SSL certificates, Source code, Location, IP address, WOT Trustworthiness, Spam reports, Advanced technology, Privacy Policy, Terms of Use, Contact options

TOP 3 MUST-WATCH FRAUD PREVENTION VIDEOS
1. Top 5 Amazon Scams in 2023
2. Top 5 PayPal Scams in 2023
3. How To Spot a Scam Email in 2023
Selma Hrynchuk
Selma is a fraud prevention specialist renowned for her expertise in private eye investigations and a remarkable partnership with law enforcement agencies. Beyond her investigative triumphs, her public speaking engagements and written works have empowered countless individuals to protect themselves and stay ahead of deceptive schemes. Selma's legacy shines as a tenacious agent of change, unyielding in her commitment to battling fraud and ensuring a safer world for all.