iPhone X/ iPhone 8 Scam: How It Works
The iPhone 8 and iPhone X – produced to celebrate Apple's 10th anniversary – were released a while ago, yet they are still the subject of an ongoing scam. As both products are sought-after products even these days, criminals came up with ways to part victims of their hard-worked money.
Imagine this scenario: While browsing the net on your device, a pop-up comes out of nowhere. It states that Apple needs testers for the new iPhone or could simply say that you won one. How does the scam work? Similar to the ones related to the previous versions of the phone. More exactly?
Watch the video below to see how the free iPhone Scam works:
The pop-up says: "Your computer was selected to participate in the testing of the new iPhone X". If you are interested, you are required to click 'OK'. Then you are redirected to a bogus website, such as officialsurveyrewards.com – or something similar.
Once you are redirected to the page, you are told that Apple is looking for 20 additional Chrome users (or whatever operating system you are using) to be part of a private group. This group will test the new iPhone and play with its features, such us the an imoji, which turns your face into a 3D emoji:
You are then required to answer a few questions, usually four. They are 'Yes-No' questions such as "Do you own any Apple products?" or "Are you interested in receiving SMS messages?".
Once you answer all these questions, you will receive the following notification: "Congratulations, you qualified for the private test group. We will contact you with details. Click below to get your bonus iPhone 8. This is to say thanks for your participation (just pay $1 for the shipping)."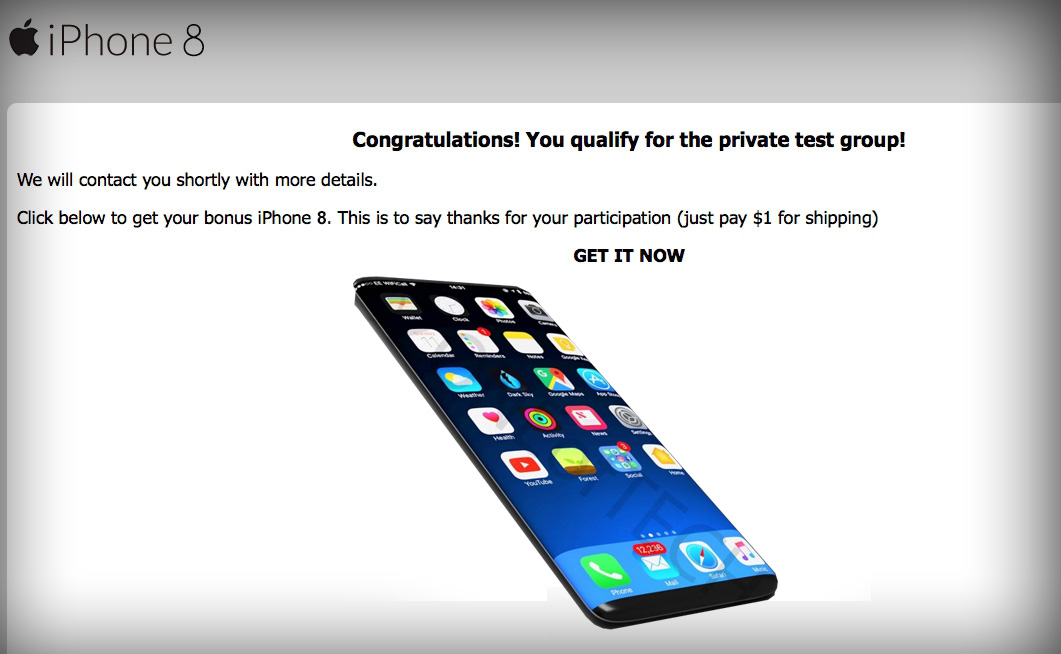 As you can imagine, to pay the $1 shipping fee you are asked to provide a credit card number. Just like for any other transaction, you are also required to provide personal information, which criminals sell to third parties or use it to commit identity theft.
iPhone X/iPhone 8 Tester Scam: How To Avoid
Close the pop-up if you get it. Apple does these tests for the new phones long before their release, within the company. They never offer free iPhones to people. There are certain procedures that need to happen before an official launch. Asking for testers on Internet is not one of them.
If you really want an iPhone 8 or an iPhone X, visit Apple's official website.
iPhone X/iPhone 8 Tester Scam: How To Report

Make your family and friends aware of this scam by sharing it on social media using the buttons provided. You can also officially report the scammers to the Federal Trade Commission using the link below:
Report Scammers To The FTC Here
How To Protect Yourself More:

If you want to be the first to find out the most notorious scams every week, feel free to subscribe to the Scam Detector newsletter here. You'll receive periodical emails and we promise not to spam. Last but not least, use the Comments section below to expose other scammers.
Related Articles:

Facebook Customer Service Scam
A New Way To Get Scammed After The Equifax Data Breach
---
Verify a website below
Are you just about to make a purchase online? See if the website is legit with our validator:
vldtr®
Searching:

Domain age, Alexa rank, HTTPS valid, Blacklisting, SSL certificates, Source code, Location, IP address, WOT Trustworthiness, Spam reports, Advanced technology, Privacy Policy, Terms of Use, Contact options

TOP 3 MUST-WATCH FRAUD PREVENTION VIDEOS
1. Top 5 Amazon Scams in 2023
2. Top 5 PayPal Scams in 2023
3. How To Spot a Scam Email in 2023
Selma Hrynchuk
Selma is a fraud prevention specialist renowned for her expertise in private eye investigations and a remarkable partnership with law enforcement agencies. Beyond her investigative triumphs, her public speaking engagements and written works have empowered countless individuals to protect themselves and stay ahead of deceptive schemes. Selma's legacy shines as a tenacious agent of change, unyielding in her commitment to battling fraud and ensuring a safer world for all.