Sale On Craigslist Scam: How It Works
Say you're trying to sell a personal item online, such as a mobile phone, laptop, book, couch, fridge, oven, boat, car or bike. Literally, pretty much anything.
You post an ad on Craigslist. Within minutes, you receive a text message or email similar to the one below (let's assume you're selling your phone, locally):
"Hello, what is the last price for the phone and hope is in good condition? Are you the direct owner of the phone? Get back to me soon, Kurt Michael".
Once you answer affirmatively, "Kurt" continues by asking if he can pay by Walmart or PayPal credit card (see below). He justifies this option as he claims to live somewhere else. If you say yes, he will tell you what to do:
"You will provide me with some details of the Walmart or PayPal credit card then I will load money on the card for you to be able to withdraw it as cash… Go apply for the Walmart credit card… You will really like it as its very easy to buy things with it. Let me know once you get the card."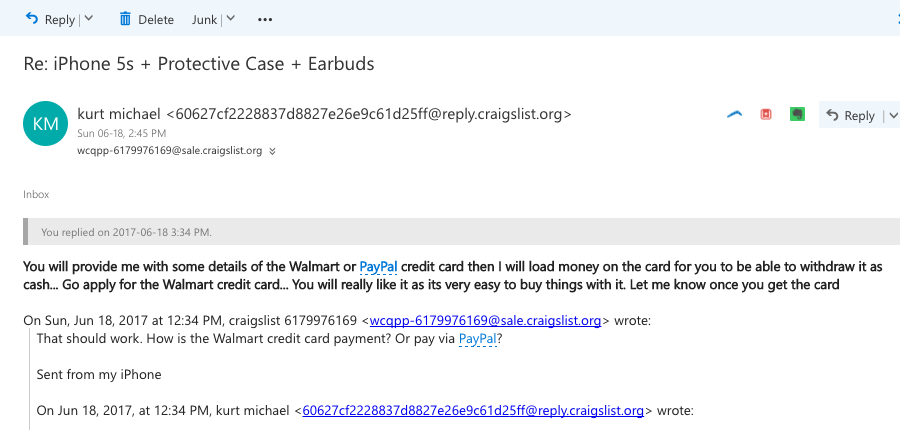 Needless to say, he will want the numbers of your card, the CVV, and the expiry date – in order to "fund" the card, so you are paid.
Alternatively, he will ask youy what bank you deal with, so he can transfer you some money. For that, he will need your account number, routing number, etc. As you can imagine, once you give those details away, "Kurt" will max out your card.
When we asked "Kurt Michael" what's the address we should mail the phone to, he gave: 380 Vista Court Drive Plano, Texas, 75074. Apt 3316.
>
Sale On Craigslist Scam: How To Avoid
It is a red flag every time somebody wants to buy a large item without seeing it. Another one is if the "buyer" refuses to have a phone conversation. Sell your item locally, face to face with your buyer.
Keep in mind that scammers also change their fake names all the time, so it doesn't help if you're sending him a link to this article saying that he is been exposed. He will just use a different name that is not just listed online.
Sale On Craigslist Scam: How To Report

Make your family and friends aware of this scam by sharing it on social media using the buttons provided. You can also officially report the scammers to the Federal Trade Commission using the link below:
How To Protect Yourself More

If you want to be the first to find out the most notorious scams every week, feel free to subscribe to the Scam Detector newsletter here. You'll receive periodical emails and we promise not to spam. Last but not least, use the Comments section below to expose other scammers.
Related Articles and Pages
Facebook Customer Service Number Scam
How Scammers Hack Into Your Facebook Account
---
Verify a website below
Are you just about to make a purchase online? See if the website is legit with our validator:
vldtr®
Searching:

Domain age, Alexa rank, HTTPS valid, Blacklisting, SSL certificates, Source code, Location, IP address, WOT Trustworthiness, Spam reports, Advanced technology, Privacy Policy, Terms of Use, Contact options

TOP 3 MUST-WATCH FRAUD PREVENTION VIDEOS
1. Top 5 Amazon Scams in 2023
2. Top 5 PayPal Scams in 2023
3. How To Spot a Scam Email in 2023
Selma Hrynchuk
Selma is a fraud prevention specialist renowned for her expertise in private eye investigations and a remarkable partnership with law enforcement agencies. Beyond her investigative triumphs, her public speaking engagements and written works have empowered countless individuals to protect themselves and stay ahead of deceptive schemes. Selma's legacy shines as a tenacious agent of change, unyielding in her commitment to battling fraud and ensuring a safer world for all.