Collection Call – Phone Bill Scam: How it Works
(with video) You might ask yourself "Who called me from this number"? after this crazy fake collection call. Beware of the Landline Bill Payment Scam happening these days! Let's take a look at it. It is one of the most common phone scams.
The scammer calls and claims is a representative of your telephone company, whether that's Rogers, Verizon, Telus, Telstra, etc. Very official, he says you didn't pay your last bill, and your service is about to be disconnected. "It is $95 to pay now, but if you want to reconnect at a later date, it will be $179."
You're smart so you might not trust him. However, as you ask him to prove himself, he says: "By all means. If you don't believe me, we're going to interrupt your phone service for two minutes. Hang up and try to make any phone call you want". You hang up and when you pick up again – no tone! You hear nothing. Your phone is dead, and he is right! How is this even possible if he is not a real agent?
Watch the video below to see what the criminal did in this scam:
He calls you back in two minutes, and you give him your credit card, to pay the balance on your bill.
How did that happen? What the scammer did after you hung up was stay on the line, but with the Mute button on. If someone does that, you can't dial out whatsoever while he can hear you trying.
This trick is possible because he is the person who initiated the call, so he has to be the one who terminates it as well. The scammer just calls you back when he hears you are not dialing anymore. This manoeuvre works only on landline phones, not on mobiles.
Collection Call – Phone Bill: How To Avoid
Don't fall for this. Telephone companies never try to prove a point over the phone. There have been reports that scammers use any telephone service provider company name. There are a few of them: AT&T, Verizon, Telus, Rogers, Telstra, etc.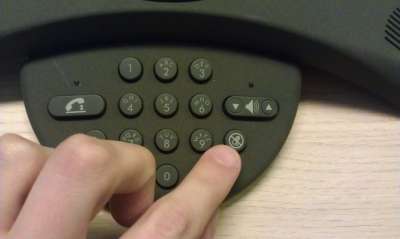 One last piece of advice is to read a couple of articles exposing scams with different twists, but just as heinous: the Debt Collection Call Scam, Subscription Collection Call, and the Fake Discount Call.
---
Verify a website below
Are you just about to make a purchase online? See if the website is legit with our validator:
vldtr®
Searching:

Domain age, Alexa rank, HTTPS valid, Blacklisting, SSL certificates, Source code, Location, IP address, WOT Trustworthiness, Spam reports, Advanced technology, Privacy Policy, Terms of Use, Contact options

TOP 3 MUST-WATCH FRAUD PREVENTION VIDEOS
1. Top 5 Amazon Scams in 2023
2. Top 5 PayPal Scams in 2023
3. How To Spot a Scam Email in 2023
Selma Hrynchuk
Senior Editor at Scam Detector Media, Selma is a fraud prevention specialist with a wealth of experience in private investigations and collaborations with law enforcement. A captivating public speaker, Selma educates audiences about scams and personal safety. Through her insightful writing, she exposes criminals and shares essential tips for staying secure. Selma is a dedicated guardian against fraud, committed to unmasking deception and promoting integrity.