Burberry Authenticity Check: How To Do It
(with video below) The Burberry authenticity check is critical in finding out if your handbag or scarf is real. An authentic Burberry tag and pattern is easy to verify, so beware of the fake products! Let's take a deeper look.
Burberry is the mark that has challenged the tenets of style, making many of us to constantly look on the Internet for a legitimate outlet online and the best price. Whether is about dreaming about Burberry Prorsum, handbags, or simply looking for a Burberry trench coat sale, it's always nice to treat ourselves whenever we can.
Unfortunately, there have been a lot of Burberry replicas flooding the market ever since the company got famous. We are more than happy to recommend you a few great guides that wіll show you how to authenticate Burberry just by looking at the product.
Watch the video below to see an effective Burberry authenticity check:
Burberry Authenticity Check Video
Many times a fake is very difficult to spot. They can appear to be authentic at first but they fall apart in a month. While you can never be 100% certain that a product is authentic unless you purchase it from an official store, there are many things you can do to protect yourself.
You can also report counterfeit manufacturers and fake 'online Burberry stores' in the Comments section of this article.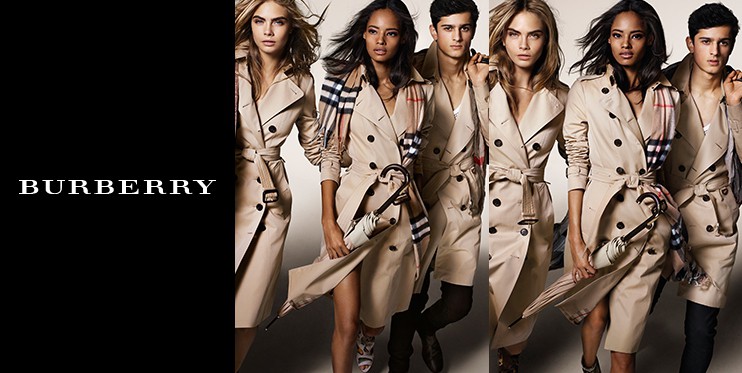 The Characteristics of an Authentic Burberry Bag
The most common paterns for Burberry are Nova Check and Classic Check. The material used to make the bag is PVC, also known as Vinyl Coated Canvas. It is very sturdy, stain resistant and durable. In many ways, the material looks like leather but the texture is very different.
The Nova Check material has a cream/tan background with vertical and horizontal black and pink/red stripes. The newer Nova Check bags are trimmed with smooth matte black leather, while the older bags may have a glossy black leather trim.
When it comes to the newest styles in Nova Check, they feature diagonal stripes and are thicker. They would form a perfect 90 degree angle where they meet. Some newer styles also feature white leather trim.
The Classic Check material has a cream/tan background with vertical and horizontal black and pink/red stripes, as well as an Equestrian Knight symbol where the pink/red stripes intersect. The trim is either matte brown leather or glossy black leather.
Another important aspect in authenticating a Burberry product is the pattern. It should consist of perfectly horizontal and vertical stripes. If the stripes are crooked, chances are it is not authentic. Sometimes the curvature of the bag does not allow for this but it is fairly obvious when this is the case.
The stripes should be clean and crisp. There should be no 'bleeding' into the other colors. The stripes should meet neatly but not always perfectly as this is just not possible. The pattern should also be symmetrical/centered on the bag or accessory.
What's An Authentic Burberry Tag?
The color of the tag should match the color of the lining. The stitching should be uniform and the print should be straight and centered. The zipper should also say 'Burberry' on both sides.
Counterfeit Burberry Products: How To Report

Make your family and friends aware of the Burberry counterfeits by sharing this article on your social media. You can also officially report the questionable Burberry online outlets to the Federal Trade Commission using the link below:
Report To The FTC Here
Recommended Reads
How To Authenticate Louis Vuitton
---
Verify a website below
Are you just about to make a purchase online? See if the website is legit with our validator:
vldtr®
Searching:

Domain age, Alexa rank, HTTPS valid, Blacklisting, SSL certificates, Source code, Location, IP address, WOT Trustworthiness, Spam reports, Advanced technology, Privacy Policy, Terms of Use, Contact options

TOP 3 MUST-WATCH FRAUD PREVENTION VIDEOS
1. Top 5 Amazon Scams in 2023
2. Top 5 PayPal Scams in 2023
3. How To Spot a Scam Email in 2023
Selma Hrynchuk
Selma is a fraud prevention specialist renowned for her expertise in private eye investigations and a remarkable partnership with law enforcement agencies. Beyond her investigative triumphs, her public speaking engagements and written works have empowered countless individuals to protect themselves and stay ahead of deceptive schemes. Selma's legacy shines as a tenacious agent of change, unyielding in her commitment to battling fraud and ensuring a safer world for all.