How the scams work:
(with video below) Tablets and smartphones have gained a tremendous popularity in the past few years. Having a perfect size for their purpose, these two types of devices are now 'the things' to own. However, be careful about the latest scam in regards used tablets and smartphones for sale, coming to you as a Bait and Switch scheme. How does the scam work?
Watch the video below to see in action the perfect Bait and Switch scam, exposed:
Bait and Switch Scam Exposed Video
Let's say you're looking to buy an iPad Air, but want a good deal. That's when you go online. As you research on eBay, Craigslist, Oodle, or Kijiji, you find somebody who sells a few tablets/iPads for a particular reason (e.g. got a good deal on launch day, his company provided a discount, etc.).
Happy to purchase one at half price, you meet the seller in a busy place – mall, patio, street corner. He has two brand new sealed tablet boxes. He mentions one tablet is for you and the other for a different buyer, who should be there any minute. The price is good, say $200. As he opens one of the boxes to show you the real tablet inside, the other client – usually a girl, his accomplice – shows up.
While you are checking out the tablet, you hear their conversation. She says to the seller that her dad has the cash, but he is in the car and for some reason he can't come (he might be parked illegally and has to move the vehicle if a parking officer comes over). He looks reluctantly at the girl.
Meanwhile, you finished examining the tablet, feel happy, and give the seller $200 in cash. He places the money in an envelope, seals it, puts it in his chest pocket, and while he's still talking to her, he gives you the other box (the sealed one). Right then, before you leave, he asks the girl if they should go where the dad is, while telling you to wait for a second and handing you back your envelope with money. She says 'yes' and leaves first.
He asks you for a favor. He says he's afraid of being robbed by going around the corner with a bunch of cash. "If you can wait for me just one minute, would be great". Well, you have the phone and the money so that you can hold on a little bit.
When you see he's not coming back, you panic. You open the box and instead of a tablet you find a piece of metal. Then you open the envelope and find paper instead of your money. What he did was to stick the piece of metal in the other box and reseal it.
On the other hand, the envelope with paper was just a double he had in the same pocket, which he grabbed when he asked you to wait. This scam is called the "Bait and Switch" scheme.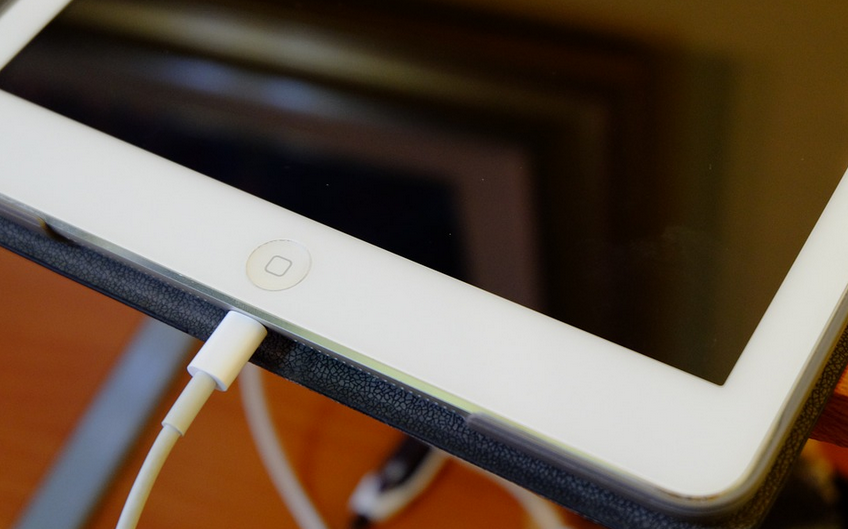 How to avoid the Used Tablets For Sale scam:
This could also happen with any mobile phone or any other gadget. How to avoid? It cannot be any simpler. Buy these beauties only from the authorized dealers. If you already are in the situation described in the "Bait and Switch" scam, don't leave anything out of your sight. If you opened a box, take that product and don't switch it with anything else.
How to report the Used Tablets For Sale scam:
Make your family and friends aware of this scam by sharing it on social media using the buttons provided. You can also officially report the scammers to the Federal Trade Commission using the link below:
Report To The FTC Here
How to protect yourself more:

If you want to be the first to find out the most notorious scams every week, feel free to subscribe to the Scam Detector newsletter here. You'll receive periodical emails and we promise not to spam. Last but not least, use the Comments section below to expose other scammers.
Related Articles and Pages:

Full List of Online Auction/Tech Scams

Fake Amazon Shipping Notification Scam

Online Reputation Management Companies Scam

PayPal Alert Notification Scam

Western Union Profile Update Scam

---
Verify a website below
Are you just about to make a purchase online? See if the website is legit with our validator:
vldtr®
Searching:

Domain age, Alexa rank, HTTPS valid, Blacklisting, SSL certificates, Source code, Location, IP address, WOT Trustworthiness, Spam reports, Advanced technology, Privacy Policy, Terms of Use, Contact options

TOP 3 MUST-WATCH FRAUD PREVENTION VIDEOS
1. Top 5 Amazon Scams in 2023
2. Top 5 PayPal Scams in 2023
3. How To Spot a Scam Email in 2023
Selma Hrynchuk
Senior Editor at Scam Detector Media, Selma is a fraud prevention specialist with a wealth of experience in private investigations and collaborations with law enforcement. A captivating public speaker, Selma educates audiences about scams and personal safety. Through her insightful writing, she exposes criminals and shares essential tips for staying secure. Selma is a dedicated guardian against fraud, committed to unmasking deception and promoting integrity.