Amazon Login Attempt Scam: How It Works
Amazon is the most used online retailer, having over 300 million active users, and being in the Top 5 employers of the world. The main reason for its overwhelming popularity is its ease of use for consumers. However, with this popularity comes a downside; Amazon scams aimed at bilking customers of the online retail giant.
The latest in phishing scams is focused on Amazon's login process, see pic below. The scammers send you an email informing you that they've received multiple failed login attempts to your account. "As a result, access to your account has been temporarily locked". The subject title of the email is: "Action Required".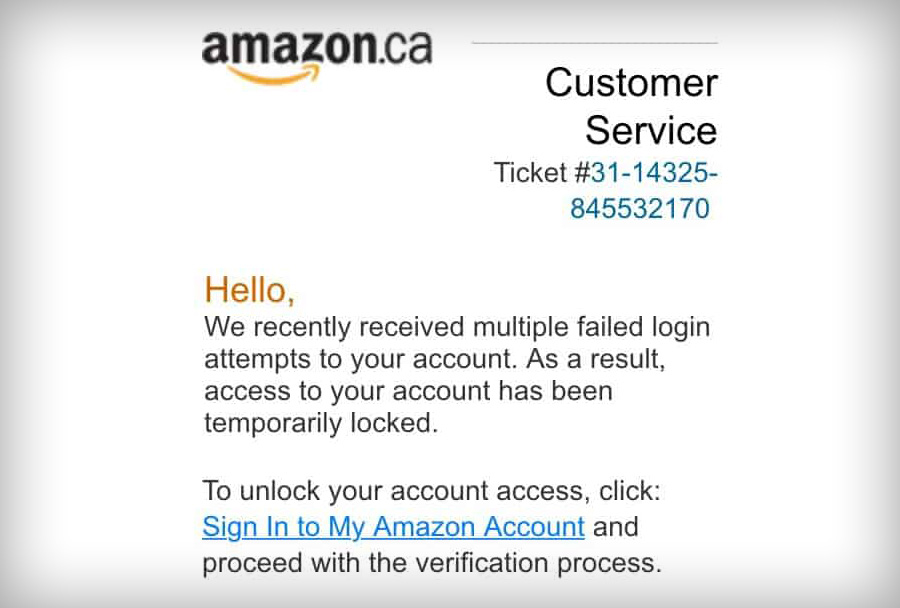 The victim is then directed to click on a link ("Sign In to My Amazon Account") to correct the information. When the link is clicked a brand new page replicating Amazon's login portal opens up. As the customers believe this is the legitimate front page of Amazon, they easily offer their passwords or private information to scammers.
In a different variation of the scam, criminals claim to be from well-known shipment services such as DHL, UPS, or FedEx, in which they include terms such as 'tracking notification', tracking number', 'pickup date' or 'Processing completed successfully'. Just as in the above Amazon example, the fake portal leads to giving away your credentials or even installing malware on your computer.
Keep in mind that the 'failed login attempt' scam could come your way with scammers using not just the Amazon brand, but all the other major websites and social media platforms, such as Google, Facebook, Twitter, Tumblr, LinkedIn, the name of your bank, etc.
Amazon Failed Login Attempt Scam: How To Avoid
If you receive one of these order verifications look at it closely. Are there misspellings? If not, these are good indicators that the email is fraudulent. Also, even if the domain name seems to be belonging to Amazon (i.e. joesmith@amazon.com), this could be easily done by scammers by using proxy servers.
To protect yourself, if you are in any way concerned about the validity of email verification from any online retailer, contact their customer service department; they will be able to verify if the communication came from them. Shopping online is a convenient way to do business; however, make sure to take the proper precautions to protect your identity while doing so.
Beware of other common schemes such as GiftReward.net Scam, Shopify scams or OfferUp scams.
How To Report the Amazon Login Scam
Make your family and friends aware of the Amazon Failed Login Scam by sharing it on social media using the buttons provided. You can also officially report the scammers to the Federal Trade Commission using the link below:
How to protect yourself more:

If you want to be the first to find out the most notorious scams every week, feel free to subscribe to the Scam Detector newsletter here. You'll receive periodical emails and we promise not to spam. Last but not least, use the Comments section below to expose other related scams, such as the Amazon Watch Raffle.
---
Verify a website below
Are you just about to make a purchase online? See if the website is legit with our validator:
vldtr®
Searching:

Domain age, Alexa rank, HTTPS valid, Blacklisting, SSL certificates, Source code, Location, IP address, WOT Trustworthiness, Spam reports, Advanced technology, Privacy Policy, Terms of Use, Contact options

TOP 3 MUST-WATCH FRAUD PREVENTION VIDEOS
1. Top 5 Amazon Scams in 2023
2. Top 5 PayPal Scams in 2023
3. How To Spot a Scam Email in 2023
Selma Hrynchuk
Selma is a fraud prevention specialist renowned for her expertise in private eye investigations and a remarkable partnership with law enforcement agencies. Beyond her investigative triumphs, her public speaking engagements and written works have empowered countless individuals to protect themselves and stay ahead of deceptive schemes. Selma's legacy shines as a tenacious agent of change, unyielding in her commitment to battling fraud and ensuring a safer world for all.